Demystifying the term women's specific: gimmick or gimme one?
Ever wonder what women's specific really means? So did we... 
It's a fact of nature: men and women are built differently. That's no surprise. But does that mean that we all need different gear to enjoy the outdoors? From clothes to packs to shoes to harnesses, throughout the past decade companies have started making women's specific clothing and gear. In this week's Rock and Snow blog post, we tackle what the term women's specific really means, if it is really needed and whether or not the whole industry-wide women's specific craze is nothing more than a case of 'shrink it, and pink it'.
What does women's specific even mean? Who better to ask than Outside Magazine contributing editor and former voice behind the magazine's once popular (albeit now discontinued) Gear Girl column, Stephanie Pearson, to give us the low down on a definition. As a writer for one of the most well known outdoor magazines (check out her latest feature) and someone who has reviewed and tested more gear than most of us have probably handled, I asked Pearson, what is women's specific gear and clothing and do we really need it?
"Women's-specific gear to me means that it meets the needs of female athletes and adventurers in terms of fit, style and performance," says Pearson.
"At the same time, however, gear is gear is gear," says Pearson. "What I mean by that is that technologically advanced fabrics work for both men and women, so the real difference with apparel really often does, for the most part, come down…to create a look, style, and feel that women want to wear."
Long story short, the fit.
Originally, gear for women was just made smaller. This process of just making a small version that appeals to women—known to many as, 'shrink it and pink it'—is increasingly less common over the past decade as companies begin to design gear that has anatomically correct designs for an average sized female. Which makes sense: when you take a look at the anatomical difference in your typical adult male and female, women are not merely small men. Generally speaking, women have a lower center of gravity, slightly wider hips and narrower shoulders and this has shifted product designs.
"What this means is that [companies] use topline technology, be it in fabrics or hardgoods, to produce men-specific and women-specific gear, instead of developing men's gear and either using it as a prototype for the women's version or labeling it "unisex" and calling it good," says Deanne Buck, Executive Director of Outdoor Industries Women's Coalition.
Now, anything from sleeping bags, pads, backpacks, harnesses, clothing—things women wear, carry or lay on—can be tailored in a slightly different fashion to fit and function for an average sized female the same way, proportionally, as it would for an averaged sized male. And often the fit of something can dictate not only the look but also the comfort and performance—like the cut of a pack.
To make it easy, below we compiled a list of gear with major difference between the men's and the women's versions and how they might enhance fit and function.
Sleeping bags and pads: In sleeping bags, temperature ratings for men and women are different. Women have been scientifically proven to sleep colder than men, and thanks to a European rating system that is now universally accepted—the European Norn (EN) 13537 testing protocol—bags are rated on three different levels: comfort (the lowest outside temperature at which a standard women can sleep comfortably), lower limit (the lowest outside temperature at which a standard man can sleep comfortably), and extreme (a survival-only rating for a standard adult women). Because of this temperature difference in genders and the rating system, you will find more insulation around the hood, chest and footbox in a women's specific bag. In addition, you will also find slightly more room around the hips and a slightly narrower shoulders region than a men's version sleeping bag to accommodate for the standard differences in body shapes.
Like bags, a women's sleeping pad also has different shapes and features than a men's version. They are slightly shorter and slightly warmer than their traditional counterparts.  Take the Women's Therm-a-Rest NeoAir XLite. Therm-a-Rest added extra layers of reflective aluminum to the design that reflects, and retains, body heat creating a warmer pad; and if you're a women of 5'5" or shorter this pad offers an ideal fit.
Clothes, especially technical shells: "Women expect a lot out of a garment," says Charity Fox, apparel designer for Outdoor Research. "Not only must it fit their body, be flattering, and make them feel great but it must perform."
Fox notes that basic design differences are narrower shoulders, better shaped body, curved lines and feminine touches.
"Women's specific design requires more attention to detail, the feel of the fabric is important to women, and the details are important to women."
Shoes: The biggest difference in men's and women's feet is often the heel to forefoot ratio. Whether running shoes or climbing shoes, companies try to accommodate for that by designing a women's style shoe that has a lower volume.
La Sportiva, for example, recently released the Women's Solution among it's varied women's specific climbing shoe line. An aggressive, downturned shoe, the Solution is highly specialized in its ability to hook and grab edges and smears. The biggest complaint among many people, especially women, about the original Solution is the heel cup. Fully rubber, it has no room or ability to mold or adjust to a narrower heel.  So La Sportiva introduced a women's version.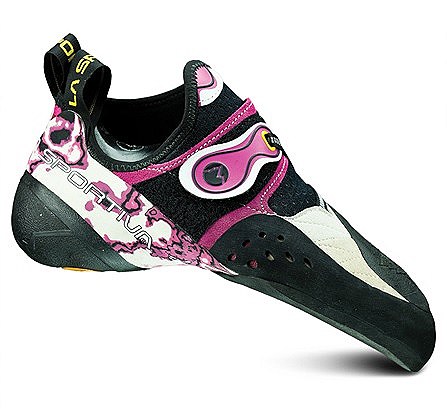 "Basically, you get a narrower, lower volume Solution with a smaller heel cup," says Ian Achey, La Sportiva Events and Promotions Manager. "Some athletes have been noting a "softer feel" to the Women's Solution compared to the Men's. This most likely reflects the .9mm LaSpoFLex midsole in the Women's compared to the 1.1mm of the Men's."
Also, some women's climbing shoes come with a different—sometimes soft or thinner—rubber. Take the Miura. The Women's Miura is built with a Vibram® XS Grip2, while the Men's Miura has Vibram® XS Edge, which is more resistant to deformation. 
Packs: In packs, it's not just the sizing that can be different, but also hip angling and other difference that will fit a women's frame better. Women's packs can have shorter torso lengths, smaller carrying capacities, narrower and shorter shoulder straps and shorter hipbelts that are sometimes canted differently. 
Take Camelbak packs. The women's harness is narrow at its entry point in the backpanel, and tapers slightly below the collarbone to offer more comfort and freedom for the chest area. In addition, the women's hipbelt is canted slightly upward and has a narrower profile. 
Women-specific designs also include soft contact points, a narrow, curved shoulder harness and a slider sternum strap as seen in the Women's L.U.X.E.
Other considerations: Other gear that has safety or function ratings based on weight might also function differently for men and women, like ropes. Katie Wood, who works in Research and Development for Sterling Rope, notes that the difference in body size might translate to feeling less impact and different life expectancies of the product.
UIAA 101 and EN 892:2012 rating standards for testing ropes use an 80kg mass, which equates to, roughly, a 176-pound person, according to Wood. 
"If a 176 pound person and a 120 pound person take the same fall factor fall (fall factor = fall distance/length of rope in system) on the same type of rope," Wood writes in an email, "the lower weight person will feel less of an impact (force=mass*acceleration, Newton's 2nd law)."
She also says that the rope will be able to hold more falls taken by a lower weight person. "Assuming both climbers take the same fall factor falls, the lower weight person might be able to get more use out of the rope before retiring it (ignoring external factors like wear on rocks and gear), because their falls won't have as high an impact on the rope."
The take-away, according to Wood, is that a higher weight person might want to consider a rope with a larger diameter to get more use out of the product. 
Do we really need women's specific gear? The answer to this depends. In many cases, yes. For an average sized female, women's specific versions of gear can fit and function better in the gear outlined above; but don't get too hung up on the term women's specific. Often the unisex version or even a men's version will work just fine or better for a woman depending on her body type and needs.
Pearson notes an example.
"[A women's specific bike] doesn't always work," says Pearson. "I, for example, am 5'10", and a women's bike is generally too small for me because it's designed to fit the average woman, who is 5'4. Or take, Lindsey Vonn, who skis on men's skis because she's got the strength and power to handle them."
Obviously, not a good fit. 

So in some cases, it makes no sense for women to use women's specific gear. So what's the take away? It's not always, one size fits all. Know what you're looking for and go check it out. The beauty of Rock and Snow is that you can come in to take a look at the products, try them on and handle them. Knowing your needs, what you're looking for and the main difference between the men's and women's version can help you make a more informed choice.