Fall Speaker Series: Andy Kirkpatrick
The season is upon us here at the Gunks. Crisp days followed by cool nights, and, for the climbers among us, a sea of sticky stone. While your day might be filled with plugging gear or even a Catskills run and hike, join us at Rock and Snow every Saturday night from September 27th to November 1st for our annual Fall Speaker Series. We've hand-selected the most entertaining, stellar speakers for the series, which is free of charge. Check in at our Events page to stay up-to-date and follow our blog every Monday for musings on the upcoming speaker.
Kicking off our fall slideshow series, Andy Kirkpatrick is the first of Rock and Snow's five-week speaker series bringing big names and entertaining acts to the heart of New Paltz. Kirkpatrick's show starts at 8:00pm on Saturday September 27th.
**
Andy Kirkpatrick is a unique breed. A British mountaineer with a particular fondness for winter ascents of big mountains, Kirkpatrick has varied talents: author, motivational speaker, comedian.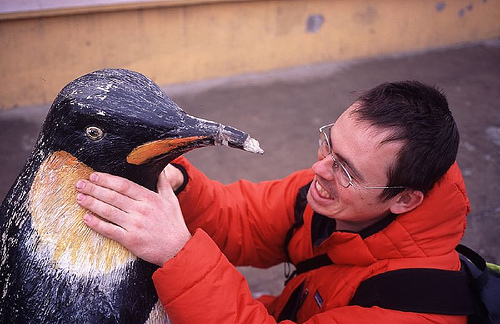 Kirkpatrick in Patafonia in 2002. Photo courtesy of Andy Kirkpatrick. All rights reserved.

Kirkpatrick's story is one of persistence, despite life's punches, to do what he is truly passionate about. Born in Stafford, England, Kirkpatrick's father was a mountaineering instructor in the Royal Air Force (RAF)—charismatic, mischievous, drawn to the mountains. After his parents divorced when he was six, Kirkpatrick with his mother and siblings move to Hull, which he notes is one of the flattest places in Britain. Raised by his single mother on a modest income, Kirkpatrick's trouble increased when he was diagnosed with severe dyslexia and placed as a remedial student.
Kirkpatrick wasn't deterred. He took his strengths of creativity and persistence to become one of Britain's most revered mountaineers and a best-selling author.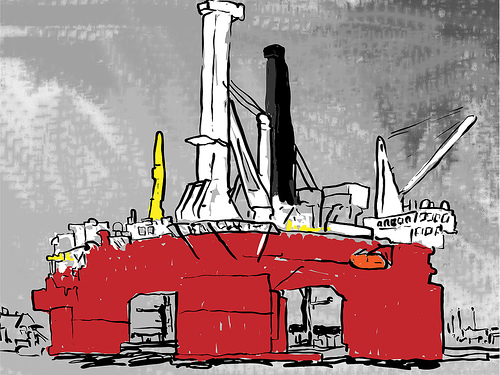 Thought Kirkpatrick struggled with dyslexia, he was always drawn to arts and creative outlets. Seen here is one of his drawings. Photo courtesy of Andy Kirkpatrick. All rights reserved.

Kirkpatrick specializes in big wall climbing and winter expeditions and was once described by Climbing as a climber with a "strange penchant for the long, the cold and the difficult". Kirkpatrick's journeys, often solo ascents, are hard and arduous, yet they are deeply personal.
"The isolation, and 'self exposure' are what I really like about soloing," says Kirkpatrick.
However, his gritty taste for solo adventure is padded with a highly loveable relatability. His self-deprecating humor—present in his writing and speaking—struggle with dyslexia (despite being a best-selling author), and splintered beginnings makes him all the more relatable—a humanness that gives depth and meaning to his passion for the insufferable.
Though he was first introduced to climbing by his father at a very young age and climbed throughout his life, he is best known for his most recent highlights. Among these were his ascents of Yosemite's El Capitan, which he has summited over 24 times (including three solo ascents). One of these solo El Cap ascents was his 2001, 12-day solo of the Reticent Wall—the most direct line on the New Dawn Wall known for its stacks of hard pitches, and the hardest big-wall ever soloed by a Briton. He later turned the subject into his 2008 book, Psychovertical. An autobiographical book, Psychovertical trails the reader via captivating stories through his fractured, humble upbringings in the inner city of Hull, to his discovery of alpine climbing and brushes with death to his then-present-day attempt of the Reticent Wall. The book gives an introspective view of this ground-breaking solo ascent and a climber trying to make sense of it all.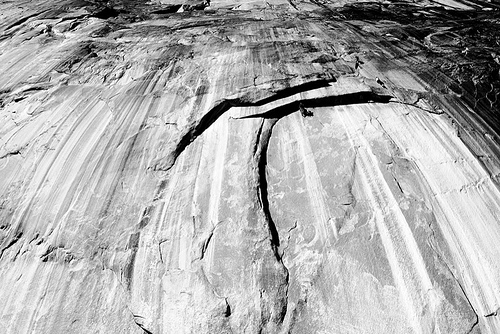 In 2007, Kirkpatrick joined British paralympic cyclist, paratriathlete, adventurer and author, Karen Darke, for a four-day ascent of Zodiac (A/C2+) on El Cap (pictured above). Darke also crossed Greenland with Kirkpatrick in 2006. Photo courtesy of Andy Kirkpatrick. All rights reserved.

The following year he made a 15-day winter ascent of the Lafaille Route on the Petit Dru. Marked as the second ascent of the climb, it is considered one of the most difficult climbs in Europe.
 The ethereal landscape of the Dru. Kirkpatrick, seen here, on the Lafaille route in 2002. Photo courtesy of Andy Kirkpatrick. All rights reserved.
This was followed shortly after by a successful attempt at the first winter ascent of the east face of Mermoz in Patagonia, Argentina.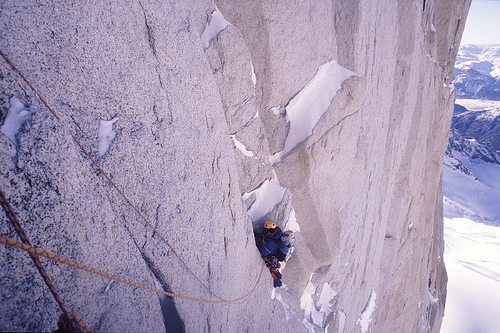 Seen here, Kirkpatrick on his 2002 ascent of Mermoz in Patagonia. Photo courtesy of Andy Kirkpatrick. All rights reserved.

 The Mermoz in Patagonia in 2002. Photo courtesy of Andy Kirkpatrick. All rights reserved.
In 2003, Kirkpatrick retuned to the Troll Wall, which he has been to in 2001,and attempted two winter ascents. The Troll Wall—the tallest vertical face of Europe, at about 3,600 feet at its tallest—is located in Norway. His first attempt was with a partner; the second attempt was solo. Later in 2011—anticipating the heinous conditions he was entering, what he calls "Scottish conditions"—after ten miserable days on the wall, he would come within 35-meter of the first solo ascent of the Troll Wall.
 Kirkpatrick at home. Looking down at the Troll Wall on his solo winter ascent. Photo courtesy of Andy Kirkpatrick. All rights reserved.
A long sought-after goal, Kirkpatrick's failed attempts have never deterred him; in 2013 Kirkpatrick would return along with Aleksander Gamme and Tormod Granheim to make the fourth ascent and first winter ascent (Kirkpatrick leading all the pitches) of the 18-pitch route Suser Gjennom Harryland on the Troll wall after a 14-day push in January. This feat was especially intriguing considering his partners were two non-climbers that had never been on a big wall. Read more on his blog about his ascent of the Troll Wall.
 A view from a portaledge. Kirkpatrick looking out from his bivy on his solo ascent of the Troll Wall. Photo courtesy of Andy Kirkpatrick. All rights reserved.
Kirkpatrick began writing to help keep track of his thoughts and document the emotions of his climbs. He was his own worst critic, but worked with persistence and a diehard commitment. His first book, Psychovertical, came out in 2008 and won the Bordman-Tasker award. In 2012, Kirkpatrick published his second book, Cold Wars—a sequel to his first book following Kirkpatrick on winter ascents of big walls in the Alps and Patagonia. Cold Wars won the same award. (You can find both Psychovertical and Cold Wars at Rock and Snow.)
Most recently in 2014, Kirkpatrick traveled to Queen Maud Land, Antarctica, where he would put up a number of first ascents. These ascents included a first ascent of what some claim is the hardest mountain in the world, the South Ridge of Ulvertanna.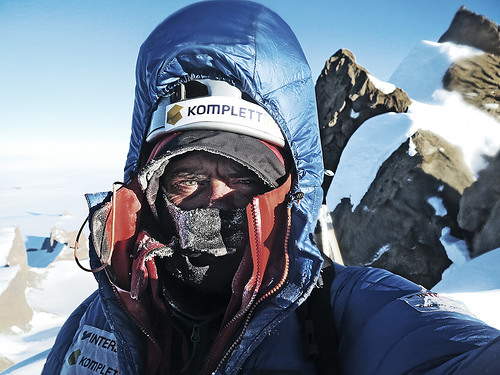 Kirkpatrick all bundles up in Antarctica in 2014. Photo courtesy of Andy Kirkpatrick. All rights reserved.
Kirkpatrick on one of the the technical crux of a first ascent in Queen Maud Land, Antarctica. Below his feet were loose, and above this there was just bat hooks and pro in fragile flakes. Photo courtesy of Andy Kirkpatrick. All rights reserved.

Kirkaptrick keeps one of the perhaps most interesting, unique and introspective blogs in climbing today—giving a glimpse not only into his world of solo winter ascents, but their affect on him as a person and other musings on climbing and everyday life. In addition to his climbing career—Kirkpatrick is sponsored by Montane®)—he also does shows and speeches (he is part of Speakers from the Edge) all over the world and works as a stunt safety advisor in film and TV.
Let's welcome Andy to the Gunks and let him chime in on some questions:
Q and A with Andy Kirkpatrick:
First, welcome to New York! Will you be able to get out climbing in the area before/after the presentation at Rock and Snow?
The nearest I've ever got to climbing on the East coast (New York is in the East coast right?)… you know how bad we Euros are at knowing anything outside of Euroland) was a trip to the Adirondacks one winter.  I say climbing as most of it was like ice climbing on a thin smear of frozen snot, which is great, as that's how we climb in Scotland (we ice climb on rock and ski on grass).
What else is on the docket for your stay in the United States? I heard a rumor about Yosemite...what's the plan there?
I've had this thing about soloing El Cap in a day.  I was after the first non-US one-day solo ascent but got pipped at the post by another Brit last year.  I tried Zodiac about three years ago and climbed it solo in about 30 hours (I started at 7pm, so ended up being awake for nearly 45 hours—in fact I saw the sun come up three times in one long day!).  I fancied going back and having a go while I'm in the US, but I think I need to get my arse in gear.
What's your next big planned adventure?
Hoping to make the first full winter alpine ascent of the Harlin on the Eiger North face (Eiger Direct) in January, and maybe Denali in winter (I don't like crowds).
Your presentation for Rock and Snow will be covering a winter ascent of the Troll Wall and your first ascent in Antarctica. How were your experiences on these two expeditions different than others? 
The Troll was a very tough climb in quite hard conditions (climbed in the Norwegian Winter), taking 14 days, where as the new route on Ulvertanna in Queen Maud Land (called the hardest mountain in the world by some), was climbed in an average temperature of minus 30 over 14 days… come to think of it, they were pretty similar. The funny thing was I'd been trying to climb the Troll for many years (I got with 35 meters from the top on a solo attempt), but ended up climbing it with two novice Norwegians (Alex was the guy from the film Crossing the Ice that won Banff a while back, while Tormund had skied the North Face of Everest).  To do that climb I was invited to Antarctica to help some BASE jumpers get to the summit of some peaks.
Is the suffering of the cold, dangerous and strenuous climbing and hauling better endured alone for you on solo ascents or with a group?
When you solo you have the whole weight of the climb on your shoulders, but at the same time you're forced to go slower, and so it can feel a bit more fun.  The worst thing about a solo climb is there is no escape from the hard climbing and the while, plus you can't share the good things either (not that there are many on a winter ascent).
You are known as a comedian, of sorts, how does humor help you when suffering in the mountains or on a big wall? Is it different with or without people? 
In Britain you're never allowed to grow too tall (very much a Northern European thing), meaning humility is vital in how you talk about yourself and your climbs.  We also don't like to hero-worship too much either, meaning that humour is one of the main ways we talk about our climbs (we're also pretty rubbish, having no real mountains, so always have epics, which when survived are always funny). 
Does your humor help you keep a positive outlook when things are looking grim? Is this perspective on life present in the most stressful of climbing situations?
Very important.  Some of the most extreme moments of my life, where I truly thought I was going to die, have also been quite funny, or someone has said something to try and defuse the situation (probably the same in combat).  I was once trapped in a tent in Patagonia in a huge storm above the huge drop, the wind shaking the tent around with four of us inside.  We rattled around for fourteen hours 100 percent sure we would die (a local told us when the houses in the village began to creak they knew we had died).  Thinking you're about to die gets a bit old quickly, and so after about four hours we just started telling jokes (in the end the tent ripped apart and we made it down—somehow).
For most people, being connected is essential and the only way in life. So on a solo mission like the Troll Wall, can you describe the mental roller coaster of being so isolated so long on a wall? How does solo life on the wall morph from the beginning to the end?
After a week alone on the wall it sort of becomes normal, like ordinary life—just waking up and going to work.  You have to put all thoughts of loved ones, or your future, out of your head as they're just not helpful.  The isolation, and 'self exposure' are what I really like about soloing.
What is the appeal to danger and dangerous climbing? 
I'm not into danger, but I am into difficulty and don't like crowds, so gnarly walls in winter are perfect as you tend to have them to yourself.
What is the most important trip/expedition for you...the one where you learned the most about yourself.
I think the first time I soloed El Cap (Aurora A4) was quite special, as I'd never soloed a wall before, and it was the hardest route I'd climbed so far.  I'd always seen myself as pretty rubbish and not that brave, but alone on that wall I had to face down so much fear (once I was committed I didn't know how to get down) that I radically altered how I understood myself.  The best climbs are always the most transformational.
What is your favorite piece of writing (of yours)? Why is that?  
I wrote a piece called A Block of Wood that is about just that - a piece of wood I found below El Cap, but it's actually a piece about loneliness (my previous partner was the paraplegic adventurer Karen Darke, who spent 4 years training for the 2012 Paralympics—where she won a silver medal—but the impact on me of being apart so much is telling in this story). Link:
http://www.andy-kirkpatrick.com/blog/view/a_piece_of_wood
I read about (and watched the videos) of you leading TV host Alex Jones up Moonlight Buttress. How was that experience?
To take someone who'd never climbed in her life, and had very little training, up a big wall, live on TV (we had to finish at exactly 11.30am for a live feed to the UK) was quite a task.  The biggest problem was she didn't want to go to the toilet on the wall, meaning when she wanted to have a wee I had to sit with my sleeping bag on my head.  In the end we raised 1.5 million pounds for charity, so it was all worth it!