Fall Speaker Series: Paradox Sports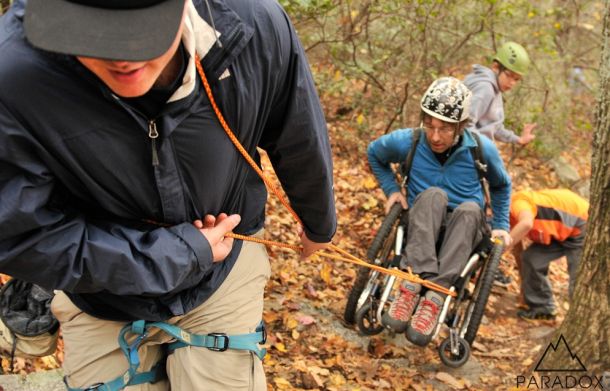 The season is upon us here at the Gunks. Crisp days followed by cool nights, and, for the climbers among us, a sea of sticky stone. While your day might be filled with plugging gear or even a Catskills run and hike, join us at Rock and Snow every Saturday night from September 27th to November 8th for our annual Fall Speaker Series. We've hand selected the most entertaining, stellar speakers for the series, which is free of charge. Check in at our Events page to stay up-to-date and follow our blog every Monday for musings on the upcoming speaker. 
The second act of our Fall Speaker Series, Paradox Sports presents two inspiring stories from speakers who, despite disabilities, have created a full and engaging life that can inspire us all. The show starts at 8:00pm on Friday, October 3rd.
Already 80 feet up and a pitch off the ground climbing New Hampshire's Cathedral Ledge—a 400-foot granite beast that shoots up from the ground like a stark grey shield—Enock Glidden and Nate McKenzie, mountaineer and Director of Paradox Connecticut chapter, look up at the next pitch in front of them. They're on Book of Solemnity, a two-pitch 5.10a on the Barber Wall, known for its splitter cracks.
As they work the ropes, Glidden pauses to take in the view and the moment. Everything was quiet except for a few far off sounds in the distance, below in the valley.  There were clumps of colorful trees with leaves changing all around and beautiful mountains on all sides. This was a moment he would remember.
**
This is a snapshot in many of our lives as climbers. But the experience was particularly memorable for Glidden not only because it was his first multi-pitch climb and first time climbing at Cathedral Ledge. Glidden, 36, was born with Spina Bifida, and has never walked.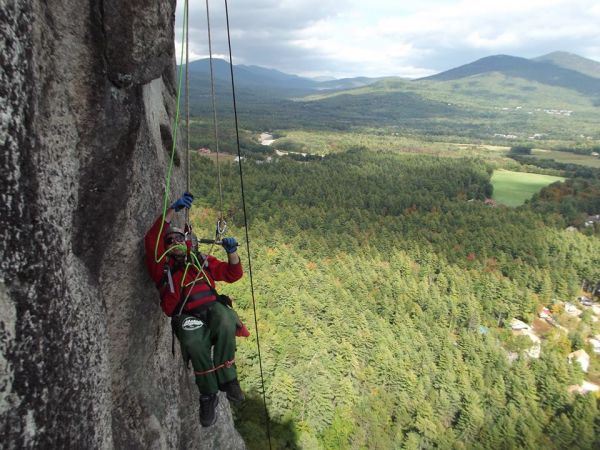 Glidden, seen above, using an innovative system to ascend Cathedral Ledge. Photo provided by Enock Glidden. 

Photo provided by Enock Glidden.

 "The feeling I get when climbing is a complete sense of freedom and my body feels energized from the sense of accomplishment and challenge," says Glidden. 
Paradox Sports, a Colorado-based nonprofit organization, aims to improve lives through creating physical adaptive sport communities built to inspire.
Paradox Sports changes peoples lives," says Madeline Pickering, Paradox Sports Marketing and Donor Manager, "by inviting them into a community of people who are pushing the limits of adaptive human-powered outdoor adventure. We try to be the leaders of that community, but it is the participants and their stories that inspire it."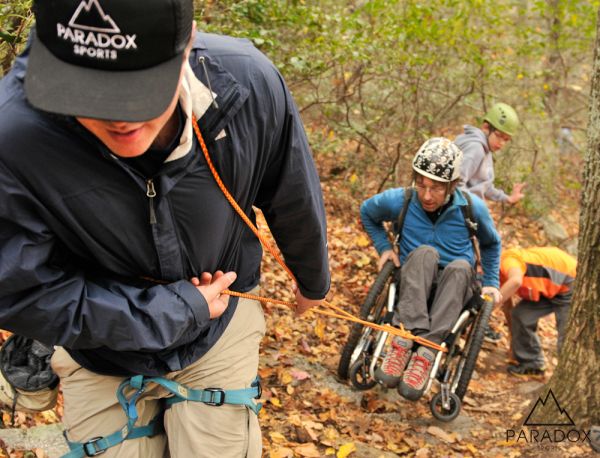 Gunks Paradox Weekend in 2013. Photos provided by Paradox Sports. 
Paradox offers a variety of programs centering around different themes: Paradox Rocks, Paradox Ice, Paradox Water, Paradox Wilderness, Paradox Curriculum and Paradox Veterans.  This weekend, October 3rd through 5th, Paradox Rocks will be coming to the Gunks. This camping and climbing event is a gathering where people with disabilities, along with their friends and families, can gather for adaptive climbing, instruction and community building.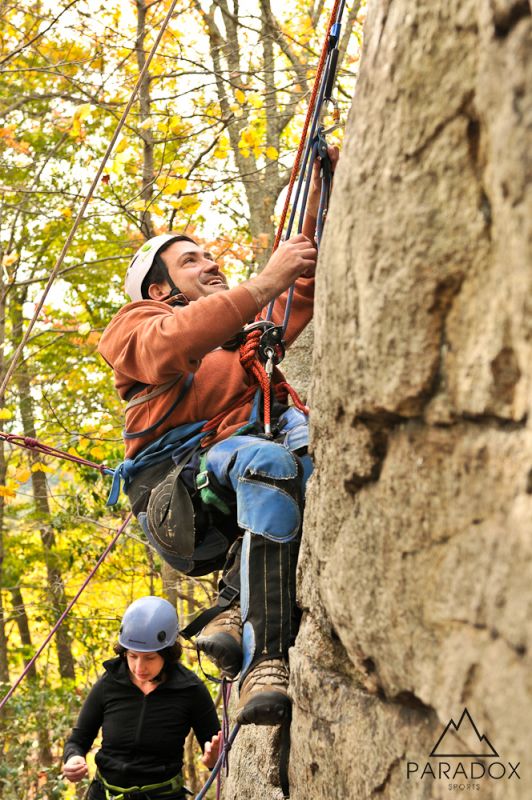 Gunks Paradox Weekend in 2013. Photos provided by Paradox Sports.
Through organized weekend and lead trips like the upcoming Gunks event, participants encounter new skills, techniques and equipment designed for adaptive climbing. 
"We show people individually that there are ways to make adventure sports work for them by providing gear and techniques, but more importantly, we show them how those adventure sports can improve their lives," says Pickering. "Climbing, mountaineering, rafting—they all help people build confidence, strength, patience, and teamwork; whether adaptive or not."
Pickering was first introduced to Paradox on a hiking trip in college. On the way, she met Sean O'Neill, the brother of one of Paradox's co-founders.
 When Pickering started talking to him, she realized he climbed mountains, ice, and granite monoliths despite his disability. When he introduced her to Paradox Sports the rest was history.
"The most inspiring thing about the organization is our participants," says Pickering. "With enough time and courage, their disabilities eventually disappear and their identity can be based on the amazing things they are doing rather than what might hold them back." Pickering personally prioritizes outdoor adventure in her life because it allows her to see the world from a better perspective, and helps work on personal growth.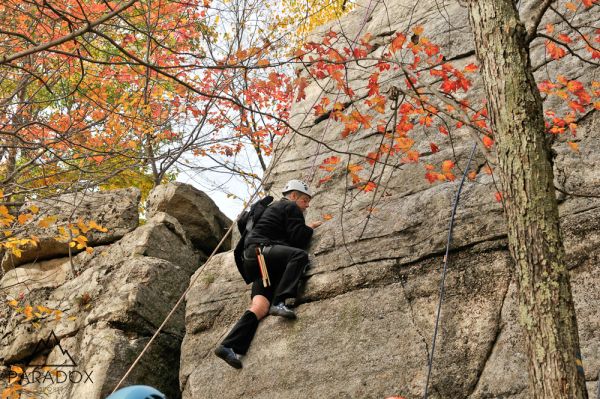 Gunks Paradox Weekend in 2013. Photos provided by Paradox Sports.
"There is absolutely no reason everyone, including people with disabilities, should not be able to do the same," she says.
Two speakers will share their stories of inspiration with us on October 3rd.  Glidden, a climber and ski racer who enjoys a variety of outdoor activities and is currently working towards his pilot's license, is one of many stories of inspiration coming out of Paradox. He will be presenting at Rock and Snow on Oct 3rd at 8pm along with Amanda Garbatini, who, at the age of 14, had a left leg, above-the-knee amputation. Garbatini was recently diagnosed with a rare genetic disorder making her susceptible to cancer, and has battled five different types of cancers. Despite this, the 27-year-old lives every day as an inspiration and beacon of hope for others. She currently works as the Volunteer Coordinator for Hole In the Wall Gang Fund, a nonprofit organization dedicated to providing "a different kind of healing" to seriously ill children and their families throughout the Northeast, free of charge.
"Everyone can learn from the Paradox Sports community," say Pickering. "We all have our own weaknesses or disabilities, whether they be physical or mental, small or large. Our mission is to inspire people to leave those weaknesses and disabilities behind, and volunteers, staff, members, partners, and observers are all encouraged to do the same."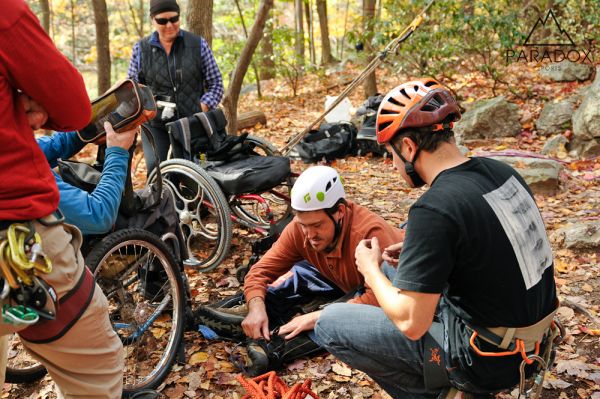 Gunks Paradox Weekend in 2013. Photos provided by Paradox Sports.
We caught up with both of the slideshow presenters to ask a few questions.
Enock Glidden:
Tell us about you involvement with Paradox.
I had a friend that was a ranger for Mount Rainier, and he was killed in an accident while on a rescue, so I decided that I wanted to try climbing based on his life and what he was doing. All the pictures he posted…I always loved seeing the places he would go. So I decided to try and experience what he has experienced.  I have another friend that works for NPR, and he wrote a story about Paradox and the Yosemite climb, and I found out about paradox and Googled and decide to go to the Gunks event in 2013, last October. Yesterday I climbed Cathedral Ledge with Nate McKenzie who does Paradox Connecticut climbing. This was my first major climb. 
What's the most inspiring part of Paradox?
I liked the fact that they're so passionate about what they're doing. They strive to make people meet their goals by encouraging them instead of holding them back because they might have a disability. They erase the fact that you might have a disability and do whatever they have to, to help you reach your goal.
I meet a lot of amazing people. Meeting these people inspires you to do better things because they're doing things. It's like a group of people to encourage you to do bigger and better things in your life. The passion that those involved with Paradox have for what they do is overwhelming sometimes.  
Can you tell us about your physical challenges and how they have affected you?
I was born with Spina Bifida. I've never walked. I've had to learn throughout life how to do things. Though, I'm pretty sure that's probably easier than losing the ability to walk than having to relearn everything.
I've been able to experience all kinds of things like skiing and rock climbing and tennis. I played basketball for a while with a team, basically I have done everything anyone else would do. I've been working on my pilot's license as well.
I've done quite a few things over my life that I'm not sure I would have done if I wasn't necessarily challenged to do it. But I like having challenges and…I think that's why I really like rock climbing because it's a challenge. 
What has Paradox and other local adaptive outdoor organizations allowed you to do?
I have skied with Maine Adaptive Sports and Recreation. I joined the race team last year.
I've been skiing with them since Junior High, then took time off for college and moved away and then came back seven years ago and have been skiing every since. We also do biking and fishing an a bunch of sports  in the summer.
What are you most looking forward to this weekend?
I'm psyched on new techniques and seeing everyone again; the opportunity to socialize and to see what everyone has done over the year. I want to talk about the Climbing Championship, a bunch of the participants went to that in Spain. It will be interesting to get together and swap stories. Also, the slideshow. I will talk about why I got involved with Paradox and talk about the Cathedral Ledge climb and about my life and things I've done in life. 
Amanda Garbatini:
How has a left leg amputation affected your life? 
I lost my leg 14 years ago to an aggressive, malignant tumor. After two years of intense chemotherapy and radiation, the tumor was not responding. Ten days before my 14th birthday, they amputated my leg above the knee. I had always been an athlete. I played almost every sport as a child but gravitated towards softball and volleyball. I knew the amputation would be a setback at first, but also knew that I wasn't going to let it slow me down. I had to give up softball, but I was able to continue with volleyball all through high school. I played varsity my junior and senior years and we even came in 2nd in the state finals. 
The amputation took a while to get used to. It took me about nine months to be able to walk without the assistance of crutches. But since then, my prosthetic is just a part of my life. I wake up every day and put my leg on the way most people put on their shoes. I barely notice it anymore. It's a part of me now but I don't let it define who I am. 
How did you hear about Paradox? 
After high school, it was difficult to find other sports that I could play with my prosthetic. I have a regular walking leg, which isn't built for the impact of most sports. It wasn't until last year that I decided to try a sport that didn't require my leg: rock climbing. A good friend of mind was an avid climber and had been trying to get to me to try it for months. We started climbing weekly at a local gym and it was there that I met Nate McKenzie, a representative for Paradox Sports. He told me about Paradox and the amazing work they do and I knew I wanted to get involved.  
How has Paradox helped you adapt? 
I'm very lucky that I've been able to work with Nate [McKenzie] and Paradox so closely. They help athletes of all abilities learn what works for them specifically. Nate and Paradox helped me to adjust and learn which moves work best for my ability level. It's never "you can't do this," it's "let's create a way for you to do this." 
What are your favorite aspects of climbing?
The climbing community has been so welcoming. From the minute I walked into the gym, I felt like I belonged. The support I've received from so many has been incredible over the last year. I don't know what it is about this community, but everyone has been so accepting, friendly and helpful. I am so grateful for all the people I've met through climbing. 
Other than the climbing community, I would have to say my favorite part is working on a route and finally sending it! It's such a great feeling!
Have you ever been to the Gunks? What are you most excited about? 
I have been to the Gunks, but only for hiking! I have not been to the Gunks to climb yet. I'm excited to spend some time with more Paradox athletes and hopefully send a few routes! 
Last, without spoiling the content, what will you cover in your slideshow?
I don't have a speech/presentation written yet for the slideshow, but I plan on talking about overcoming adversity, pushing your limits, and stepping outside your comfort zone. I will touch upon my childhood cancer experience and losing my leg. I will also talk about my most recent battle with breast cancer and how Paradox and climbing helped me get through another rough patch in my life. I went ice climbing with Paradox 3 days after I began chemotherapy in February. Without that trip, I'm not sure I would've known how strong I could be. It set the tone and attitude for my entire ordeal: 12 weeks of chemo and a double mastectomy.