Fall Speaker Series: Silas Rossi
The season is upon us here at the Gunks. Crisp days followed by cool nights, and, for the climbers among us, a sea of sticky stone. While your day might be filled with plugging gear or even a Catskills run and hike, join us at 8pm at Rock and Snow on select Saturday nights this fall for our annual Fall Speaker Series. We've hand-selected the most entertaining, stellar speakers for the series, which is free of charge. Check in at our Events page to stay up-to-date and follow our blog every Monday for musings on the upcoming speaker.
This week:
Local guide and understated crusher, Silas Rossi will weave together stories of his summer spent in the alpine Shangri-la, Chamonix. But the real question is: how has he managed, in 20 years of climbing, to never get benighted?
 (Show starts at 8pm on Saturday, October 3rd at Rock and Snow.)
Master of the trade, Silas Rossi has been climbing almost 20 years, after getting his start climbing in Maine and New Hampshire. "I was fortunate to have amazing mentorship right out of the gate and progressed quickly," says Rossi. He knew, early on, that guiding would be in his future. Now, after years of courses, Rossi is an IFMGA-certified guide—a highly coveted but rarely achieved certification level in the United States. In addition, he teaches AMGA guide courses and owns Alpine Logic, a New Paltz-based guiding company, which he started in 2007.
As a professional mountain guide, Rossi's time is a precious commodity. And when he does get some time to himself you can be sure he's spending it like a millionaire. In 2012, Rossi and fellow Northeastern guide, Peter Doucette, established two new climbs on Mt. Bradley, a 9,104-foot peak in Alaska's Ruth Gorge: The Sum of Its Parts, (Alaska Grade V, A2, AI6, M7, 4000') and Heavy Mettle, (Alaska Grade V, A0, WI5+R, M6, 4600'). Stoked on the combination of wild, new climbing and the remote setting, the duo returned to Alaska again in 2013. This time they were just as successful (and lucky with good weather windows) when they established Twisted Stair (V WI6 R/X M6+, 2,300') on Mt. Johnson.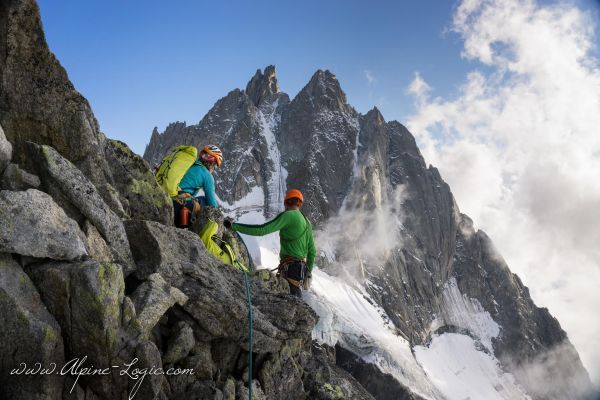 This past summer, Rossi traveled to Chamonix; but we won't spill any tales here. You'll have to come see the show, Arolla To Zermatt: Finding your Peak in the Alps, for more. Oh, and don't forget to ask him about his top-secret gear modification (see below). Rossi takes a few moments from his packed schedule to play along with a little Q & A:
Favorite place to guide? 
The Gunks, of course!
What brought you to the Gunks? 
A girl, of course.  More specifically, my wife.  :)  I had been traveling seasonally for a decade—guiding and climbing—and decided to settle here in New Paltz as a middle ground between the mountains and her place in NYC.
Favorite: rock or ice? Climbing or skiing?
I really appreciate the change of seasons and the variety of climbing that provides. My favorite climbing is when I'm able to combine all types of climbing on a big, new route somewhere remote.
Combining both climbing and skiing is easily my favorite.  Using all the tools available to travel through the mountains safely and efficiently is incredibly free-ing and FUN.
Biggest jam you've ever been in (climbing or otherwise)? 
I've been incredibly fortunate thus far in my climbing career.  There are a few stories that I'll share in the slideshow though…Interestingly, in almost 20 years of climbing—at times significant objectives—I've never once had an unplanned bivy.  Maybe I'm just not trying hard enough? 
What does your gear closet look like (or gear room/wall/corner)?
I have taken over the entire basement in our house. And I'm very organized. Not to say that there aren't times of total chaos…I travel a ton and find that being organized is a necessity for quick transitions at home without forgetting anything (I was home only a couple days last month between two months in the Alps and two weeks in British Columbia).  I can also take inventory of what gear needs to be repaired or replaced more easily.  And of course there's the work bench and tools to tune things up…or do some top secret modifications...
Biggest claim to fame? 
I'm not sure I have a claim to fame, really.  I enjoy being comfortable and operating at a fairly high level across all disciplines in the mountains - whether professionally or personally.  Whether I'm on ice, rock, big peaks, ski descents, and whether I'm with clients, aspiring guides, or strong partners I think that I am capable and can travel through the mountains well, with good style.  I don't have a desire to be famous. I just enjoy being in the mountains with good people. And I'm well known enough to make a living doing what I love—that's "famous" enough for me.
Psyched to learn more about Rossi and his guiding?  Contact him at silas@alpine-logic.com or visit his site at www.alpine-logic.com.