Five of Our Favorite Hikes In and Around New Paltz: Part One
The Polar Vortex and snow that followed has frosted New Paltz for the better part of 2014, making the promise of longer days, warmer weather, BBQ's and sitting outside with an ice cold beer even more alluring. While early March will still lasso some cold temps, the snow will soon be melted uncovering hundreds of miles of trails in the Hudson Valley. Soon you'll be trading your snowshoes and cross-country skis for hiking boots and trail running shoes.
With spring looming like the proverbial carrot, here at Rock and Snow we've been dreaming up a list of must-do hikes and walks in the area. With Minnewaska State Park Preserve and the Mohonk Preserve at our fingertips, there are endless resources and endless trails to choose. We took the time to whittle down a list of five routes ranging in length and difficulty that are totally worthy this spring.
We love a good Overcliff/Undercliff loop, but if you're looking for something different you're in luck.  You want recommendations? We have the goods. Whether you have an hour, weekend or an entire week, here are five routes to think about tackling this spring.
Short Hikes Or Walks Close To Town
The Walkway over the Hudson started as a major renovation project that transformed the weary bones of the Poughkeepsie-Highland Railroad Bridge into a pedestrian walkway. The railroad bridge was an 1888-built industrial giant that served as an east-west thruway for raw materials to industrial centers. However, a fire in 1974 paralyzed the functionality of the railroad's transportation.
Given a new life, the elevated railroad was transformed into a pedestrian bridge, which was finished in 2009. The Walkway runs 1.28 miles making it the world's longest elevated pedestrian bridge – perfect for getting out for a quick jog or early spring jaunt.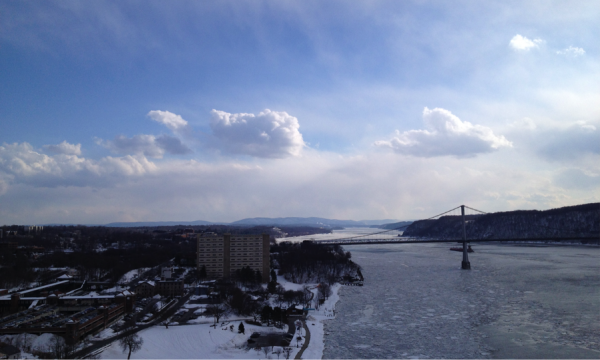 The Walkway links Highland and Poughkeepsie with the distant purple skyline of the Hundson Highlands to the southern horizon and the constant gentle flow of the Hudson River 200 feet below. A welcomed spot for bikes, which can be rented at the Bicycle Depot in New Paltz, you can pick up a connector trail at Tony Williams Park in Lloyd for a 3.6-mile addition out to the Walkway.
The Wallkill Valley Rail Trail – roughly a 24-mile long path that is still growing – starts in Rosendale and extends south through New Paltz 12.2 miles to the Gardiner town line. From Rosendale, an as-of-yet unconnected portion also extends north roughly 12 additional miles to Kingston. The trail runs along what was once the Wallkill Valley Railroad. Like the Walkway Over the Hudson, the railroad that sat in disrepair was transformed into a public multi-use trail. The maintained path meanders across the antique and weathered trestles of a recently restored bridge crossing the Rondout Creek in Rosendale, skirts through New Paltz's historic Huguenot Street and ends just past the quaint village of Gardiner.  All along the path are views of the Shawangunk Ridge and surrounding farmlands. On the Rail Trail all human-powered activities are welcomed: from hiking and running to biking and horseback riding.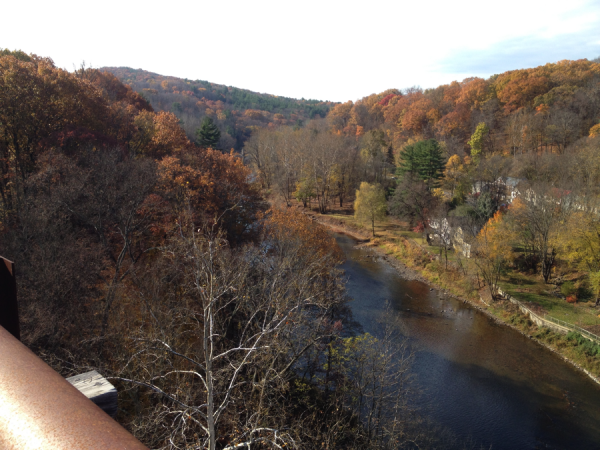 Longer Hikes
If you have more time and want to get out in the middle of spring's bloom, take a two-mile hike out to Verkeerderkill Falls. The hike reaches the 100-foot waterfall, Verkeerderkill Falls, and travels through dwarf pine, whose diminutive size allows for unobstructed views of the Hudson Valley. A longer version runs nine miles, passes the falls and runs through the Badlands out to High Point and has views of the Catskills, as well as Sky Top and Gertrude's Nose. Both versions are part of Sam's Point Preserve – a 5,400-acre preserve south of Mohonk Preserve and Minnewaska State Park. When there is major rainfall, the falls will be ripping, but the trail will have long puddles during wet times – a warning to keep in mind after the particularly snowy winter of 2013/2014. Access both versions of the trail from Sam's Point Preserve Visitor's Center.
The Millbrook Ridge Trail, one of our favorites, starts up by the Near Trapps at the steel bridge and runs southwest along the crest of ridge giving you unsurpassed views of the Hudson River Valley to the east. Except for the steep uphill at the beginning, the trail is relatively level and runs over Millbrook Mountain out to Gertrude's Nose. Here, you'll find slabs and free-standing boulders along with amazing views of the Hudson Valley on your left and the dramatic Palmaghatt Ravine on your right. Take in the view, and then from there you can loop back around to Millbrook Carriageway, which will take you back to the Ridge Trail. The round trip totals roughly nine miles. To access the hike, park at the West Trapps Parking Area on Rt. 44/55 and cross the steel bridge. A shorter version starts at Minnewaska Lake and can be partially biked.
The Long Path links many of New York's parks, preserves and state forests and can be picked up from New York City. A 356-mile trail, the Long Path runs from the New Jersey side of the George Washington Bridge all the way to Albany, skidding to a halt just a few miles short of the Adirondacks. Many people hike end to end, but some planning is involved – in a few spots along the path, camping is restricted as the trail passes through private land and along roadways. The Long Path and any section along the way can give you anything from sweeping vistas and open ridgelines, to lush and green corridors and the scent of spruce.
For more information on these hikes or others in and around the area, consult our wealth of information stocked in Rock and Snow's books and media. A particularly useful book is "50 Hikes in the Lower Hudson Valley" by Stella Green and H. Neil Zimmerman.
The Hudson Valley Hiker's Kit
Before you set out this spring, it might be worth running a tally of the gear in your closet. Here's a list of some dependable items to take along:  
Gaiters – These will be particularly useful as the snow melts in early spring, but will also come in handy as the trails grow in and bug and tick season launch into full swing. Particularly important in New York is warding off ticks that carry Lyme disease. The Lymeez Tick Gaiters have a snug fit over the sock that discourages ticks from questing down around you ankles or under your pant cuffs. Also the study-built Outdoor Research Bugout Gaiter™ is another favorite springtime gaiter.  Treated with bug-repelling Insect Shield®, the Bugout Gaiter keeps ticks and disease-carry bugs away from you skin.
Trekking Poles – Save your back and your knees. We don't leave home without them. We love the incredibly easy-to-use Black Diamond Trail Poles, but stock a full selection of trekking poles.
Hiking boots or trail shoes – While many people prefer good old-fashioned hiking boots, many are trading in the heavy boot for the lighter, stealthier trail running shoe. Made with beefy treads and technical cushion, trail runners offer support and traction while maintaining a lightweight, simple profile – perfect for the day hiker or thru-hikers looking to save some weight. Check out the new releases Hoko One One Conquest or the La Sportiva Bushido.
Other items we recommend: an Adventure Medical Kits (just in case), a compass – like the Silva Guide 426 compass – an area map or hiking guidebook, a hat and, of course, a stellar pair of shades.
If you have additional questions about these hikes or gear recommendation, drop by or call Rock and Snow. We have the right amount of knowledge, experience and friendliness that you can expect from a specialty outdoor shop. With 43 years of history under our belt and thousands and thousands of miles traveled by the staff, Rock and Snow isn't just a dealer, it is the real deal.