Five of Our Favorite (Obscure) Hikes Around New Paltz: Part Two
Now, officially, it's Spring and with the temps warming up, it's time to start thinking about getting out and exploring on foot or on bike. While in the first part of our two-part Rock and Snow's Favorite Hikes Series we listed some of our favorite well-traveled hikes, for the second part we've compiled a list of more obscure hikes that will get you out on less traveled terrain in a variety of areas.
We consulted our very own (owner) of Rock and Snow (who also happens to be a local trail guru), Rich Gottlieb, on some suggestions for getting out on lesser known trails. Then, we compiled a list of five must-do trails in the area. Whether you're looking to hoof up some steep terrain, take your bike out on the trails or stroll gentle carriageway hills, we have the beta.
But, first, before you head out we suggest picking up some new versions of maps from Rock and Snow.
"There are some new trails that aren't in the older editions," says Gottlieb.
Pick up the 2013 Shawangunk Trails map set and the West Hudson Trails map set for these hikes and consult them before you get started on your hike and all along the way. 
1. Mine Hole Trail
The Mine Hole Trail is a relatively new addition to the area. Marked as "unmaintained trails" and "proposed Long Path" trails on older map sets, the Mine Hole Trails are situated in the northernmost portion of Minnewaska. A long sought after link between the Catskills to the Shawangunk Ridge, these trails were opened to the public in the summer of 2012. Two new additions were added. First, is the connector trail between Berrypicker Trail and Berme Road, which is called the Upper Mine Hole Trail. Second, the Lower Mine Hole Trail adds another section that connects the Upper Mine Hole Trail with an access point off of Foordmore Road.
For the hike from Foordmore Road, take the Lower Mine Hole Trail. It starts in a hardwood forest that turns to birch trees and blueberry bushes.
"Don't be worried," says Gottlieb, "if you find the first 5 or 6 minutes are boring. You'll soon come to a technical stream crossing."
Here, you take the white trail (which eventually joins and veers left onto the Long Path) and follow it up to the Smiley Carriage Road.
As you get higher on the path, it slabs out and is peppered with pitch pines. On a clear day you get a striking view of the Catskills – an additional reward for your efforts.
You can turn around and head back or take a right and follow the carriage road for a short time. There's an unmarked trail through bushes three to fives minutes after the turn that leads to an outstanding overlook. This is Napanoch Point.
This section of Minnewaska is especially unique because "there's a lot of uphill, which is atypical for the Shawangunk Ridge," says Gottlieb.
Getting there: Drive Rt. 44/55 towards Kerhonkson. Take a left at Minnewaska Trail and drive 0.2 miles. Then split off to Foordmore Road.  You will pass past a church on the right and wind down the road to a pull-off on the left by a steel gate. About 1.8 miles. Start the hike at the gate.
2. Lake Awosting
Many people frequent Lake Minnewaska because of its beauty and convenience, but slightly farther out and much less frequented is Lake Awosting. Part of Minnewaska, Lake Awosting is one of the great sky lakes that sit on top of the Shawangunk Ridge. The biggest of the sky lakes, Awosting is known for its crystal clear waters and cool temps.
To get there, pack up your bike (or rent one at the Bicycle Depot) and head out to the Lake Minnewaska parking lot. From there, take the Upper Awosting Carriage Road, blazed in green.
"This trail is the easiest way out to the lake," says Gottlieb, and beautiful as well: in late spring the carriage road is in full bloom.
"The more dramatic trail is the longer way past Castle Point," says Gottlieb, which is the Castle Point Carriage Road, blazed in black.
If you're feeling like you want to explore around the lake a little, ride the Upper Awosting out to where the trail meets black-blazed Lake Awosting Carriage Road, which circles the lake. You can ride around the lake in either direction. Either loop you take, you will eventually come to a lilac-blazed trail on the far side of the lake. If it fits your outing, lock up you bike here and hike this loop, which runs past three unique cliffs and overlooks – Murray Hill, Margaret Cliff and Wolf Jaw. There are numerous splits and trails that link up to this footpath so make sure to have your map with you if you choose this path.
From the Lake Awosting Carriage Road, you can return the same way you rode out – on the Upper Lake Awosting Carriage Road. Or you can add a variation by taking the Castle Point Carriage Road, blazed in blue, back to Lake Minnewaska. This trail is, for the most part, a moderate trail with more hills than the Upper.
If you're just going to the lake and back, the ride along Upper Awosting is roughly a nine-mile round trip.
3. Schunemunk Trails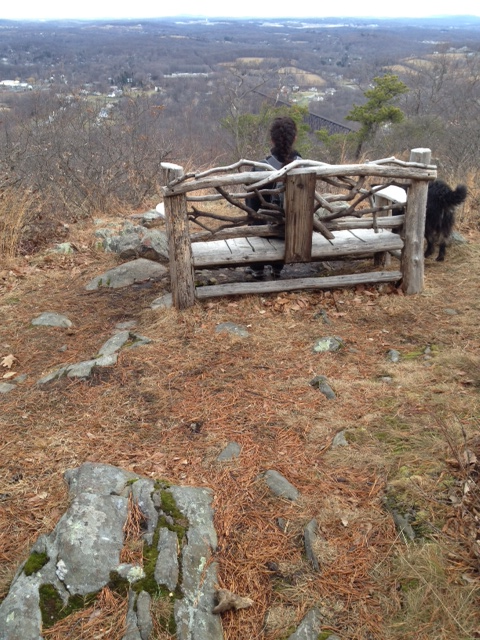 Made up of nearly 70 miles of trails and holding 10 miles of the Long Path, the West Hudson Trails have a variety of hikes that wind through parts of the Black Rock Forest, Schunemunk Mountain State Park and Storm King State Park.
But we are especially partial to Schunemunk because of the pitch pines similar to those found in the Shawangunks and the red sandstone conglomerate.
We suggest the nearly 9 -mile trails from the parking area on Taylor Road. From here, get on the yellow-blazed Jessup Trail, which starts you off in rolling fields.  Cross through meadows and steep uphills, over rocky slabs to expansive views at the top of the mountain. Because of many splits and turns, we suggest checking out the West Hudson Trails map to suss out the full loop or take a variation of your own. There are many.
"It is a long reach, but once you get to the top, it is rewarded with plenty of hiking and not a lot of up and down once you're up there," says Gottlieb.
This is the farthest of our listed area (about an hour away), but still worthy of a visit.
4. Undivided Lot
A moderate hike with expansive views, rocky cliffs and hills, the Undivided Lot is one of the more remote areas of the Mohonk Preserve. To get started, drive Ulster Co. 6 past the Mountain House and down the backside of the ridge. Turn left to stay on Ulster Co. 6, which is also called Clove Road, and a quaint yellow chapel rests immediately on your left.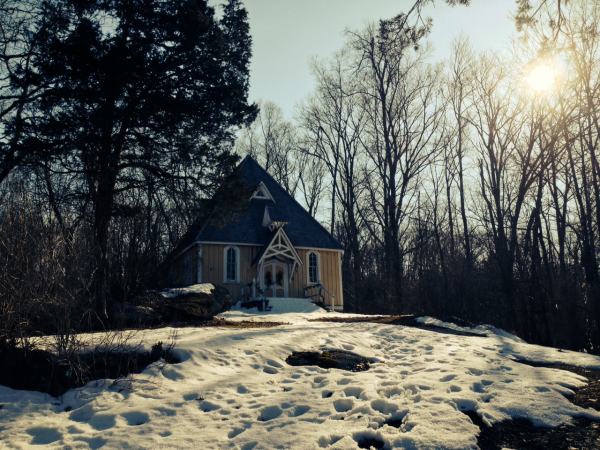 There's space for only a few cars at the yellow chapel.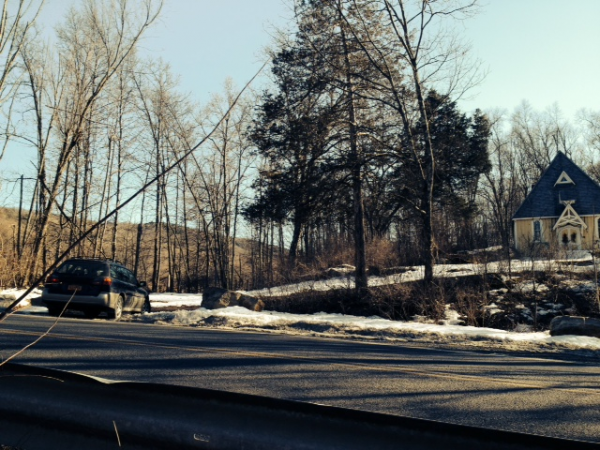 If that's full, park at the Spring Farm Trailhead and hike the quick Chapel Trail.
From here, get on the Undivided Lot Trail, intermittently blazed in a light blue. The trail follows a steady uphill for the beginning half. After the first mile and a half, you will find a split for Clove Path blazed in red. Keep straight and you will come to a rocky area with open views of Clove Valley.
The trail continues on with more views of the Clove Valley, and farther south, the Catskills. You will hike through hemlock groves and steep portions along the cliff's edge. Just before you reach Old Minnewaska Trail you will reach a rock slab with gnarled pitch pines and expansive views to the north and the west. From here, keep hoofing: soon you will reach a split. This is Old Minnewaska Trail, marked with light blue blazes and about three miles into your hike. You can turn back here or continue on this trail all the way down to Split Rock near Coxing Parking. If you're heading all the way to Coxing Parking it is best to have two cars.
5. Slabsides
Once the log cabin retreat of naturalist John Burroughs, Slabsides is part of the Hudson River Valley National Heritage Areas. Slabsides is the site where many of Burroughs most well-known essays were written and rightly so – the surrounding area is beautiful, with quiet woods and rock outcrops. The cabin itself – still holding Burroughs possessions as he left them – is only open two days a year (in May and October). But hiking trails from the estate are open year round and offer 191 acres of protecting land.  This is a great place for short hikes with the family or a wooded stroll. 
If you have a kayak or canoe, a fun variation would be to paddle and hike out to John Burroughs Nature Sanctuary from Chodikee Lake. Start at the Chodikee Lake put-in and paddle to the narrow channel – full of turtles and birds – that's dammed. From here, you can catch a trail that winds its way to Burroughs' property and Slabsides, making its way through the Black Creek State Forest. There are ups and downs but no serious hills.
Remember to pack all the necessary items. We have a variety of products for your hike – or take the suggestions of out local staff and refer to our hiker's must-have kit at the bottom of the first-part of the series. Or stop in Rock and Snow and chat with our friendly staff. They can direct you towards the right products and information about any of these trails.