Flashback: Dick Williams, The Documenter
This Gunkie, guidebook author and area legend riffs on Rock and Snow, the Vulgarians and his favorite 'Gunks decade: the 60's
Dick Williams. For many the name alone spurs thoughts of rumored adventures and larger-than-life personalities. Truths shrouded in lore, stories and a skewed blurry vision of reality.
Probably best known for his days with the Vulganians, a group of twenty-something's in the 'Gunk in the 50's and 60's known for their Kerouac-ian bend and late-night raves, Williams is all but a myth.
His legendary ascents, antics and thou-shalt-not-chain-me attitude won him and the Vulgarians whispered-about attention; much of what took place, today, drapes history like a thin layer of fog — at once real and not real — falling into most minds as urban legend. Though it may seem that some of the tales of this time were exaggerated, it's suffice to say that they weren't.
"They were, ehh…" Williams voice trailed off.
Williams could hardly describe the time but the smile on his face said enough.
This was a time when dropping acid and climbing or climbing Shockley's Ceiling (5.6) naked (chosen for it's popularity among spectators) was somewhat nonplus. (Williams's first naked ascent was also a first naked descent since his fellow Vulgarians took off with all his clothes while he ascended).
"We'd rave 'til three am, but we'd always be up and climbing by nine," says Williams.
A name that was apt for them, the Vulgarians formed around the end of the 50's in response to the authority driven, rule-obsessed members of Appalachian Mountain Club (AMC), or Appies. The Appies were part of a club that pretty much ran the rodeo at the 'Gunks in the late 40's and 50's as self-appointed protectors of the land. In fear that too many climbers without rules would jeopardize climbing access, the Appies set climbing rules, regulation and red tape as long as the carriage roads.
Williams started climbing around 1957. He was active in the Submarine Service of the Navy for four years and, while visiting the area on weekends over the next few years, started climbing with Jack Hanson and various soon-to-be Vulgarians. Not willing to accept the Appies' overbearing rules, and truly just wanting to go climb, the Vulgarians — young, vibrant, self-possessed — made their own set of rules. 
"I guess I just fit in with [the Vulgarians]," says Williams. "They were a great bunch of guys and gals. Adventurous, very warm and generous. Light-hearted. If you could razz some and get razzed, you fit in."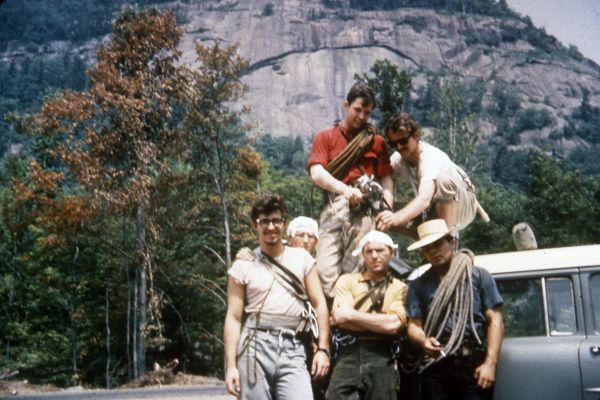 A clan of Vulgarians. The climbers in this photo are: (listed left to right) Claude Suhl, John Weichsel, Dick Williams, Al DeMaria, Brian Carey, Roman Sadowy. Dick Williams Collection. NOT FOR REPRODUCTION. 
At the heart, they were a group of friends having fun; but their anti-establishment, anti-government leanings carried weight of rumored fanfare. The Vulgarians culled a somewhat mythical reputation across the country largely for their stints of parties and climbing routes in the buff.
But the Vulgarians weren't just known for their spontaneous and outrageous actions. This group of men and women drove the world of climbing to new heights. It was before hang-dogging and yo-yo, siege-style ascents of the 80's and before bolt wars, or bolts at all, and "nut-only" ascents. Pitons, knife blades and now-derelict forms of protection were the norm.
As the decade flipped the switch from the 50's to the 60's, the area saw its first onsight, ground-up 5.10 ascent — Jacob's Ladder, a thin, puckering, X-rated climb — put up by Phil Jacobus. This was to be the new world order and, as climbing evolved, the idea of just getting to the top — the alpinist-inspired summit fever — was exchanged with a surge in climbing to establish free routes without aid, worthy in and of themselves. Within this decade, free climbing was embraced as the crème de le crème of ascents. But while aid was slowly falling out of favor, it was still utilized in establishing some of today's classic — first establish on aid and then climbed free. Williams, for example used aid for the first ascents of routes like Kansas City (5.12b) in 1962, Fat City (5.10b) in 1966 and Yellow Wall (5.11c) in 1966.
"This was probably my favorite decade. The 60's," says Williams.
" Everything changed with the equipment we had," says Williams. Pitons were the main type of protection at the time and it wouldn't be until the early 70's that nuts debuted. If you can imagine, it was a much different experience of a route.
"[Art] Gran once said, if you made it through the first five years then you got it made," says Williams. "It was a different time and it was a steep learning curve."
Dick Williams seen here leading Birdcage (5.10b) in 1984. Williams, Steve Arsenault and Wil King established the first ascent of this route in 1971. Dick Williams Collection. NOT FOR REPRODUCTION. 

The climbing style was old school by today's standards: always have three points of contact. But Williams, with his gymnastics background, changed the scene.
"I wasn't afraid to dyno for a hold even with poor protection…and it seemed to be an efficient way," says Williams. "Funny enough, [John] Gill was doing the same thing at the same time without knowing each other." Gill would later become the godfather of modern bouldering.
Fittingly, the 'Gunks is conducive to this type of climbing: hard moves, then a rest (hopefully).
"It's a forgiving feature for classics," says Williams, many of which Williams was a part of the first ascent team.
One of the most striking early ascents of Williams' was his second ascent of Yosemite aficionado Yvon Chouinard's  Matinee (5.10d) — a route who's first pitch eluded even the hardest climbers in 1961 making it (what Williams' 2004 'Gunks guide notes) "an overnight sensation and test piece whose reputation for difficulty actually increased with time."
Earning his stripes among his comrades came easy and Williams settled into the first ascensionists circle pretty well.
But ascents were slow and grueling. Protection like pitons and knife blades were laborious and time-consuming to put it — climbers would commit hours upon hours on a single lead.
Take, for example, Williams' and Ants Leemets' first ascent of the Yellow Wall (5.11c) in 1966, which became the site of the first overnight bivy in the 'Gunks.
"We placed two bolts, each one took a long time to place due to having to put them from very small and awkward stances," says Williams. "I placed the second bold and the stance was so thin that every time I hit the drill bit with my hammer the blow would almost throw me off, and it would have been a nasty fall."
The early 60's would swell with development and would soon result in a guidebook, written by Gunkie Art Gran. But just before it came out (in 1964), Williams claimed some other ascents that would make it in: like Frustration Syndrome (5.10) eking into the guide the publishing year.
"[Jim] McCarthy had gone up and was wearing new knickers. He couldn't get his foot up," says Williams. "So he came down."
Williams, rearing to go, cruised the bottom and got to the crux near the top.
"Before the last overhang, you have to make a move into the corner. There was no pro and I had a terrible stance and I didn't know what was ahead. I pounded a piton in and clipped it. I thought I was going to fall, but then thought, 'to hell with it', and reached up to find a bucket," says Williams with a laugh.
Williams was on the first ascent teams for many other climbs in the 'Gunks. There are many — too many to list here — but a few include (some aid, others not) City Lights (5.8-) in 1965, Modern Times (5.8) in 1964, the original CCK (5.7+) in 1968, Limelight (5.7) in 1965 and Fat City (5.10) in 1966 known to many as one of the best if not THE best 5.10 in the 'Gunks and in the country.
Wiliams gearing up in the Trapps circa 1970's. Dick Williams Collection. NOT FOR REPRODUCTION.

By the 70's, the "Iron Age of the Piton" was coming to a close. Aid climbing was running it's final oxygen-deprived laps around the 'Gunks, and nuts were starting to gain favor with " clean-climbing" ethics. The reason for the shift was largely due to environmental factors: simply put, pitons damaged the rock and nuts didn't. A new breed of climbers was born: those like John Stannard, and later Henry Barber, who would place and remove their protection and go so far as to pull the rope down between every attempt. The thought of getting to the top by any means was falling out of favor in exchange for getting to the top without aid.
Beyond freeing established aid routes, the early 70's was slow for new climbing development; however, Williams was hard at work on other things. Along a few other old pals, like Jim McCarthy and Rich Goldstone, he opened the doors of Rock and Snow.
"At first [the store] was pretty quiet," says Williams. "It was mostly weekend warriors."
They geared the store towards backpackers to spur business, but it soon became a meeting place for climbers, much like it is today.
"People would come in to get beta on the latest climb," says Williams.
John Stannard, another pre-eminent Gunkie, introduced a nut-only log at the shop.
"People could come log their ascents and see what was new," says Williams. "People were doing their best to do first ascents on all nuts."
"Back then, the equipment, the nuts, were not that good. They weren't tapered and it was a real challenge back then," says Williams.
"I would carry both until I got confident, enough…Stannard and Chouinard were way ahead of the curve."
Along with running Rock and Snow, William published a guidebook to the area in the 1972 (his most recently updated guide was released in 2004). Williams' investment in writing the guide was, as the book notes, twofold: the need to document the new climbs and updates since the first 1964 guide by Gran and, what Williams writes, "the personal involvement, commonly known as an ego trip." There was no gear rating or star ratings as there are today.
My personally owned, pristine copy of the 1972 Williams guide. We paid $80 for this baby in May 2014. A total steal if you ask me. 
While Williams would own Rock and Snow for thirty years — a legacy in and of itself — and contribute to the history of the area, he wasn't just known for his time around the 'Gunks. In the early 1960's, he traveled to Cannon Cliffs in New Hampshire with Gran. After failed attempts due to weather, Williams and Gran soon returned with then-visiting Chouinard and made a two-day ascent of the nine-pitch VMC Direct (named after their Vulgarian Mountain Club). This airy and sustained climb marked the East's first big-wall route.
Williams was also part of teams that made the first ascent of the South face of Snowpatch in 1966, the sixth ascent of the Nose, and numerous first ascents in the Tetons and the Wind River Range, which he climbed with fellow Gunkies Joe Kelsey and Dick DuMais.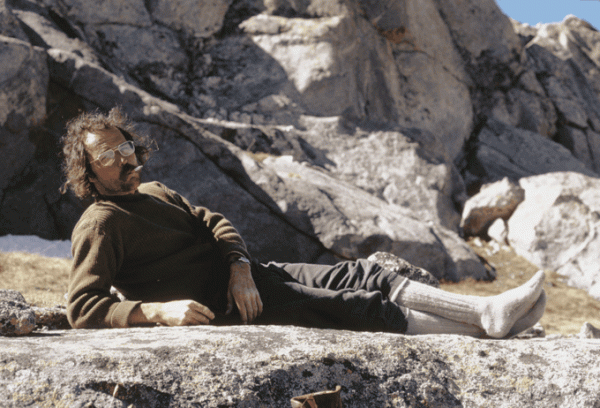 Dick WIlliams, Wind Rivers, Wyoming, 1971. Williams and Dick DuMais had just topped out a first ascent of a multi-pitch route on The NOB. Photo credit: Dick DuMais. NOT FOR REPRODUCTION.
While today his Vulgarian days might be behind him, Williams reminisces of good times with good friends. Now retired and still yolked to the 'Gunks, he runs volunteer, trail, access and cliff base restoration projects. And if he's not around the cliff, you can find him hard at work in his home office sitting amidst stack upon stacks of books and files and documents.  Photos of Gunkies on the wall behind him, and a framed stenciling that reads: F*#@k Communism next to the door.
Williams — with his guidebooks, collection of rare Vulgarian Digests, and hordes of topos, maps, and personally drafted guides — is a walking tome of history in the area.
And it's a good thing, because as Williams says, "It's amazing how much people forget."
And who wouldn't want to remember times like these?
Williams climbing Shockley's Ceiling (5.6)  in nothing but a swami belt and shoes in 1984 for the 20th anniversary of the first nude ascent that took place 1964. Dick Williams Collection. NOT FOR REPORDUCTION.