Flashback: Jeff "Bones" Gruenberg
Part of the Gunks scene during the 80s, Jeff Gruenberg is credited with doing the first ascents of a handful of the Gunks' hardest lines. From new routing horrifying leads at Millbrook, to redpointing some of the Trapps' test pieces, Gruenberg took sport climbing tactics, iron-clad mental skills and interesting dietary restrictions to a new level.
 **
Jeff Gruenberg looked up at the high-in-the-sky boulder problem. He was at the belay of the crux pitch of Sudden Impact (5.12R) with another area legend of the time, Russ Clune. They had climbed the first pitch and were staring up at the second, the only one that had not been sent.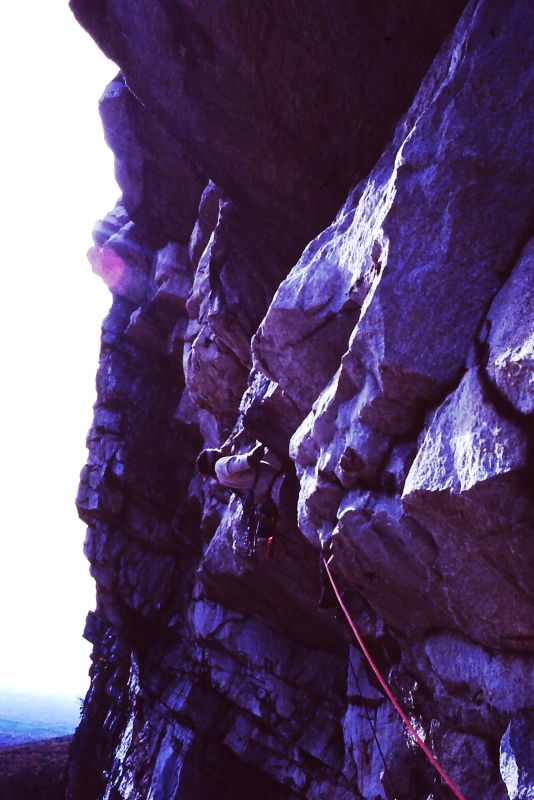 Swimming through uncertain terrain, Gruenberg almost in tiers at Millbrook. Photo provided by and property of Jeff Gruenberg.

It was 1984 at Millbrook—the revered, often feared crag of the Gunks—during the height of its propulsion of new routing. Both men were working together for the first ascent on this committing and sparsely protected pitch and they were in all-out assault mode.  They had attempted the route numerous days trying different angles and sequences with different holds to get through the crux. Gruenberg had found he could move through the sequence if he inched a couple of moves to the right, then got back on the line and climbed through the main feature. But now 30, maybe 40, feet run out, he looked up at another 20 continuous feet of hard climbing. It was either climb or drop off. 
"I dropped," said Gruenberg. He took a huge pendulum fall onto a slab below, caught a ledge and severely sprained his ankle. "I thought it was broken," he said.
 They got out, luckily, and he limped all three miles back from Millbrook. 
But the bug was planted and Gruenberg couldn't stay away. The following weekend he got some athletic tape and taped his foot so he could edge just enough to get through some moves. He sent the pitch and climbed out.
 Gruenberg over the "big air" on the run-out finale to Nectar Vectar (5.12). Photo provided by and property of Jeff Gruenberg.
This was Gruenberg's modus operandi. It was fitting: it was the early 80s and sport climbing had barreled into climbing's collective consciousness, bringing with it a new way of approaching routes—climbers "worked" them into submission. Although at Millbrook this process was hedged by strict stylistic principles, there were still tactical ways of approaching climbs: team ascents, falling, even stopping to suss (or figure out a sequence of) particular moves was becoming standard practice. It was a shift from the ground-up, onsight of earlier decades. 
Gruenberg first started climbing in the 70s; when he showed up on the New York scene he started climbing with Gene Smith, John Meyer, Mike Freeman and Jack Mileski back when they were pioneering the now guide-access-only Gunks crag, Skytop, to the north of the Trapps. Though he was from New Jersey, he was a Gunks fixture at this time often traveling up every weekend, if not more, to climb.
A crew of climbers gather at the base of Talus Food (5.11d) watching as the action ensues. Photo provided by and property of Jeff Gruenberg.

"That boosted my level; I wanted to climb with the big boys," says Gruenberg, "and I really started training hard. I became, what some people call, a single focused asshole, where I was just climbing." 
Others that filtered in and out of this group included Russ Clune, Lynn Hill and Hugh Hurr. The group climbed together, repeating some of the classic first ascents that had been done at Skytop. Then they moved on to tough classics like Supercrack (5.12c) and Open Cockpit (5.11d).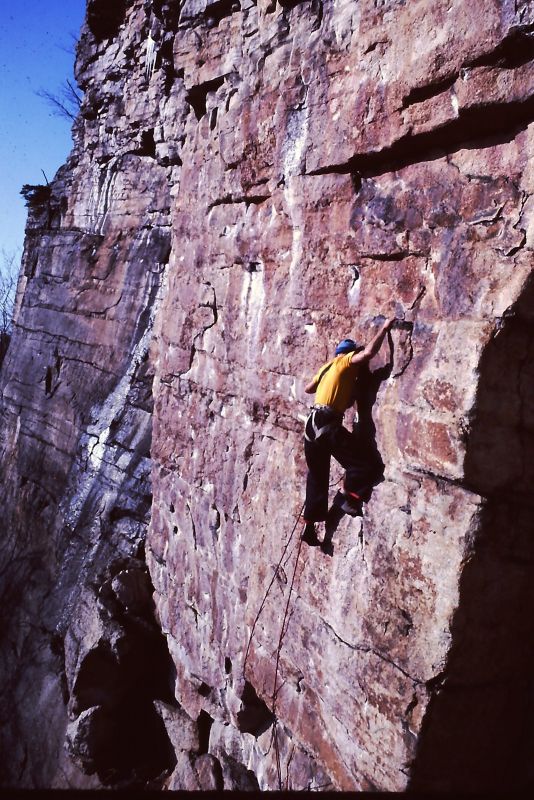 Soaking up the sun on Talus Food (5.11d) at Skytop. It was on this route that Gruenberg broke a hold 50 feet up and in "ground fall" territory. As the story goes, he employed Herculean power to hold an outward swinging barn door to regain balance and a stance, narrowly avoiding a ground fall.  Photo provided by and property of Jeff Gruenberg.
Among the routes he climbed as a group effort at Skytop was Vandals (5.13). Named after Mileski, Freeman and Gruenberg did some "landscaping" to the ground-fall zone, Gruenberg linked up with some of the time's strongmen for the effort: Lynn Hill, Russ Clune, Mike Freeman and Hugh Herr. Inching the gear, and rope, a little bit higher each attempt, the group (all four of them) finally sent Vandals in 1983. The send marked the route as the first 5.13 in the Gunks and the east coast—one of the hardest routes in the country at the time.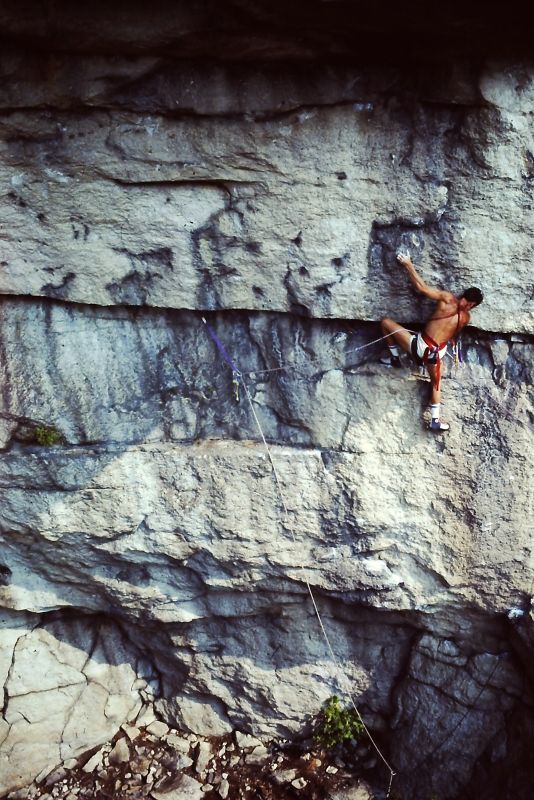 The legendary route, Vandals (5.13). Photo provided by and property of Jeff Gruenberg.
During this prolific time in the early 80s, the group also frequented Millbrook, climbing classics like Happiness is a 110 Degree Wall (5.12), Back to the Land Movement (5.11), Land Grab (5.11+), Square Meal (5.11), White Corner (5.11) and, of course, Sudden Impact (5.12).
 Seen here: Gruenberg burrows in on the White Corner (5.10+). Photo provided by and property of Jeff Gruenberg.
"We were looking for new ground," says Gruenberg.   
There was a line just to the right of Orbit of Jupiter that caught their eyes. John Meyer and Gruenberg went out there one day to try it. Like Sudden Impact, it was a "high-in-the-sky boulder problem". 
"It's an extremely serious lead, Rings of Saturn," says Gruenberg. When he went for the ascent, he placed a small nut, small enough that you wouldn't actually want to fall on it. Then he got through the boulder problem, but realized that last piece of gear was all the protection he would get. So, he kept climbing. 
"Really, it's just a small #2 RP that you're running it out on," he says. With the exception of good gear for the anchor, that's all he had. 
"We called it 5.11." 
About this same time, Meyer and Freeman had worked out a line just to the right of Square Meal and called it Nectar Vector (5.12). It's packed with hard climbing just to the left of the historic New Frontier (5.11). Two pitches make way to the start of the third: a boulder problem entrance to a sharp tenuous arête of delicate smears, small holds and nothing but big air beneath. 
"We went out there and set up a portaledge and a boom box and just worked it one day," says Gruenberg. "We kept trying and trying and trying and couldn't get past this one crux move." Mileski and Gruenberg, however, were obsessed with the route. Laser focused on the send, they went out again and cracked the paradoxical crux move to send the route.  The sending spree kept going: Gruenberg was also part of the first ascent of Manifest Destiny with Mileski. At the time, the route was called the best 5.12 in the Gunks. Since then, a hold had broken making it likely a 5.13, but just as worthy of substantial note in the best-of lists. 
The tear continued into the mid 80s when Gruenberg and Mileski did French Connection (5.12) at the Trapps. 
"The French Connection took a tremendous effort on my and Jack Mileski's part," says Gruenberg.
 "There was this move that Jack called the 'inversion boot'," says Gruenberg. After making a huge move from "the sandbar"—a horizontal rail that runs underneath a huge roof—to the lip of the roof, Gruenberg would heave his right foot over his head and lock it in this crack, and then let go. Hanging upside down from his foot cammed in the rock, he remembers shaking out, but most striking was the view. For him it was one of the spectacular positions in the Gunks.
Unfortunately, it was also littered with loose rock. So they took haul bags up and loaded them to the brim with loose rock and choss: as much as they could clean off. They freed the route in 1986.
Then they moved on to work The Zone (5.13), a ground-up effort from the GT ledge. The Zone could be called a direct start into Twilight Zone (5.13b), which had yet to go free and would remain a standing project until Russ Clune and Jordan Mills finally freed the elusive route in 1993. 
Finally unlocking the sequence, Gruenberg later went on to send The Zone. Photo provided by and property of Jeff Gruenberg.
The Zone, however, came earlier and Gruenberg took the first stab at it. From the ledge, he quested up the white face in a small and poorly protected crack to the left of the main feature. Then he zigzagged back and forth looking for some break in the sequence or good gear placement before launching into a committing mantel move to stand up on a ledge. But when he got there he made a horrifying discovery. There was still no substantial gear—at least nothing you'd want to fall onto.  "I said, 'Whoa what do I do now.'"
Standing at a good stance on the ledge, Gruenberg was stuck and unable to move up or down. 
"I called over to a friend, Doug Allcock, that was on Andrew and asked him if he could help me." Doug made it to the top of Andrew (5.4), tied a rope off on a tree and dropped the line over Twilight Zone. 
Mileski, on belay, was able to lasso out and grabbed the end of the rope and flicked it into Gruenberg. He clipped into it and took the giant swing into space, then rappelled the fixed line back the GT ledge. 
The next weekend they went back to take another look. Was it possible?  
"As I went up to the base of the overhang section, that's where the decision process came," says Gruenberg. "You've got this beautiful line and marginal gear that you could not lower on. There's bolts in the Gunks, so why not put a bolt in there?" He says.
Ultimately, they did. But to free climb the route was still eluding both climbers. There was one move haunting Gruenberg until the late French climbing legend Patrick Edlinger came to visit.  
"I got the ropes set up and Patrick went up there and grabbed this pinch and re-arranged his body and got through this move and fell off, and I said 'that's it'."
 A semi-restful stace preps you for the final crux pulling the roof above Gruenberg on The Zone. Photo provided by and property of Jeff Gruenberg.
Gruenberg soon came back, worked the route and then did it. The day had been perfect: clear, low humidity, high psyche. The beauty of the moment that day drifts with him still. 
"I was in the best physical condition of my life." 
This was no surprise. Gruenberg and Mileski were known to be militant in their approach to climbing. They  employed "tactics", which included minimalist eating habits (earning Gruenberg the nickname "Bones" for his streamlined figure) and strict rounds of sufferfest training days. "We would go out in winter time and pump laps on Persistent (5.11d) and do top-rope laps on Survival (5.13a)." That's when he started looking at Clairvoyant, which they would later send at 5.13b. The duo was practically inseparable.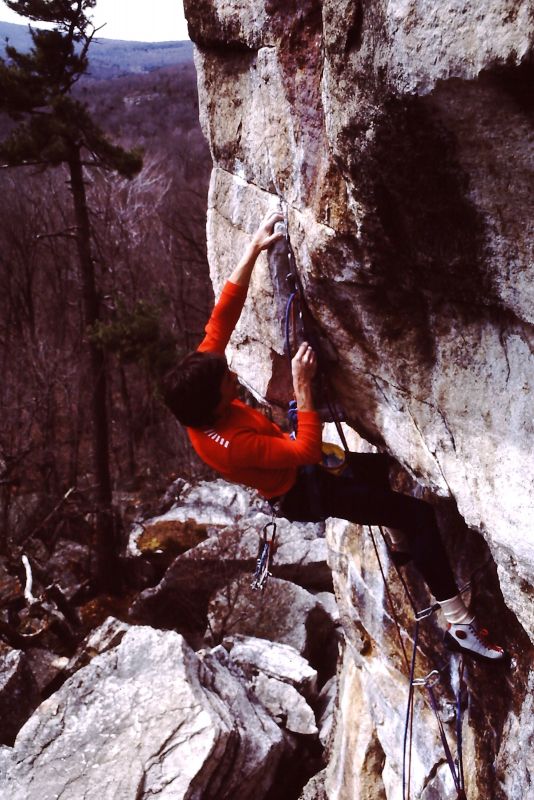 The late Jack Mileski copping in quick rest on the "jug" between the two bouldery cruxes of Clairvoyant (5.13b). Photo provided by and property of Jeff Gruenberg.
 "Jack was my best friend and climbing partner," he says of the late Mileski, who was known for developing his own unique lexicon of climbing terms, like "tweak" and "beta". 
Among Gruenberg's other ticks were the first free solos of: The Yellow Wall (5.11c), Foops (5.11), Fat City Direct (5.10), Erect Direction(5.10) and Directissima (5.10) in the Gunks as well as hordes of first ascents in the South. There are too many to name but they include the South's first 5.14, Pieta, and Soul Sounds (5.13a), Shake Rattle and Hum (5.13a) Area of Doubt (5.13), The Gold Club (5.13) and Meat Hooks and Memory (5.13).
While Gruenberg no longer lives in the area, his memories of the Gunks and his place in its history are still very alive. It's a glimpse into his vault filled with memories of friends and good times. 
We'd like to thank Jeff Gruenberg for sharing his memories and stories.