Flashback: Jordan Mills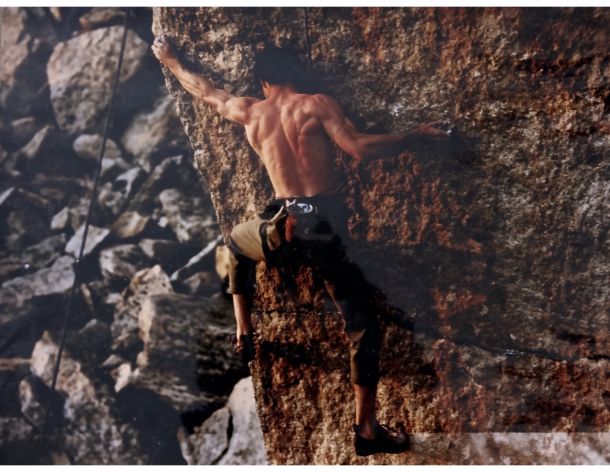 **
On any given school day in the early 80s you could find the young powerhouse from Englewood, New Jersey, Jordan Mills, stepping off the school bus stop near the Palisades Parkway, walking to the road and holding up a sign that read "New Paltz".
A young and eager Mills. Photo provided by Russ Clune. 

"I'd climb and be back home by dark," says Mills.
This was the modus operandi for the young, psyched high schooler: Gunks or bust.
Mills stepped on the Gunks scene just behind the phenoms of the early and mid 80s—Jack Mileski, Jeff Gruenberg, Lynn Hill, Russ Clune. He had enthusiasm, youthful optimism and a lot of energy to burn—just the thing that the Gunks needed. It was a time when competitions and bolted routes were all the rage, and American rock climbing saw a shift from adventure to pure athleticism. Among "the kids"—Mills, with Al Diamond and Scott Franklin—rode the shifting tide. They would soon push the bar past the grade 5.12 into 5.13 and establish some of the hardest routes in the area—Survival of the Fittest, Planet Clair, Cybernetic. With the persuasion of visiting European climbers, like Patrick Edlinger, this new generation took the Gunks to new heights. Implementing the practices that these Europeans brought with them provided the catalyst for change in the way Americans approached the rock. 
**
Mills arrived in New Paltz ready to climb for the summer before starting school at SUNY New Paltz.
"Back then I'd sleep under that Andrew boulder and someone would stop by and give me a kick, saying, 'get up!'" Says Mills.  
It was here that he met his soon-to-be climbing partner and good friend: the climbing prodigy from Manhattan, Scott Franklin. He also started climbing with a new group of locals.
Above, Mills executes the moves on the Sky Top testpiece Supercrack (5.12c) wearing a swami with leg loops. 1984. Photo provided by Jordan Mills. 

"At that time Lynn Hill had just moved so I must have been 17," says Mills. "She got me to go climbing with Gruenberg and we did Organic Iron at the Trapps," says Mills of the roof climb that Hill and Russ Raffa had done in 1984. The experience of climbing this hard and poorly protected route made an impact. "It was a pivotal moment," says Mills. "I started seeking out other like-minded folks."
Then things changed in 1985. Famed French climber Patrick Edlinger visited the Gunks, tackling the hardest 5.13s like warm-ups. One afternoon Mills, with Franklin and another climber, went climbing at Lost City.
"At the time, everyone would lead a route and if you fell you came down," said Mills. But this go around Mills quested up the route Gravity's Rainbow to give it a solid onsight effort. Edlinger, Russ Clune and Al Diamond were hiking up and witnessed the effort.
Mills climbed through the bouldery bottom on his first push, gaining the last 5.10 layback section at the top of the route when he got pumped and fell. But then Mills did something out of the norm: he yelled down to his belayer, "hold me here! I want to work out the moves!"
Franklin, however, was not impressed.  Mills says: "He yelled over to my belayer, 'no, lower him down!'"
Mills' belayer promptly lowered him; he lost it.
Edlinger had been watching the whole time; he pulled the rope and sends the route as Mills tended to his emotions in the boulder field. But when Edlinger returned to the ground, he said to the remaining climbers: "What are you guys doing. He fell at the top, he's got it.'"
"It snapped, just like that," says Mills. From that moment on it changed for Mills. That was the way of the future. Hanging and looking at the beta, then dialing it in. For Mills, if Edlinger said it, then it was the way. 
Others weren't so convinced until later that day. Edlinger walked over to Clune's notoriously tricky and hard 5.13, Thunderdome, and dispatched a quick onsight of it after chucking the key gear off the crux.
"Those guys were like, 'he knows,'" says Mills. 
After Edlinger left, for Mills and now a more reluctant Franklin, it was on.
"Right after that, we started working Survival from the ground up," says Mills of the Lost City 5.13. Franklin later got the first ascent of the route.
Mileski and Jeff Gruenberg—still at the helm of hard climbing—were working on Clairvoyance, a bouldery route to the left of Survival of the Fittest. "They wouldn't bolt but they chiseled nut placements," says Mills, who later put a bolt in at the crux when Franklin was working the variation that breaks off right, Planet Clair. 
All of these climbs were located on what has become known as the Survival Block. This little block of rock was a hotbed of hard climbing, and climbers would gather around to climb the few established routes there, reciting what was known as "beta" to the climber's every move. It was about doing hard moves and performing them with exactitude. Mills embraced the change: it was pure gymnastics.
Crimping mid-move, Mills on yet another one of his 5.13 ticks, Intruders. Early 90s. Photos provided by Jordan Mills. 

There was still a lot of the old school sentiment in Franklin, but Mills was intrigued with these new ways. The deal was sealed for Mills when he climbed in Joshua Tree and watched Jerry Moffatt, the British climbing superstar, boulder in the Hidden Valley campground. "For me his was the behavior to model, not this old school thing," he says of Moffatt who would visit the Gunks in 1988 and establish Mantronics, a 5.13d top-rope on the Survival Block.
"I never really got sucked into The Bank (Millbrook). There were things we wanted to do, like Happiness and Nectar Vector. But for me it really was a natural progression to pure athletics," says Mills.
Soon, the sport climbing from Europe really took off and Mills and Franklin started going to France. "That was the beginning of a big phase for me" says Mills. They spend time mainly in the Buoux, which, at the time, was at the forefront of climbing in France. "That was the first place I climbed hard 5.13," says Mills.  
Then he tried comp climbing, yet another progression that came with European influence. He went to the second year of the international Snowbird and the Canadian Nationals. He was often in the top ten, but he was disenchanted with the scene. "It seemed like a waste of time." He came back to the Gunks, where he and Franklin, who had become inseparable friends, continued to try the hardest Gunks routes.
By the late 80s, Franklin did Planet Clair, establishing it as, potentially, one of the first 5.14s; then, after years of joking about it, Franklin soloed Survival of the Fittest.
After that, Franklin move to Bend where he could pursue sport climbing; Mills, stayed behind and soon stopped climbing. He wanted to open a bungee jumping operation, and poured his energy into that. There was a lull in his climbing before he launched into a second phase, around the early 90s.
It was during this second phase when Mills' pure athletic strength took hold.  He came back to do Moffatt's Mantronics around 1993. He was stronger, and with a newfound psyche, he didn't care if it was a top rope or lead. He simply wanted to climb the hardest, most challenging moves no matter the style, which lead him back to a memory of his youth at Sky Top. "I remember when I was a tiny kid watching Hugh Hurr and Jersey Mike work Open Cockpit," says Mills of the famed testpiece.  He went back to the route, climbed it and set his sights on the arête, just left.
"I figured out the moves pretty quickly and came back and did it in maybe three days." The route was Bladerunner (5.13d), which is likely unrepeated.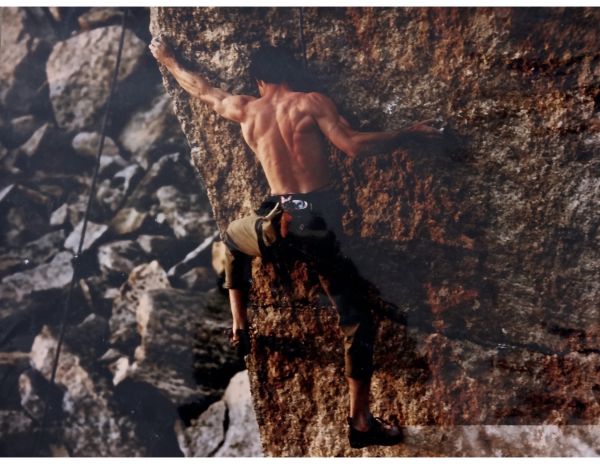 Seen here, Mills making the delicate moves on the 40-foot arête of Bladerunner look like a walk in the park. Early 90s. Photo provided by Jordan Mills. 

Mills says: "For me I never really cared whether it was top rope. There was so much controversy with the bolting. Bladerunner would have been chopped. It just made the logical sense to do it on top rope."
The next route Mills set his sights on was one that had been looming on the collective consciousness of Gunks climbers since 1963, when Art Gran and Phil Jacobus first aided it: Twilight Zone.
One afternoon in 1993, when it was pouring rain, Mills decided to take a look. He was with Liza Schwartz, his soon-to-be wife, and her sister. They all got up on the Grand Traverse Ledge to assess.
Mills, who had never even aided the route, remembers thinking it didn't look too bad. "I called Russ that night and was like, "it's done." He had figured out a way to do the moves that had stumped climbers for decades.
"Logistically, we had to figure out," says Mills, "and then we did it."
Clune and Mills had become regular climbing partners, and soon started working The Best Things in Life Aren't Free, which took the right-facing corner system directly right of the Twilight Zone roof. For years, Mills remembers thinking about the route and rigging it up to try it. But it never got done. To date, it is still an open project.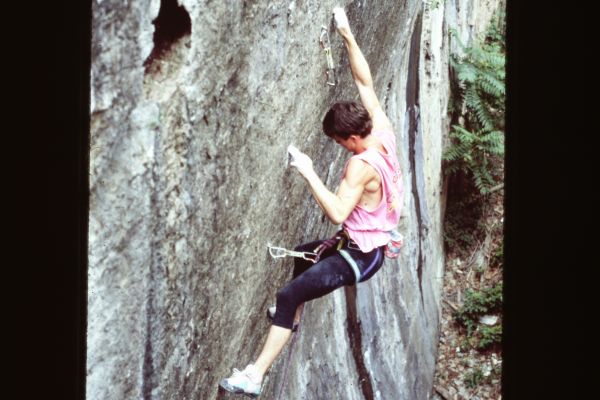 Taken in the late 80s, Mills climbs the 5.13c/d Colors at Kingston Quarry. Photo provided by Jordan Mills. 
Despite this, Mills continued to look for and tick hard lines. Which lead him again to Lost City and the Survival Block. He'd done virtually every route on the wall except Planet Clair and one more, which he called 'the culmination' of his climbing: Dreamland. The route takes a line of thin, small holds in between Clairvoyance and Survival.
"Scott had come to visit and came with Elie Chevieux," says Mills, remembering the talented visitor, who was the first person to onsight 5.14. " I remember setting up Mantronics for Elie. He pulled on the wall and slipped off right away. But then, he started up again and sent it."
For Mills and others there that day, it was astounding. Chevieux was a new level of strong. Then he tried Dreamland. "He made it through the hardest technical crux and then fell off. I thought, 'So, alright, it's definitely hard,'" says Mills.
Mills did Dreamland later that fall, ranking it among one of the hardest routes established in the Gunks at the time, with a grade of 5.14.  
"I really feel like I didn't come into my own until this second phase," says Mills. "I was good at breaking stuff down to a science. Always positive. If I made an inch of progress it was progress."
For Mills, this was the culmination of hard climbing, and for the Gunks it was another chapter in its long history. These days, however, Jordan focuses more on his business and doesn't climb nearly as often as he used to. When he does, he seems able to fire V9 off the couch or bust out a hard lap at Lost City without so much as breaking a sweat.
We'd like to thank Mills for sharing his memories with us, and hope to see him out and about soon.