Flashback: Rich Goldstone, Progenitor of 'Gunks Bouldering
Progenitor of bouldering in the 'Gunks and first to introduce chalk to climbing in the area, Goldstone talks the Vulgarian-Appie battle, John Gill and the first ascent of the Trapps' Mac Wall Testpiece, CoExistence 
Goldstone smearing up the perfect stone on the 'Gunks classic Arrow, first established in 1960. (ALL PHOTOS COURTESY OF RICH GOLDSTONE)

"My first visit to the 'Gunks was an unbelievable adventure. I still look back on it with enormous fondness," says Rich Goldstone. "There was no guidebook, or if there was we didn't know about it."
Whether known as one of the Vulgarians, first ascensionist of 'Gunks classics like CoExistence or progenitor of bouldering in the 'Gunks, Goldstone is nothing short of an essential character in the area's climbing history.
He talks in stream of consciousness, a fast, syncopated rhythm, that flows out half reminiscent, half philosophical. A scientist's mind of logic and meaning comes out in an analytical approach, but is wrapped into eloquence that sometimes comes off poetic.
He has graying hair, pulled back and tied low at the base of his head and wire-framed glasses; and after climbing for over 57 years is still getting out. Now a mathematician who lives in Pougkeepsie, New York, Goldstone still remembers his first days in the area because of how adventurous an experience it was…something that you can't experience today except through stories.
 "We walked along the base of the cliffs looking for something to climb," said Goldstone." It was hot foggy day and the cliffs were going up into the mist, they could have been 1000 feet high. We could have been climbing one of these islands in the sky, one of those Venezuelan jungles."
They just blindly picked a line to climb. It turned out to be Three Pines. Several years later he came back with Al Rubin. They saw a line of pitons going up the cliff, and knew someone had done the route. 
It was Birdie Party before the roof had been done free.
"I didn't know what I was thinking looking up at that ceiling; I had never climbed anything that looked like that."
He climbed up to the roof then thought, there is no way I could get up this, so traversed left all the way over to Something Interesting.
"I went through Higher Stannard, all the way over. I couldn't get any pitons in on the traverse. It was before nuts; it was also before [Yvon] Chouinard when you had a big selection of pitons with all different sizes. So I had like five pitons that were all, essentially, the same size."
He finally got over to Something Interesting, set up an anchor and got ready to belay his second.
"Now Al, poor Al, is looking at climbing, what, 30 to 40 feet across," says Goldstone.
"Well," said Goldstone, with a small shrug and laugh, "he took the ride and he almost hit the ground. He fell because there's kind of a hard-ish section, somewhere before you get to Higher Stannard and pendulum-ed down to just above the ground. "
Instead of lowering to the deck, or pausing as his life passed before his eyes, Rubin just started climbing again. "He climbed up Something Interesting," says Goldstone, "and had a good day."
But according to Goldstone, you can't have that experience now: "It's not possible. There was no one around those days. You can't even explain to people what it was like."
__
Goldstone grew up in the cab-ridden hustle-bustle of Manhattan. An impressionable teen with many interests, it didn't take long for Goldstone to discover climbing in 1958. His first climb was the three-pitch classic Owen Spaulding in the alpine setting of Grand Teton National Park.
"I was 14 and my parents sent me on this adventure camping trip out West and one of the things they did was hire guides to drag a bunch of us up The Grand. I fell in love with it much to my parents' astonishment and dismay, because they were not outdoorsy people," says Goldstone.
"I didn't get the idea of rock climbing back then, I thought you climbed mountains."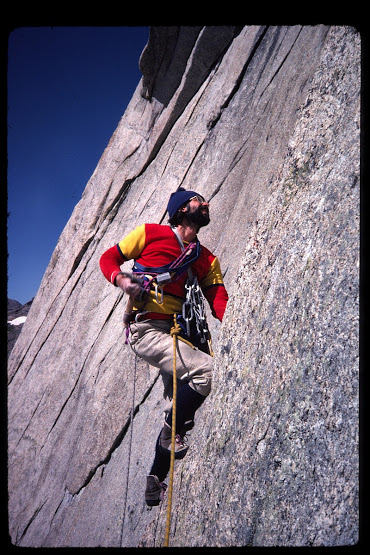 Goldstone climbing on Haystack Mountain in the Wind River Range.
He managed to get himself out west in high school one way or the other, then, around '61, someone showed him the rock around the 'Gunks where he would climb off and on throughout the years, ticking some of the first ascents of classics.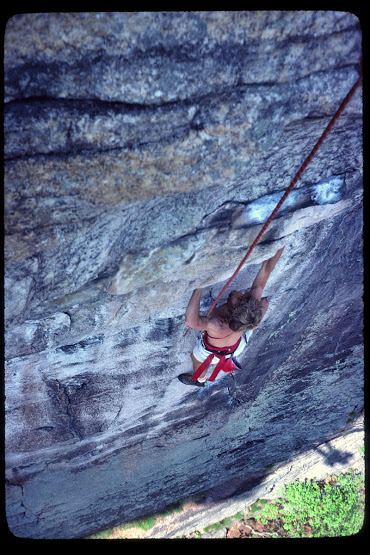 John Bragg, another area legend, seen here on Goldstone's CoExistence.
"In the 'Gunks everyone points to CoExistence. I don't know if it's one of my favorite [first ascents], but everyone else thinks it is significant," says Goldstone of this 1967 ascent. Goldstone also put up Farewell to Fingers, which was originally rated 5.12, but was down rated to 5.11.
"It was hard. Scary, too." Goldstone remembers.  "I remember saying to Dick [Williams], finally we have a real 5.10+ here."
Though Goldstone was part of many first, in his humble way he always re-directs attention to others' accomplishments, like John Stannard who Goldstone sums up as potentially the most under-rated climber of his generation.
"Stannard created a revolution in the country. I don't think he got close to the credit he deserved," says Goldstone. 
"Everyone talks about clean climbing and they talk about the Chouinard Catalog and essays, but Stannard was the leading edge of the movement to abandon pitons; he was the leading edge in the country, by a wide margin," says Goldstone. 
"He was way ahead of everyone else. He managed it by force of personality and by example and establishment of that magazine called Eastern Trade that he paid for and distributed for free. He basically converted the east coast."
While people talk about Stannard, his push for clean climbing and the book that started in Rock and Snow to log all-nut ascents, it was actually Goldstone that did the first all-nut ascent in the 'Gunks.
"It was Double Crack. That was really early in the game, before Chouinard produced anything," which happened to be in '68.
Goldstone on Double Crack, the site of the first 'Gunks all-nut ascent. 
Royal Robbins had written an article in Summit Magazine called "Nuts to You!", introducing the use of nuts to U.S climbers, something that had roots in England as far back as the early '60s.
"You could send 15 dollars to Joe Brown, and back in the mail came a little box with 12 nuts and a bunch of webbing," says Goldstone.
"They used to wear them around their necks like necklaces; we cut that out right away."
But there was a problem. In the 'Gunks you mostly found horizontal placements. "We thought to ourselves: what the hell could we climb with vertical cracks," says Goldstone. "It occurred to me that Double Crack has lots of vertical crack."
"It was an experience," says Goldstone, "I was so scared. That's the other thing is impossible to understand. This will never happen again: climbers will never go through a change of the sort that happened when people gave up pitons. There's never going to be a time when climbers put away everything they know and understand about climbing and protection and just start using things they don't know anything about. It's never going to happen again. Those were very exciting and frightening times."
This kind of risk, in a way, attracted the analytical and otherwise very measured mind of Goldstone.
"Mountains, backcountry, wilderness, and the adventure aspects of those things is what attracted me."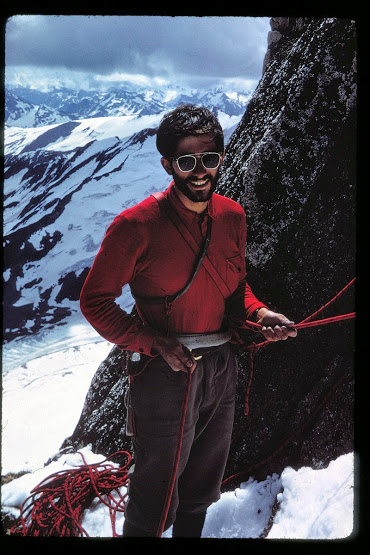 Hip belay in the Bugaboos. 
It was understandable. Goldstone was not swayed by the masses; he liked to do his own thing leading to adventures in the mountains, which is, interestingly enough, where he met many of the other local Gunkies.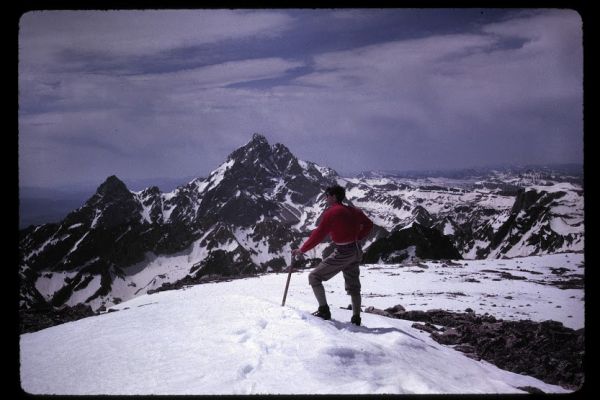 Goldstone taking in the view on Mt Moran in Grant Teton National Park.
"My first experience of Vulgarians was in the Tetons and was total horror," says Goldstone.  "I was still a highly impressionable high school student."
 "[Back then] I was romantically in love with climbing, the romance of climbing, the poetry of climbing, I was completely enamored, and I marinated in the patterned sweaters and knickers…"
"They used to have Teton tea parties and everyone sat around and sang folk songs. Then, in come the Vulgarians," says Goldstone.
"They're not wearing patterned socks and knickers. They're wearing torn clothing, and behaving outrageously and hung with loud and brash women who didn't wear a whole lot of clothes and climbed harder than half the men. They got drunk and took drugs and had Vulgarian Grand Prix races around the parking lot loop and urinated in the camp fire…I mean, I just thought society had collapsed; that this was it; this was the end of days; that everything that climbing stood for was going to go down the tubes into this black hole," says Goldstone.
 "But of course, then, I ultimately became one…"
The Vulgarians and their brash outrageous behavior often gave them the air of being unapproachable and absorbed in their own group.
But according to Goldstone, one of the things about the Vulgarians was "that they were totally accepting. It was almost part of their credo. You want to hang with the Vulgarians you hang with the Vulgarians. There was nothing exclusive about them."
 When he started climbing regularly in the 'Gunks, they took him in.
"Immediately I got invited to all the parties and was instantly included, which you just don't see. We talk about climbing being a social scene, but not like that."
Looking back, Goldstone likes to think of the Vulgarians as, sociologically, the first wave of the youth revolution that swept across the country.
"If you were a social scientist I'm sure you could take it and show how everything that happened nationally had a parallel. The objection to authority, the …sex, drugs and rock and roll…all of those things became a feature of the youth culture in the 70s; you had a microcosm of this youth revolution going on between the Vulgarians and the Appies."
While the Appies and Vulgarians were sparring it out, Goldstone was still traveling west to places like the Tetons, the Wind River Range and the Needles. Here, he put up many other first ascents— like his 1964 first ascent of the classic Needle's Eye in South Dakota — a super run out, X-rated 5.8.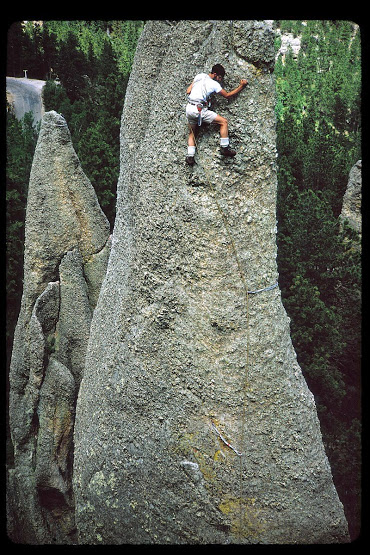 Goldstone delicately dancing up the Needles' must-do classic 5.8 Cerberus put up by Royal Robbins in 1964. Throughout the 60s, Goldstone spent many summers in the Needles with a group of climbers including Bob Kamps, David Rearick, Mark and Beverly Powell, Dick Laptad, Tom Higgins and John Gill.
"It was bold at the time; you needed the combination of stupidity and self control."
 Goldstone was, essentially, considered a local at then-desolate areas like the Needles. It was out West where he met another influential character in his life, John Gill — arguably the godfather of modern bouldering.
Flexing on the Gill Crack in the 'Gunks.
"He was idiosyncratic," says Goldstone of Gill who would often be found bouldering alone. "He was a guy almost entirely by himself. He didn't have any encouragement, mostly he got scorned or ridiculed."
Gill, a fellow mathematician, was this country's bouldering pioneer who brought a gymnastic, dynamic aspect to climbing, introduced "training" to the sport, employed the use of chalk and almost single-handedly started the bouldering revolution.
"[Back then] you had to do The Nose or Salathe; aid climbing too it wasn't doing those free. That's what you aspired to. I got my fill of that real quick," says Goldstone. "No one aspired to do what [Gill] did, no one cared. No one recognized it as having any validity. And no one was there to remotely push him."
In terms of climbing grades, the fact that Gill got as far as he did, was amazing.  "At least two full grades. He was climbing 5.12 when 5.10 was the hardest," says Goldstone. "So there's no way to know what he might have done in modern bouldering."
In the words of Dick Williams, Goldstone was one of Gill's protegés, and after spending time with the legend out West establishing hordes of problems, Goldstone brought his vision of bouldering back to the 'Gunks.
 "[I did] nothing that was significant by todays standards," says Goldstone in a self-deprecating way. "V4, v5…but it wasn't a thing at all…bouldering. There were no crews; ninety percent of the time I was by myself. And no one cared."
Most of the problems Goldstone did in the 'Gunks were unnamed, and some likely un-repeated for many years, other than what eventually became the Goldstone Traverse, a solid v4 that used to be harder before a hold broke. Goldstone was, as Gill is attributed to saying, "very smooth, very elegant" in his climbing.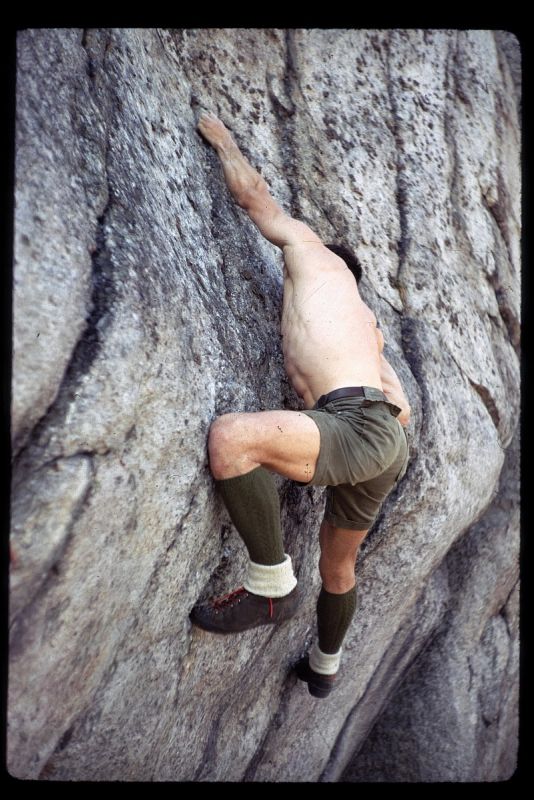 Goldstone on the Chockstone Problem in the Trapps. Goldstone put up hordes of classic boulder problems along the Carriage Road. 
You have to remember a couple things about bouldering then, though. They weren't wearing modern climbing shoes, there wasn't a scene or crew, no crashpads, and no chalk until, funny enough, Goldstone brought the revolution. Using chalk was a new technique for the area he picked up from Gill and that was pooh-poohed in the 'Gunks for the next few years. Now it is ubiquitous.
For Goldstone, bouldering was a reprieve from the stress of hard, scary trad climbs. It was a way to re-center himself and also a way to avoid crowds as they started to develop on the bigger walls of the Trapps.
Today, it's hard to imagine the scene: bouldering alone without crashpads or spotter; or an empty Carriage Road and a cliff line full of first ascents. But times change. For many this is hard to think about, but even harder to let happen. But for Goldstone, who has seen the time change again and again, its just part of it.
There are some that can't take it and stop climbing, but for Goldstone, who still frequents the cliffs, "There are some people like me whose time was up 30 or 40 years ago and are still happily climbing away."
 Seen here donning an old-school Rock and Snow shirt, Goldstone stems on Mellow Yellow (5.10) at Skytop.