Flashback: Rich Gottlieb
Bold rock and ice climber and owner of Rock and Snow, Rich Gottlieb, talks about the past, the present and what it means to take risks.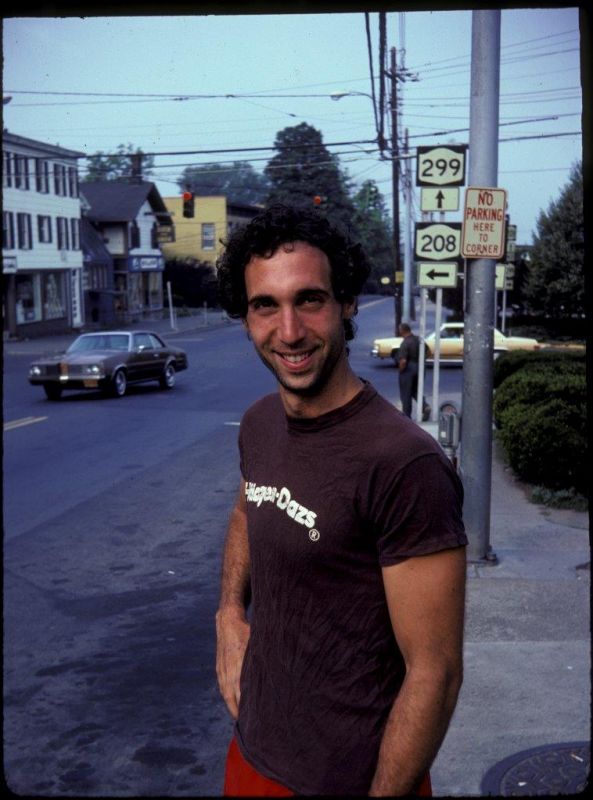 The smile says it all. Photo by Teri Condon.  
A fixture in the Gunks climbing community, Rich Gottlieb showed up on the local scene in the early 80s. While enrolled in a master's program at SUNY New Paltz for sculpture, he took a part-time job at Rock and Snow. This soon turned into a full-time job, then a manager's position and eventually owner after Dick Williams bowed out. But while the name, humor and helpful attitude of Gottlieb are recognizable to anyone in town, the story of how he got here is less known.
**
While Gottlieb grew up in Queens, he didn't start his climbing career here at the Gunks. Gottlieb's first idea of climbing came down south (where he would live for about 10 years) on his way back to Atlanta from a fiddler's convention in Virginia.
"We took the scenic route on the Blue Ridge Parkway on the way back, and I saw Looking Glass," says Gottlieb. "We drove down and got a two-second glimpse of the north side from the road and something just clicked."
He recruited Denny Mays for $35 a day to teach him a thing or two, and he started leading during the second lesson. After that, Gottlieb started buying nuts one at a time. This was before cams but after pitons, when the clean climbing movement was going off full force in the Gunks.
 Gottlieb running it out. Photo by Teri Condon. 
He made climbing friends—like Jan Schwarzburg, Bobby Lee Chesson, and Darrow Kirkpatrick, among others—and they often climbed at Mount Yonah. But when a couple of cavers said they wanted to take them to a new area, they piled into the back of a truck, slipped and slid through mud and rutted-out roads and arrived at a new cliff line in Alabama called Sand Rock.
With that, they forgot Mount Yonah, and started going to Sand Rock all the time. "We just kept putting up routes."
Then they found Yellow Creek and visiting climber and Yosemite veteran Chick Holtcamp found Jamestown, the mile-long cliff line with 80- to 100-foot routes, where Gottlieb was among the first ascentionists. He established routes like Winter's Respite (5.8), Riff Raff (5.10c/d), Pumpkin Patches (5.9+), Autumn Sonata (5.9), Spiritus (5.11r.), Dirty White Boy (5.9) and Wildlife (5.10).
Alabama and Georgia were a little slower than the rest of the country in terms of climbing development. "But being behind put me years ahead in the pleasure category," says Gottlieb. And with new cliffs, no real direction and a small guidebook that covered the entire southeast, the group had fun forging their own way. But Gottlieb remains humble about this time. "I attribute a lot of my excitement and adventure to my friends who shared the rope," says Gottlieb.
But while humble, Gottlieb wasn't afraid to hang it out. His boldness only grew over the years. When he took his initial trip to Yosemite, the first route he and Jan Schwarzburg got on was the Salathe Wall. Turns out, the small cliffs of the southeast weren't bad prep for the route. "I was able to do up to the Heart Ledge free in EB's. And I didn't think of myself as an 5.11 climber," says Gottlieb, who ended up leading many of the pitches.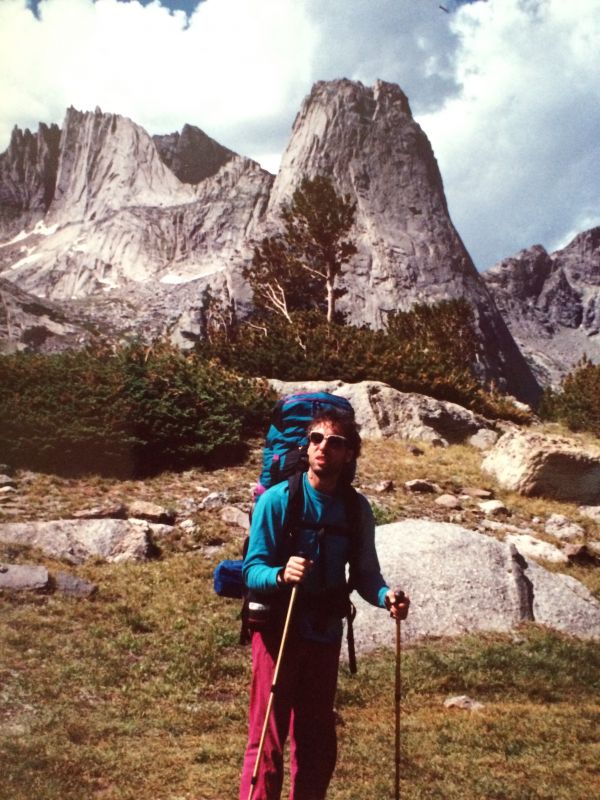 At home in the mountains. Photo by Teri Condon. 
By the time he reached New Paltz, he was coming in full-form as a bold rock climber and ice climber. He was soloing a lot which suited his abilities to handle risky situations, and in the early 90s, spent time out at Millbrook putting up routes like Dance Card (5.11 R) and White Knuckles (5.11 R).  
"I remember when Felix Modugno and I went on ice climbing trips. We'd call up north and they'd say, 'oh, that route was in last week, but it isn't in now,' so we'd just go do it," says Gottlieb. 
There were close calls with rock fall, terrifying climbing in Peru with Schwarzburg, and even a close friend's rock climbing accident in Boulder Canyon.
"But I still kept soloing," says Gottlieb, who was known to go out and solo tricky Gunks 5.10s. "Ice climbing went well because I had a decent set of balls. I took a lot of risks. Long run-outs on pretty hard stuff in Quebec and around here."
Gottlieb had the head for it and, some might say, climbed his best when he forgot to get scared. At first, close calls didn't phase him much. In fact, the most dangerous climb he did was a 700-foot ice climb in Quebec with Modugno within six months of fracturing his pelvis in a 100-foot near ground fall at City of Rocks.
"I had to get back on the horse," he says.
But, he could only get back on the horse so many times.  After years of walking away or being carried away from some serious falls Gottlieb's views on risk have changed.
"I think we all get caught up in things and when you're caught up its hard to get an objective perspective on it," he says. "You can be so close to something that you don't realize your nose is being worn off by that grindstone."
The game face comes out. Photo by Teri Condon.
Over time, he admits to making a few mistakes and not paying the price, and then seeing other people paying the price. It hit at the core of something.
"I knew great climbers who have died and as wonderful as it may feel to live large I would rather knock it down a few notches and survive to see many more beautiful sunrises and sunsets. We share the stage with those we love, who love us, and when you lower the curtain on yourself you create a void and a sadness for those that loved you most."
Now, the past "is what it is" and Gottlieb tries not to dwell on it. Rather, climbing to him is a very living thing that's always changing. "When you talk about the past it's not a living thing anymore. It's easier to move forward then to turn your head to look back. Anyway looking ahead saves you from walking into a wall."
That said, he is thankful for opportunities he had to put up routes in Alabama, Georgia, North Carolina, and the Gunks, but for him the partners remain more vivid than the climbs themselves. Climbing is about relationships and shared experiences and he is grateful for having wonderful partners throughout the over 40 years he has been climbing.
Then there is his rock Teri and their daughter Celia. "The former epitomizes grace in every way and the later embraces change with a fierce determination," says Gottlieb. "What a great experience it has been to be with a women whose climbing ability and style puts me to shame on a regular basis and how exciting it can be, in a different way, to travel and climb with Teri and Celia in faraway places," he says.
Now he pours a lot of his energy into Rock and Snow, and some of his greatest recent challenges involve the shop.
Rich Gottlieb overseeing his domain. Photo by Teri Condon.
"While most people consider it a travesty that corporations are considered people under the law the staff do their best at the shop to continue to be way more than shopping. They strive to be the place where all voices can mingle and have a collective heartbeat that empowers," says Gottlieb.  "They don't stop with all the different expressions of climbing but rather they work courageously to reconstitute community."
Gottlieb believes that community has slowly eroded through the actions of fear, capitalism, hedonism and peoples dread that their contributions become meaningless in light of these many challenges. But, he goes on to say, "climbing doesn't have to be separate from the rest of life but, if practiced with sensitivity and love, can become an example of how we can live in a more fulfilling way and in greater harmony with the planet and each other."
For Gottlieb, the deeper meaning isn't about his great adventures and meager contributions to climbing, but it is about us all moving ahead with an appreciation of the adventure brought about by change and wonder. And for him, Ali G. pretty much sums it up.
 "RESPECT."