Flashback: Rich Romano
It would be hard to see Rich Romano's prolific 'Gunks background on a first encounter; he is quiet and soft-spoken about the past. But the more you dig, the more you find. One of the most prolific ground-up first ascentionists in the 'Gunks and the Northeast, Romano is known for his puritanical styles, strict ethics and unending psych. These attributes allowed him the wit and will to put up a huge chunk of the routes out at Millbrook, the 'Gunks' dominant, intimidating and often overlooked cliff that evaded the bolting frenzy of the early 80's. Nicknamed the "Manager of the Bank" for his protective watch over Millbrook—the Bank—Romano, like this bolt-less cliff, is a true survivor.
Romano in his element. Photos provided by Rich Romano.
"Part of it reminds me of boxing," Rich Romano says of climbing. "It's what they say before a match…Always protect yourself."
Romano holds his hands up in front of his face. Romano has reddish-brown hair and glasses and wears a Guitar Fest shirt that reads Back to Bach. 
While Romano might make boxing metaphors about saving his own hide, he has a reputation around the 'Gunks for being unafraid—a quality he's recognized for from his many first ascents in Millbrook on routes with R and X ratings.
Romano, a full-time nurse and New Paltz resident, grew up outside of Pougkeepsie. For a few short years in his pre-teens, he got involved with a rough group of kids on a path — hell-bent on theft and cheap thrills — he would ultimately reject after checking out Minnewaska State Park Preserve with his brother-in-law. In this pivotal moment he found his way to climbing.
After his first visit, he returned.
"One day I just hitchhiked to Minnewaska and walked down to the Trapps," says Romano. "A guy named Jeremiah Freeman asked if I wanted to tie in and I did Bunny." His eyes light up at the memory of it.
It didn't take long for Romano to get hooked, and soon he picked up climbing with local climbing legends that would shape his climbing path like Bob Richardson, Mark Robinson, and the East's unsung hero, John Stannard, accredited with almost single-handedly promulgating clean climbing ethics in the East.
"I was 17 when I first started climbing with John Stannard. He had lead a climb called Shitty Mitty and I had followed it," he says of the now-overlooked Uberfall 5.11.
He remembers because his parents took a picture of them together.
That was just a couple years after 1973, which was a banner year if you look at the guidebook.
At the time, there was a lot of new routing going on at the 'Gunks, especially as climbers moved away from aid climbing and started freeing routes on nuts.
"I remember watching Henry Barber do the second ascent of No Man's Land," says Romano. I stood on the carriage road with my jaw on the ground."
Romano was young and impressionable and, at times, a little in over his head.
"The first time I met [Bob] Richardson I was walking down the carriage road and I wanted to do a 5.9, Le Teton. I don't even know if I'd done a 5.9 yet. I saw this guy and said 'hey, lets go climb'. I was beating my chest …I tried and kept falling. He went up and flashed it. People he knew walked up to the carriage road to see this idiot flailing trying to follow Bob Richardson. Of course, Richardson was totally embarrassed and yelled down to me, 'remember Richie this was your idea!'"
While he climbed in the Trapps and Nears plenty, Romano's true labor of love were the fruitful lines of Millbrook.
He went there with Hardie Truesdale for the first time when he was 15. The scary experience of rapping off the top of the cliff into the fog, and the whole cliff in general, had a huge impact on him.
Over the next couple of years he went out a couple of times, but it wasn't until he returned with Ivan Rezucha, a 'Gunks fixture in the 70's, and did the wild and sparsely protected 5.11 New Frontier that he had a breakthrough in his climbing. Romano and Rezucha repeated the line for the third ascent; it was a big moment for Romano, and Millbrook would never be the same.
Romano climbing New Frontier in 1980. Photos provided by Rich Romano.
New Frontier was hard, scary and run-out. It was Millbrook's first 5.11. Put up first on aid by Jim McCarthy and Ants Leemets in 1962, Stannard and Gary Brown returned and freed it in 1969. "Hot" Henry Barber made the second ascent shortly after.  
"I remember seeing Gary, when I was a kid, in the Brauhaus," he says speaking of this prolific climber in the staple restaurant of the 'Gunks, the Brauhaus, which is still there. "Richardson and the gang, we'd go in there and they would bring me in there and buy us pitchers when I was 15 and drinking beyond recognition. That's, of course, when you could do that."
But like the impression these legendary climbers left on Romano, the 1969 ascent struck Romano.
"One day I'm walking along the Mac Wall and I heard someone say Gary Brown…And I walked to him and said, 'hey you're Gary Brown, you're the guy that did New Frontier!'"
New Frontier, according to Romano, was a wild line and is one of climbing's "great sleepers", which, in reality, so is he. Around the time of this ascent, was when he fully came into himself as a climber and sprang onto the scene. Dick Williams wrote in the history section of his Trapps guidebook:
"…Rich Romano, who had been quietly leading 5.10 since 1973, suddenly made his first new-route appearance in 1975, when he powered his way up Void Where Prohibited (5.11d)."
But while Romano climbed in the Trapps and the Nears, he spent much of time refining his climbing abilities at Millbrook. After Romano ticked off the milestone of New Frontier he was unstoppable at Millbrook. He started putting up first ascents at this demanding and intimidating wall, many getting an R or X rating. But Romano adapted to the cliff with his style and built his reputation.
But while many thought Romano was unnaturally brave, he felt his climbing was conservative.
"It reminds me of a Clint Eastwood quote," he says. "A man's got to know his limitations."
In 1980 and 1981 he put up over 40 new routes, which were all climbed ground up on nuts or wob-wobs. Joining up with many other climbers for these first ascents — like Hardie Truesdale, Fred Yaculic, Chuck Calef, Rich Gottlieb, Russ Clune, Albert Pisaneschi and numerous others — he took the cliff by storm. While Dick Williams' guide attributes (at least in part) much of the 'Gunks explosion in new routing in the first two years of the decade to the advent of the camming device "Friends", Romano stuck to his trusted ways: climbing on nuts.
"75 to 80 percent of those routes were done without friends," says Romano. "I didn't start trusting them until the late 80's early 90's. I saw a few of them break. A few came out. I just used nuts."
Largely because of Romano's efforts, Millbrook remains one of what Rich Goldstone calls "the traddest cliffs in the country."
While Romano is best known for this prolific development of Millbrook (putting up nearly two-thirds of the routes there) and stringent ground-up ethics that has kept the cliff free of bolts or any pre-placed gear, he also put up some first ascents on the more traveled cliffs of the Trapps and Near Trapps like the big roof of Infinite Space (5.12a), which he established with Chuck Calef in 1981.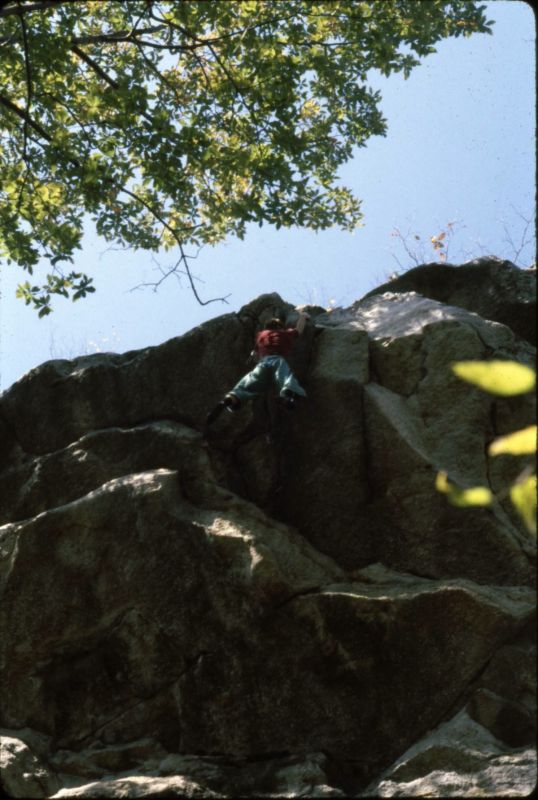 Pulling the final crux roof on Infinte Space at the Nears, Romano reclimbs his and Calef's '81 first ascent in '84. Photos provided by Rich Romano.
 He also traveled across the country establishing routes in area like the Adirondacks, the North Cascades, Tennessee and Big Bend.
Romano cruising in his sneaks in 1988. Big Bend. Photos provided by Rich Romano.
Routes like Route 14, Southwest Buttress, South Face (III, 5.10+) and Montezuma's Revenge (IV, 5.10 +) on Mt Russell, which he climbed in the summer of 1986 with Fred Yaculic. They also did tons of first free ascents in the Picket Range of the North Cascades and Prusik Peak of the Enchantment Plateau (like the first ascent of Prusik Peak, South Face of the West Ridge in 1987 and Double Bein, Keep on Belton andand Notley's Direct in 1988), and a first ascent on Ambush Peak in the Wind Rivers in the 1990's.
Romano soaking up the sun in Big Bend. 1985. Photos provided by Rich Romano.
Chuck Calef, a good friend of Romano's and climbing partner for years, moved to Texas in the early 80's where he landed on Big Bend and where Romano would often visit.
Reaching high with nothing but a rack of nuts and a swammi belt (which you will still see Romano wearing today) in Big Bend. Circa 1986. Photos provided by Rich Romano.
"In the early 80's I went down, and over the next few years discovered a few cliffs there ...Santa Linya Canyon, Davis Mountains..." Says Romano.
Bouldering in Big Bend in 1985. Photos provided by Rich Romano.
They even crossed the Rio Grande into Mexico to put up first ascents in this remote cliff line, coming close to getting benighted on multiple occasions. But Romano's philosophy was always to push on. Romano always had that survivor's instinct. He even had a close call on a rappel in 1982.
Romano and Yaculic had gone climbing in the Southern Picket in Washington. Early in the day, they had kick-stepped through snow up a couloir; but by the afternoon it was slush.
They moved to a rappel, and after backing up the single-piton rap, Yaculic descended. Then it was Romano's turn.
"The lightest always goes last," says Romano and he took out the back-up nut, weighted the piton only for it to blow out of the wall. He fell over 50 feet landing, like a cat on all fours, on a ledge in a few feet of melting snow.
After decades of climbing, this was the first close call he'd had.
"I still have that piton," say Romano.
**
Climbing for Romano was never about anything other than the act itself. It was climbing for climbing's sake. For every one of Romano's documented first ascents there are probably five unknown. His feverish pace and unremitting quest for new routes was unquenchable.
The joke is for many areas in the 'Gunks and elsewhere Romano has visited: if you think you have done a first ascent, check with Rich Romano.
In 2010, Romano was visiting City of Rocks with Myriam Bouchard and in a freak accident was lowered off the end of the rope on a route that wasn't labeled as requiring a 70-meter rope. He suffered severe injuries, which included traumatic brain injury (TBI).
"I really cracked my head," says Romano. "I had a TBI, which basically is a bad concussion. I did my first walk after the accident up to Duck Pond, which I've been to thousands of times. I didn't recognize it. It was the weirdest thing. I know I've been here but it was completely unrecognizable, then the forgetfulness. I think I still have some."
After that Romano went on a mission to standardize anchors, which he got some flack for.
"All I was asking...and there are some places that do this...just put a little tag on the anchors, need a 70-meter rope."
It was a long recovery road, but he is back out climbing as psyched as ever. His time is precious, but he always finds time to get out. When he's not climbing, you can probably find him mountain biking or brushing up on his classical guitar skills, always with the same eager enthusiasm for something new and something interesting.