Flashback: Russ Clune
 Team USA in the USSR in 1986. Russ Clune photo.
The climbing lifer and world traveler talks on the 1980s yo-yo siege-style ascent, the dawn of sport climbing and the best part of the climbing life: friendship. 
For some, the name Russ Clune is synonymous with a title—Climbing Lifer, Traveler, Storyteller. But to almost everyone, it's synonymous with a laugh—big, gregarious and booming. That's because Clune, longtime Gunks climber and climbing industry mainstay, is always looking for the fun.  It's no wonder, then, that over the years, Clune has befriended so many climbers from all over the world.  And never without a story: Like the 1983 team ascent of Vandals; or the ascent of Balance of Soul with Wolfgang Güllich, the legendary German climber who established the first 5.14a, 5.14b and 5.14d in the world; or just reminiscing about his life as a traveling climber for the Enormocast.
But for all the jokes and laughs, Clune has in some ways become a common thread among many climbers of as many nationalities throughout the years. If ever climbing needed to be set in context for understanding the larger meaning, then Clune is your guy, weaving together tales that transcend the ages. 
**
For a kid growing up in Westchester County, New York, "[climbing] sounded adventurous, and…anything beyond the golf course was adventurous." But without the gyms of today or knowing where to go, Clune didn't get his start climbing until the first week of college at University of Vermont. He joined a climbing school, which took a trip to a crag south of Burlington called Bolton. "That was the end of it," says Clune. He was hooked.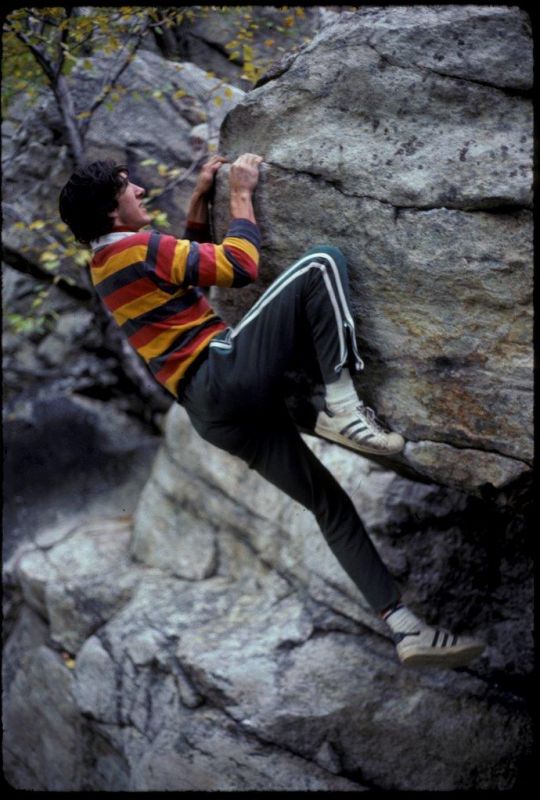 Clune on the Gill Egg circa 1978. Russ Clune photo. 
After he graduated, he and friend Gordon Banks bee-lined to "The Valley" (Yosemite) to go do The Nose and other classic wall routes and classic free routes. They practiced their hauling and jumarring skills on the Mordor wall at Cathedral.
"I had never done a route more than five pitches long," says Clune. So, first time up El Cap as a party of three with Banks and Greg Philips, the trio went to work schlepping two (read: giant) haul bags and fixing lines up to Sickle Ledge.  
"I didn't know who he was at the time, but Ron Kauk walked below us," says Clune of the legendary Yosemite climber, "and he looked up at the haul bag and said, 'you guys planning on spending the summer up there?'"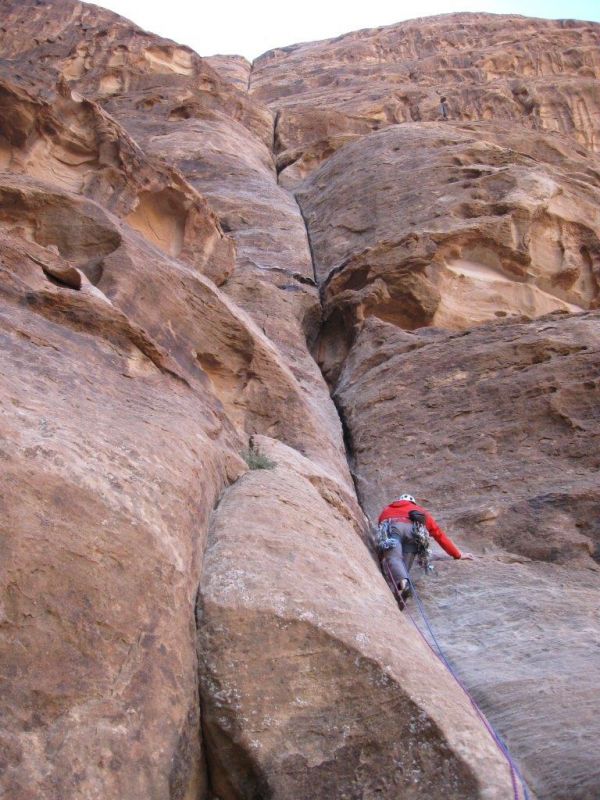 Clune climbing desert cracks in Wadi Rum. Russ Clune photo.
They spent the first night at Sickle Ledge; Clune slept in a hammock and woke in a crunched heap. After a quick stretch, though, he was ready to go. But when Philips woke up, "he decided this expedition was an expedition to nowhere and was having no part of it," says Clune. He took a rope and started rapping down.
Then somewhere around the Stoveleg section there was a pendulum to the right. "Gordon had led the pitch. I let the haul bag go, but I wasn't smart enough to have a trail line so I watched the bag skittle across the wall and smash into a corner," says Clune.
As the day went on, Clune and Banks noticed a wet spot developing in the bottom of the bag that was dripping. "On the first night, we didn't get that far, to El Cap Tower, and I opened the bag and said, 'shit, man, all our water is gone.'" Luckily, they found a stash of water on the ledge, and every ledge after that, all the way to the top.
Eventually Clune made his way back east, and between the years of 1977 and 1986 the Gunks were home base for Clune. "This was my primary climbing area when I wasn't traveling, which I was doing a ton of at the time," says Clune. Korea, Australia, Germany—Clune traveled to countries that aren't even countries anymore, like the Soviet Union. Over the years he has racked up the visited-country-tick-list to well beyond 40.
Mt Geryon bivy Tasmania in 1983. Glenn Tempest photo.
Welcome to the 80s.
As the 70s kicked the bucket and the 80s sauntered in, Clune was among a legion of hard men (and women) putting up first ascents in the Gunks. A few highlights include The Sting (1983), Jane Fonda Workout for Pregnant Women (1985), Slammin' the Salmon (1985), Requiem for a Heavyweight (1982), among many others.
This frenzy of nails-hard climbing was, in some ways, kicked off by the historic ascent of Vandals, the first 5.13 on the east coast. The year was 1983, and yo-yo siege-style ascent was just starting to appear, which according to Clune was one of the best styles of ascent.
Clune revisits Vandals thirty years after the first ascent. Matt Colorado photo.
"I really felt the yo-yo ascent built a comradarie and team spirit that you never could get in the sport climbing world," he says.
At that time when Hugh Herr, Jeff Gruenberg, Lynn Hill and Clune yo-yoed their way up Vandals, the hardest route in the world was Grand Illusion on Sugar Loaf in California. Tony Yaniro had first climbed it, but it wasn't considered legit at the time because he was using modern tactics, like projecting and hanging on the route. "He jumped from 5.13a to 5.13c with that route," says Clune. "Ray Jardine had done The Phoenix in the Valley, one of the original 5.13a's." But back then there simply weren't that many people climbing that grade, and tactics like these—mainstays of today's climbing front—were unheard of.  For years, emphasis had been placed on exploration, even at the micro level, and danger.
"It's adventure with a small 'a', but can have consequences with a capital 'C'," says Clune. "That's how climbing was done everywhere." But at this time in the early 80s, climbing was about to cross the threshold of a new era. "It became obvious for those who just wanted to be in pursuit of pure difficulty that all the esoteric rules in place for how to free climb, which we had practiced up to then, were stupid," says Clune. For many folks, the dawn of sport climbing changed the definition of rock climbing, and, according to Clune, comparing the old way and the new "would be the same thing as trying to make an English racer out of a Schwinn."
Now tactics like those on Grand Illusion and what the teamsters employed on Vandals were becoming legitimized. And tag-teaming a route or hanging on the rope in crux section to make sense of a hard sequence made it possible to ascend routes of harder and harder difficulty in less and less time.
It was also during this time, many of the climbers Clune had met on the road made their way to the Gunks. American climbers like Ron Kauk made the pilgrimage, and overseas hero-status climbers like Jerry Moffat, Patrick Edlinger, Wolfgang Güllich and Kim Carrigan came to the Gunks as a sort of rite of passage into American climbing. "All those guys knew how to place gear because they had been brought up in the trad climbing era," says Clune. But coming from Europe, where sport climbing already had some years under its belt, they had strength, too. Rather than sampling the classics, they were asking Clune, "where are your hard routes, and we'll tell you if they are."
Clune remembers one particular moment in 1984 when Güllich visited the Gunks.  He went down to try Intruders, and Clune caught up with him later that evening. He reenacts the exchange, giving Güllich a thick accent:
Clune: What did you think about that route?
Güllich: It's a good route.
Clune: Did you think it was hard?
Güllich: It would be hard if there were any hard moves.
Hello 90s. Let the friendships live on. 
Clune started grad school in New York, but in December of 1986 while he was giving a slideshow, he saw a friend whom he met in Hueco that worked for Chouinard Equipment. She asked what he was doing and offered an opportunity to work with the company (which would later turn into Black Diamond Equipment). He was gone for four years, spending copious amounts of time on the road for work and, at times, living out of a friend's garage because he was gone so much. Clune recalls an 18-month period of never having a meal at home.
Clune pulling roofs on the Crack of Bizarre Delights. Russ Clune photo.
Then he returned to New York in 1991 and started as a sales rep for Black Diamond Equipment. Back in the Gunks, he did some of his hardest climbing in the following years. In 1993, he and friend Jordan Mills partnered up to climb the old classic aid line established 30 years prior, Twilight Zone. Then Clune sent Mantronics in 1994.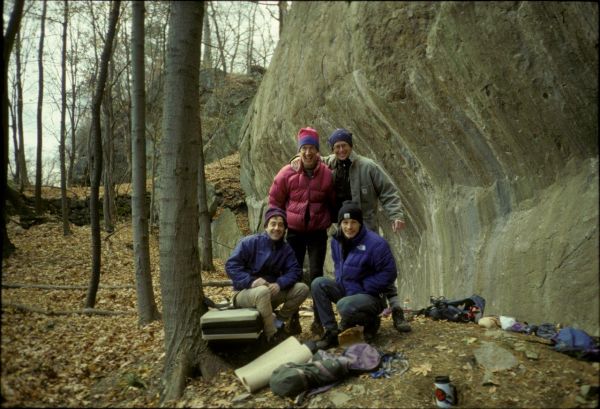 Clune with the ole gang at Kingston Quarry. Russ Clune photo. 
"Jordan made me believe things I shouldn't have believed," says Clune of Mills' endless stoke and positive vibe that encouraged him to keep trying the route. "Mantronics sat there for ages after Jerry [Moffatt]'s ascent and no one could do it; and then Jordan got the second ascent in '93 and then Ellie Cheveux did it," says Clune of the Swiss climber who had then recently become the first person to flash 5.14a. "And then I was the fourth ascent," says Clune. "It's the only 5.14a I've ever done."
While, like a lot of us, Clune refers to the trophy case of routes he's climbed, for him the best parts about climbing aren't the sends. It's the people and the places—like when in 1985 a drunken Jerry Moffatt attempted to ease the tense tone at the world's first organized lead climbing competition in Bardonecchia, Italy by grabbing the mic and saying to the crowd, "let me sing you a little song."
"I had those initial years with people who were formative. Doug Strickholm, Russ Raffa, Mark Robinson, Steve Wunsch, John Stannard, and others—They were all mentors for me. They taught me tons. Those are the folks that I still hold in incredibly high esteem as how they were as people," says Clune. "Sure, routes stand out. Doing ascents with friends like Wolfgang, those stand out. But it's really about community and relationships…those are thing things that I measure climbing by."