Flashback: Scott Franklin
While picking through an outdoors store in Acadia on a bike trip that he and a fellow student took from New York to Maine, a 14-year-old New York City-based Scott Franklin stumbled upon climbing—a cool pastime for which he had natural talent. But there's no question: just a few years later, Franklin, in his prime during the mid- to late-80s, quickly became the best American climber of his time and a pivotal climber in American history, whether he'll admit it or not. And climbing in the Gunks was one of his most important stepping-stones to get there.
"I remember one of my favorite routes that I did there to this day was Laurel," says Franklin of the classic 5.7. "I had just started climbing and remember reaching for a hold, getting my hand on it and having this profound experience. Like, these holds were put here in just the right place just so people could climb this. That was the spark for me. I thought, this is what I'm going to do, this is the most amazing thing you could do."
He started to spend as much time in the Gunks as possible, initially under the tutelage of his first real climbing partner: Mo Hershoff. This mentor of his would later introduce him to a climber that would become a lifelong friend, Jordan Mills.
Franklin and Mills, similar in age, would become an unstoppable dynamic duo ticking Crack'n Up, Kevin Bein testpieces like No Comment and Open Cockpit. They were soon joined by a third: Al Diamond. Once they all got connected, they were pretty much inseparable.
As the 80s rolled on, Franklin started pushing it; he climbed the gems of the time, like Kansas City, Gravity's Rainbow and Super Crack. He was young, motivated and hyper talented. And he was just beginning to realize it. Among a posse of climbers establishing some of the hardest routes in the area of the era, he put up Survival of the Fittest, a power endurance challenge at Lost City. He later went back to solo it, making the first 5.13 solo in the United States, and the first 5.13 solo by an American. Franklin then put up a variation of Clairvoyance, which broke off to the right called Planet Claire. Though it was originally graded 5.13d, later attempts by others suggested it could be harder (it took almost 30 years for a second ascent). Perhaps it was then among the first 5.14s in the United States, though no history lesson will tell you that.
Scott Franklin soloing Survival of the Fittest, making him the first American to solo the grade. 1980s. Photo courtesy of Scott Franklin. 
"The Gunks was a great place to build a foundation of climbing skills and makes you strong…we were really confident going other places," says Franklin. More than anything, for Franklin it instilled in him the experience of knowing he could overcome a challenge. Franklin had the rare and confident mentality of "if it goes, then I should be able to do it."
He started traveling, first taking trips to Europe with Mills and Diamond. "They were some of the best times ever," remembers Franklin. For them, the first trip to Europe was a game changer: "We realized what a big world of climbing it was out there, and how varied it was," says Franklin, "how incredible the talent was and how many strong climbers there were. We just started going back again and again."
They met a lot of climbers there, many of which would later visit the Gunks. They would bring with them a methodology of climbing that was transitioning away from traditional climbing and towards sport climbing, via hangdogging and working routes.
"I was trying to work through the ethical implications of all that, and trying to understand how we fit into that; what was the right way to do it," says Franklin. It was during this shift in collective climbing perspective that Franklin remembers he, Mills and Diamond tried a route called Cybernetic—among the hardest routes in the Gunks still to this day. Franklin first heard about the route from Rich Romano and Jim Munson, who talked "in hushed tones about a mythical wall that one day they would show us at Bonticou." This route was anything short of a gimme, with pissed-off, nails-hard cruxes crammed into roughly 50 feet of climbing.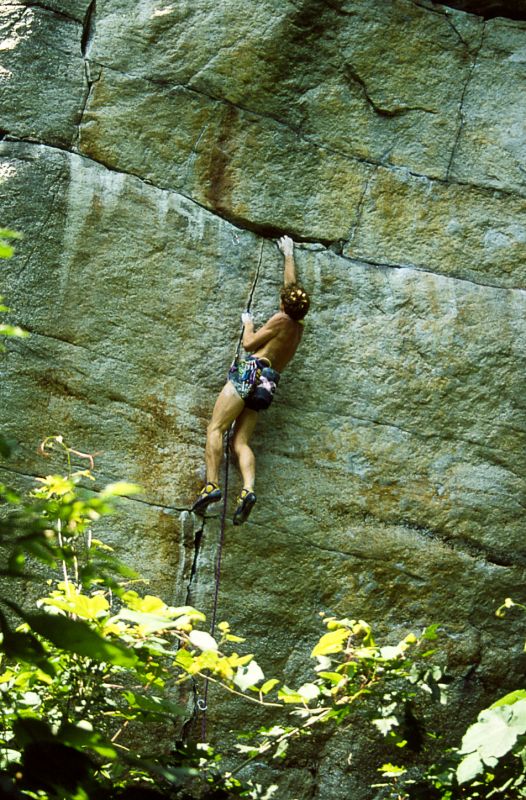 Here, Dave Lanman works the bottom section of Cybernetic. 1980s. Photo courtesy of Todd Leeds.  
Cybernetic and Love Muscle, a route that splits off to the left, were caught in the crossroads of the two approaches, not yet parting from the old ways of ground-up ascents, but borrowing some of the new school methods.  
"We climbed them ground up," says Franklin, "we just led it." And, at first, if they didn't send the route, they came back down to the ground and pulled the rope.
Franklin quickly whittled Cybernetic down to a single fall, but was stumped on one move up high. "I'd climb to the crux and place a high RP, and kept trying to do a dyno to the jug. I must have fallen off that thing hundreds of time."
He tried it so many times that the bottom crux was starting to feel easy. Franklin remembers a friend he'd made traveling Europe, Jerry Moffatt, visiting. Moffatt was a legendary strongman, known for dispatching routes like Britain's first 8c (5.14b) Liquid Amber. So Franklin took him out to the route to try and do it; but, surprisingly, Moffatt could not do a particularly tricky hand jam move low on the route.
"Jerry started flipping out," says Franklin, "I said, 'no way, I can't believe you can't do the move! I can dangle off that move!'"
Moffatt, attempting to call his bluff and thinking he knew how hard Franklin could climb, said, 'No way. You can't do that.'
Franklin struck a deal: "I said, 'I'll go boulder up and if I do it, you have to take us all out to dinner,'" speaking of the trio of friends: Franklin, Diamond and Mills.
"It was a classic grit-style sandbag," says Franklin, laughing. "I just happened to know the jam fit my hand really well."
The trio got their dinner, and Moffatt got a dose of his own medicine.
Though Franklin could prance through the bottom crux, there was still that pesky high move. "Somewhere in there I'd learned the European model of working routes. So I hung up there and examined all the holds." Instead of lowering back to the ground after he fell, this time he hung on the rope and looked at the rock, the possible sequence and then tried the moves after hanging. He found an undercling and another hold, and quickly realized he could do the moves statically up to the jug.
The next attempt, Franklin sent the route: "It just went. It moved from this never-ending project with a wild dyno to done. It was anticlimactic."
After ticking some of the areas hardest routes and traveling overseas, Franklin was feeling the pull to move away from the area in order to push himself to get on the level of climbers he'd seen in Europe.
"Going to Europe was like going into the wide world," says Franklin. "Climbers from Spain and Italy and Austria and Germany and Switzerland—they are all super talented and grew up on the best rock in the world…It really opened our mind to what can be done, and what hard actually is."
He set his eyes on Oregon's Smith Rock, the birthplace of American sport climbing. To get on the level of European climbing, climbers in the States needed to catch up, and at the time, Smith was the locale of some of the hardest routes in the country—the litmus test for climbers to measure up: who was the best? 
Once at Smith, Franklin met folks like Alan Watts, Chris Grover and Brooke Sandahl, some of the area's best climbers and first ascentionists. "They became some of my best friends in my whole life," says Franklin. Inspired by the climbing, the landscape and the people, in 1986 Franklin decided to try To Bolt or Not to Be, the first 5.14 established in the United States by French hardman J.B. Tribout, who was decidedly the reigning king of Smith when Franklin showed up on the scene. But Franklin was going to give him a run for his money.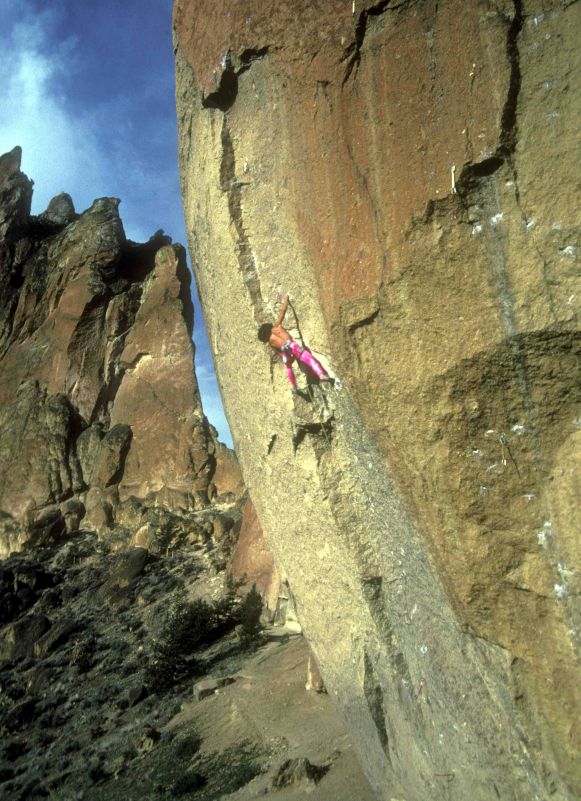 Scott Franklin on the first ascent of Smith Rock's Scarface, the first 5.14 established by an American, in 1987. Photo by Cathy Beloeil from Flickr.
Franklin had first heard about To Bolt while he was still in New York from fellow Gunkie, Russ Clune. "Russ came back to the Gunks and told me to go out and do it," says Franklin. "Russ was such a mentor for me…if he thought I could do it, then I could do it."
Franklin got on the route and quickly realized he could do all the moves right away. He worked it, steadily getting higher and higher from the bottom. Then, around Thanksgiving—a quiet day with no one around expect Franklin and his friend Sandahl and Jeff Ellington—he gave it a burn. He'd been trying the route for some time, but that day he stuck the tricky move he'd been falling off of previously.  The next thing he knew, he was on the top.
Like Cybernetic, it was anticlimactic for him. But with the ascent, he became the first American to climb 5.14.
"At the time I didn't realize what kind of mental barrier it had become not just for me but a whole generation," says Franklin. "5.14 was this whole mythical level; getting through it was a big deal. I think what opened my mind there was overcoming what was seemingly impossible."
He quickly gained notoriety for his ascent, and sponsorship calls came rolling in. His professional climbing career was opening up, but he didn't get too caught up in that.
Soon after To Bolt, he returned the following spring looking at a potential new route. The route was an obvious feature, and he remembers telling himself that if he could do To Bolt, then he could link up the line of pockets.
He bolted the line it to see if it could go. It was a personal challenge for Franklin, and he quickly made the first ascent of Scarface, becoming not only the first American to climb 5.14, but the first American to establish one. "That's one of the coolest things about climbing. Transcending your perceived barriers is what it's all about. If it's a 5.9. or 5.15 it's the same experience."
Scarface was just one of many of these personal barrier routes for Franklin. He solidified his status as one of the strongest and most gifted climbers of his time, with these and other hard first ascents all over the country: like Mango Tango in the New River Gorge, Simply Read in Rifle, Dead Souls in American Fork, and Edge of the World in North Conway, among many, many others.
 A modern throwback: Here, Tim Deroehn does a stretch armstrong move to the arête on a Scott Franklin first ascent Edge of the World in North Conway, New Hampshire. 2015.  Photo courtsey of Freddie Wilkinson. 
Now the CEO of a solar company based in Colorado, which he started after founding Franklin Climbing (which he eventually sold to Black Diamond Equipment), Franklin still climbs sharing it with his kids. Though his accomplishments were great, historic even, the most memorable parts were the times with friends, and the lessons he learned from climbing.
"It goes back to our conversation with Jerry Moffatt," says Franklin. "It always comes down to one split second, it's the moment right before you're about to fall. What do you do in that moment?  Do you let it wash over you and give up, or do you just keep going? That's what's so cool about climbing, and what keeps me coming back to it every day."