Montane: The Story Behind a Brand, Representing a Way of Life
"A four-man team is designed more for comfort than speed, and there under Mount Fitzroy's 5,000-foot Super Couloir, a fearsome route on its vast North-West Face, with the temperature way beyond cold, comfort was what we needed."

 

– Andy Kirkpatrick, Psychovertical
By 8 p.m. on September 27th, the salesroom floor of Rock and Snow was packed out: climbers were standing, laying down or sitting on crash pads that were tossed down and dotting the floor like islands. Merchandise was, for the moment, pressed to the back wall. 
Andy Kirkpatrick stood in front of the crowd. He was a squat man with glasses and blended in as just another climber amongst a see of chalk-dotted, taped-up rock junkies that had just screeched in from the 'Gunks for the show. But then, Kirkpatrick began to speak; he took the stage. His show unfolded with wry anecdotes of his solo winter ascents of some of the most heinous walls around the world. One after another rolled out in a rapid-fire stream. The dark humor, offhand jokes and British self-deprecating manner only lightened the heavy undercurrent of Kirkpatrick's show. Failure, funny enough, was often his punch line. 
Kirkpatrick appeared at Rock and Snow as part of his road trip across the United States to market his books and promote his like-minded sponsoring brand, Montane. But Kirkpatrick is representing more than just a brand. He's representing a way of life and a passion that, if reading this, we all are a part of. 
Kirkpatrick is attracted to solo winter ascents of some of the most foreboding faces around—like Norway's Troll Wall, the tallest vertical face of Europe at 3,600 feet known for it's less-than-solid rock. It's something at which many of us shriek in horror; but to him it is pure, hateful bliss. While we might not all identify with his desire to make solo winter ascents there is a part of all of us that identifies with the desire for adventure, to forge into unknown terrain. Basically, we can't explain Andy, but we like him. 
Kirkpatrick in Antarctica. Photos provided by Andy Kirkpatrick.
With the gobs of different companies out there vying for our attention, and a horde of athletes trying to show their undying support of those who support them, it's events like Kirkipatrick's show at Rock and Snow — the athletes, consumer and brand all sharing beers and talking climbing on a dusty cement floor — that create memorable stories and allow us to take a peek at who and what is really at the heart of a climber and of a brand. When they align, we can smell it a mile away. 
Montane is a relatively new company, getting its start in 1993. A British company, its roots have always been and will always be in Britain's calling card, mountaineering. By constructing clothing that acts more like equipment, the technologically savvy, functional-conscious company started off as a small homegrown brand making garments in a tiny British flat. But by focusing on quality and innovation, Montane made its name shortly after with lightweight performance in garments that get athletes through the most grueling conditions and environments. Built for the most rugged, heinous conditions and trying terrains, Montane is hyper focused on performance and intuitive, functional details that matter. It's a focus on offering the absolute best product while maintaining integrity to the original purpose that's a principle Montane and Rock and Snow both share. 
 The expedition team in Queen Maud Land, Antarctica. Photos provided by Andy Kirkpatrick.
This intent is exactly why Montane partners with athletes like Kirkpatrick — he is committed to the core to his passion. But it's not just about the successes, but also the humility in failure. It is the the ability to see your passion as an appreciation of the landscape and the challenges as much as it is the summit in sight — something we all can appreciate. 
Check out the Montane products for the upcoming winter season, and let us know what you think. In the meantime, here's a sneak peek:
Warmth without the weight: the Men's Prism Jacket and Women's Prism Jacket are built with Primaloft® insulation. Ideal for versatile layering.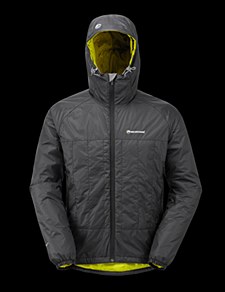 A workhourse in the mountains, the Men's Terra Thermo Pants and the Women's Terra Thermo Pants are weather-resistant stretch pants, made with a nylon and Cordura® fabric blend that wicks and quickly dries, engineered to provide maximum comfort when you need it most.