Rock and Snow's Resident Trail Running Specialist Talks Shop
Rock and Snow's Resident Running Specialists Gives Up the Goods on Her Four Favorite Trail Runs
Intense dark brown eyes and an ever-present smile, Rock and Snow employee Mendy Taylor is just a scant five feet tall. She has brownish blonde hair tied back into a signature long braid lacing down the middle of her back, and emits an almost contradictory nature that is part tough cookie, part girl-next-door—giving her the air of laid-back yet hard working.
While many customers at Rock and Snow recognized the sweet and energetic Taylor as the petit, warm-hearted running specialist at the shop, you might not know that she is Rock and Snow's resident bad-to-the-bone runner. Easily one of the top female runners in the Hudson Valley, Taylor is incredibly humble and soft-spoken about her accomplishments (in fact, only a Google search fully revealed her laundry list of wins and course records).
For example, in 2008 Taylor set the still-unmatched female course record for the 12-year-old Pfalz Point Trail Challenge on the Mohonk Preserve. She also set a course record at the Scenic Hudson Spring Sprint 5K and at the Summer Solstice Run, and has skidded across the finish line in first place of countless other races, as well.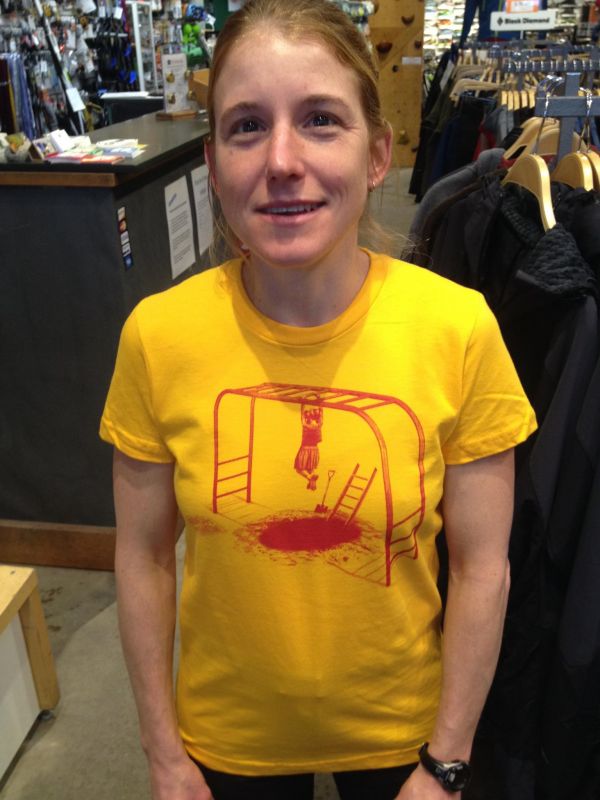 Mendy Taylor, seen here, in her Rock and Snow element. 

An Indiana native, Taylor first fell in love with the mountains while living in Knoxville, Tenn. When she later moved to the Hudson Valley, around 2002, she was introduced to trail running.
"I remember the first time I went for a hike in Minnewaska," say Taylor. "I saw these runners on the trails and thought, 'how awesome is that. I'd love to be able to run all the trails through Minnewaska.'"
She started running and soon entered races—5Ks, 10ks, and some 10 milers where she quickly established herself among the top contenders. After sustaining a hamstring injury three years ago, she kyboshed the amount of races she does; though last December she did run her first marathon. Now, for Taylor it's about more than just speed and time—"I don't really take or look at a watch when I'm running now," says Taylor, "I just like to get out in the woods."
After running in the region for over a decade, we caught up with Taylor to get this local's take on some of her favorite trail runs in the area.
Jenny Lane Trail to Awosting
A shot capturing the amazing view of Lake Awosting courtesy of New Paltz resident and Rock and Snow patron Jona Behrer.
This single track trail is rocky, but is worth it. "There are a lot of options to choose from," says Taylor. Her favorite is to start on the blue-blazed Jenny Lane Trail and run out towards Lake Awosting. She bypasses the split left (south on the map) that winds to Blueberry Run Trail and, rather, heads towards the lake joining up with the black-blazed trail that skirts the entire sky lake. The Jenny Lane Trail is full of mountain laurel and blueberry bushes. 
"It is also the first place I saw a rattlesnake," says Taylor, so be on the lookout this summer. The Jenny Lane Trail alone (turning back when you hit the black-blazed Lower Awosting Carriage Road) is just under three miles one way.
To get to the Jenny Lake Trail trailhead: coming from New Paltz, take 299 out of town. Drive about six miles then take a right at Rt. 44/55. Wind up the mountain and past the Minnewaska entrance on 44/55 and continue on towards Kerhonkson. Around a mile past the main entrance will be a parking area on the right. Park here and cross the street to gain the trail.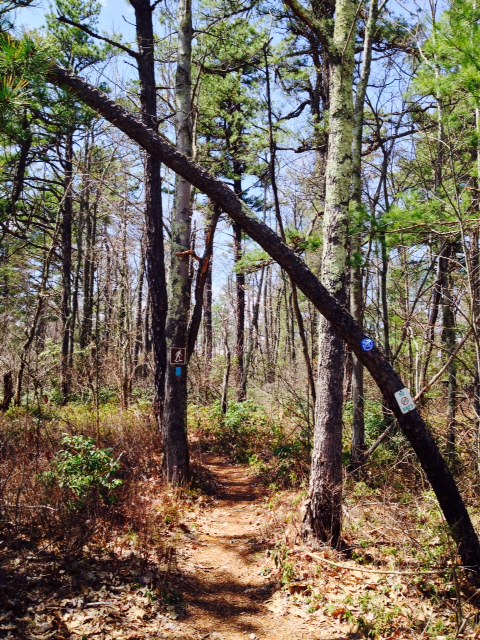 Seen above: Trailhead for Jenny Lane.
Old Minnewaska Trail
Like an old friend of Taylor's, the Old Minnewaska Trail is an all-time favorite and must-do for those new to the trail running in the area. From Coxing Parking, cross the street and take the trail that leads to Split Rock—maybe you will even catch a quick dip in the cool waters on the way back after the run.
 Coxing Parking and the Split Rock trailhead.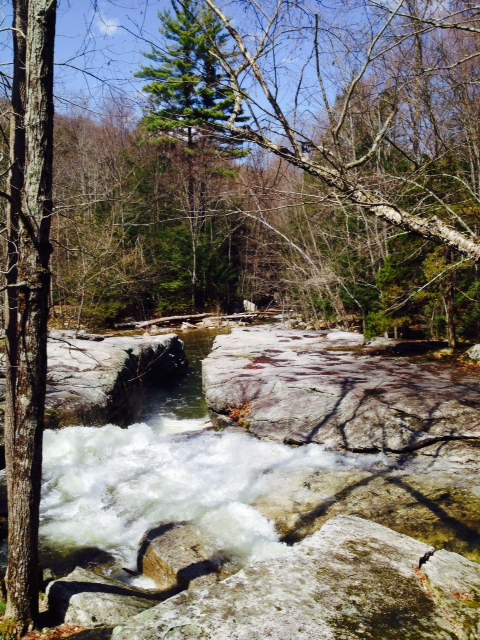 The beautiful Split Rock.
Here, you will get on the Old Minnewaska Trail blazed in blue and head northeast; the trail will eventually dead-end into Laurel Ledge Road. This is a good, close trail that is less populated: perfect to avoid the weekend crowds at Overcliff/Undercliff. The trail is a technical single track, though not as rocky as Jenny Lane.
A variation: you can also access Undivided Lot from here (see our "Obscure Hikes" post), by splitting left (north on the map) onto Undivided Lot just before you reach Laurel Ledge Road.
To get to the trailhead: Coming from New Paltz, take 299 out of town for six miles, then turn right at Rt. 44/55. Wind up the mountain and past the West Trapps Parking on your right, then take a right on Clover Road, about a half a mile past West Trapps. Wind down Clover Road until you see Coxing Parking on your left. Park here and cross the street to gain the trail.
High Peter's Kill Loop Variation
Memorable because of the rock slabs and blueberry bushes along the way on the top, this particular High Peters Kill Trail run is a perfect place to get some solid uphills and elevation gain. Starting from the Peter's Kill Parking area, run down to the picnic area and get on the Peter's Kill Loop Trail, a red-blazed trail. Run down the steep hill, then head right at the base getting onto a trail blazed in yellow. Follow this along the Peter's Kill until you hit the Peter's Kill High Trail blazed in blue. Soon you will reach a big climb; motor through the switchbacks and take in some of the views. This trail will take you all the way to the Lower Minnewaska Parking. You can turn back here or, for a variation, cross 44/55 (be careful, the speed limit through there is still 55MPH) and run down to the second gate, where you can gain the red-blazed Awosting Falls Carriage Road. You will pass the Awosting Falls on your left.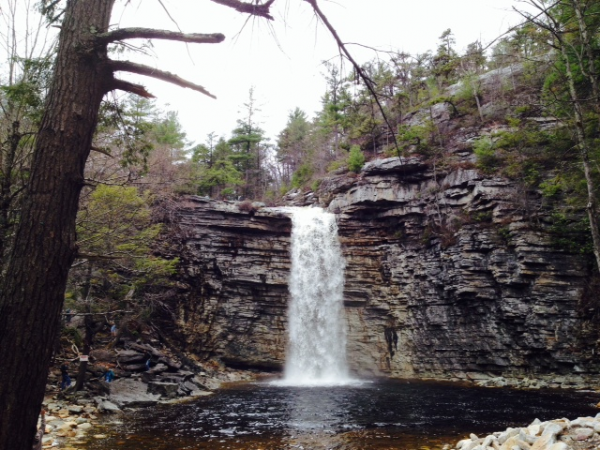 Hello, Awosting Falls. 
Stop for a quick look at this beauty and then keep on the carriage road for about a mile. Just before the carriage road intersects with Lyons Road, you will see an unmarked trail that will short cut you back to 44/55, where you can cross the street again to the Peter's Kill Parking.
To access Peter's Kill Parking: From New Paltz, drive 299, make a right on Rt. 44/55. Wind up this road past the West Trapps Parking. Keep on 44/55 for another two miles and the Peter's Kill Parking lot will be on your right.
Table Rock Trail
The Spring Farm trailhead (leading to the Table Rock Trail) is known for its "Million Dollar View" of the Catskills, which is easily accessed from the road.  The combination of this and some of the awesome ups and downs and interesting outcrops of boulders make the Table Rock Trail one of Taylor's favorite spots. To start, wind your way past the "Million Dollar View" and uphill until you meet up with the blue-blazed Table Rock Trail and take a left (heading north). This will wind you all the way out to Table Rock where there are gobs of boulders, a favorite for runners and climbers.  
View from near the Trable Rock Trail.  
To get to the trailhead: From New Paltz, drive 299, then take a right on Springtown Road. Split left onto Mountain Rest Road. Stay on this road; drive past the Mohonk Mountain House and then head down the mountain for a mile or so. Soon, you'll see Upper 27 Knolls Road on the right. Take that right and park here. From the parking you can access the blue-blazed Table Rock Trail.
Get Equipped:
After a decade of running in the area and the chance to try many shoes, Taylor has a few favorite go-to running shoes she loves.
"Anything La Sportiva for the trails," says Taylor. "Nothing has stickier rubber than these," which makes them particularly appropriate for running on rock slabs or technical single track. Taylor is especially fond of the La Sportiva Wildcats. Climbers have also adopted wearing trail running shoes as approach shoes because of their sticky soles, low profiles for quick approaches and general supreme fit.
For getting out on the road, Taylor's go-to are the Hoka One One, though they work on the trail as well. Check out the ultra light and resilient Hoka One One Conquest, for a featherweight, incredibly responsive go-fast shoe.
The Hoka One One Conquest.
Also, for longer runs she likes to carry a hand-held water bottle to make sure she's hydrated. We have both hand-held water bottles and pack varieties at Rock and Snow.
Have more questions about trail running in the area or getting outfitted for the task? Drop on by Rock and Snow, grab a 2013 Shawangunk Trail Map Set (which covers all the mentioned trails) and chat with Mendy Taylor or one of many other resident gurus about the outdoor activities in the area.