Speaker Series: Doug Robinson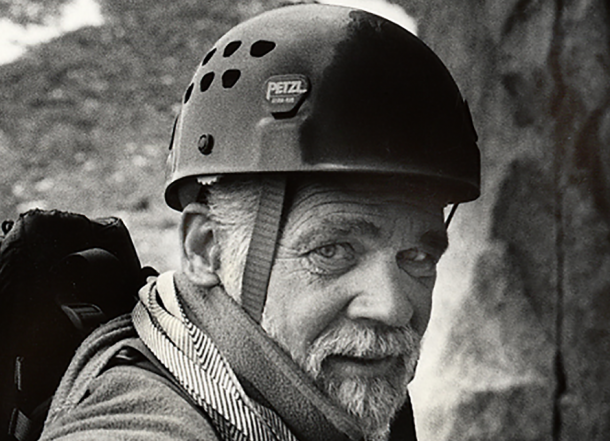 The season is upon us here at the Gunks. Crisp days followed by cool nights, and, for the climbers among us, a sea of sticky stone. While your day might be filled with plugging gear or even a Catskills run and hike, join us at Rock and Snow every Saturday night from September 27th to November 1st for our annual Fall Speaker Series. We've hand-selected the most entertaining, stellar speakers for the series, which is free of charge. Check in at our Events page to stay up-to-date and follow our blog every Monday for musings on the upcoming speaker.
This Saturday at 8:00pm, Doug Robinson—once called by Climbing magazine the Father of clean climbing— presents on his new book, The Alchemy of Action.
 Though his sweatshirt has holes, Doug Robinson's smile completes the image. Paul Hara image.
You might recognize Doug Robinson from his short cameo in the most recent REEL ROCK Film Tour's full-length features, Valley Uprising. However, his interview snippets was not long enough to glimpse his history, but rather just a flash of a bright eyed, silver haired man with a toothy smile that begs laughter.
Robinson, once called "the Father of Clean Climbing" in Climbing magazine, describes a lot of his life by luck. A product of Haight Ashbury, after finishing up school at San Francisco State University, he transplanted to the Sierra's in the late 60s where he drank in the poetry of the sublime wilderness. Between bouts of wandering and writing, climbing and guiding, he still spent a few winters back in San Fran after school where he squalled away days writing and experimenting with drugs (which lead to his most current book, but we'll get to that).
 Kyra Robinson photo.
By the early 70s, Robinson was absorbed in the Sierras; he was climbing free of pitons about the same time John Stannard was logging his nut-only ascents in the 'Gunks. They had no notion of each other, but they were championing for the same thing: clean climbing. Robinson's essay "The Whole Natural Art of Protection", which appearing in 1972 Chouinard catalog, advocated the use of nuts, urging the transition away from pitons. The essay along with Robinson's crafty development—the Stopper, the first widely used and popularized nut—helped kick-start a movement.
A year later, Robinson climbed the Regular Route on the Northwest Face of Half Dome in Yosemite along with Galen Rowell and Dennis Hennek. The three-day ascent was nothing short of amazing: three climbers, not a single piton driven. In fact, the hammer and pitons that were originally supposed to make their way into the haul bag for emergencies were left, inadvertently, on the ground. The ground-breaking ascent—storied in the June 1974 issue of National Geographic along with a cover shot—was, of course, not complete without copious amounts of joints and nudity: like the all-too-famous image of Robinson snapping a shot of Rowell slumbering in a hammock.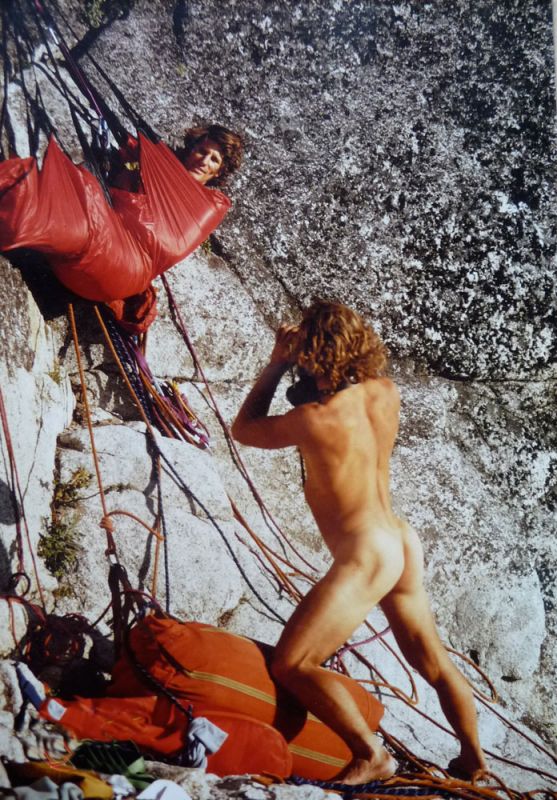 The most classic of shots; image used from: http://www.rockandice.com/lates-news/tnb-moving-over-stone-with-doug-robinson
Despite the on-the-wall antics, the ascent solidified the art of clean climbing.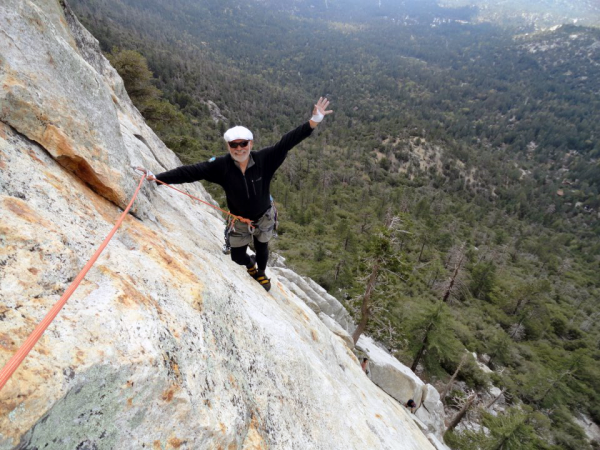 Doug Robinson at the Needles. Photo from Doug Robinson Collection.

In an email exchange last month, Robinson reminisced on the times and the parallel that was going on in the eastern United States. Robinson writes:
"We were pretty much inventing clean climbing for ourselves…[and] it felt like we were coming upon a brother in arms, though we didn't actually meet for decades after that. It was clear that John [Stannard] too was driven by the same passion for using simpler and way less destructive tools to safeguard our lives and progress up the rocks."
A colorful climbing career spanning over the last fifty years, Robinson has made dozens of first ascents in the rock, ice and alpine arena. Considered perhaps his most shining achievement in the Sierras by Rock and Ice publisher Duane Raleigh, was the 30-pitch 5.10 Dark Star on Temple Crag, which he climbed in 1975. He also made the second ascent of Ama Dablam, which was filmed for ABC Sports.
Robinson in his element. Shawn Reeder image. 
Robinson's tick list goes on: he has spent over fifty years guiding, was the first president of the American Mountain Guides Association, made the first continuous ski traverse of the 250-mile John Muir Trail in 1970, and holds the current speed record for the Sierra High Route. And lest we forget the all-too-popular 1988 instruction video Moving Over Stone, which Robinson produced. This best seller is now celebrating a 25th anniversary re-release.
Through all if this, Robinson wrote. He penned books, essays, articles (he was one of the first writers for Outside, publishing an article in the third issue about climbing Ice Nine in the High Sierras). His most recent book, however, launched from his Haight Ashbury days. Exploring why and how climbing gets you high, Robinson compares the LSD-induced highs to the endorphin highs of the body during extreme activities. The book, The Alchemy of Action, is over forty years in the making and involved a lot of, ehem, experimentation and research. Like…learning brain chemistry.
As Robinson remembers, he squirreled away three-inch thick medical textbooks in his tent in the Palisades when he was guiding in the 70s. Preferring to sleep under the stars, his tent brimmed with oversized books, photocopies of articles out of journals and a medical dictionary.
 Way above the treeline, Robinson slabs our at the Needles. Doug Robinson Collection. 
"Little by little I began seeing what the patterns were…it was a gradual process over the years," says Robinson.
His decades of research and and deep (deep, deep) understanding of psychedelic drugs, lead to The Alchemy of Action.
Once called "the modern John Muir", Robinson is legendary, but he doesn't take this too seriously. Rather, Robinson takes his life's achievements more as catalyst for self-discovery. A constant process he continues to refine.
Still a bohemian at heart, Robinson waltzing up the rock. Shawn Reeder image. 
Read some of his thoughts, below, and join the show Saturday, October 18th at 8:00pm.  
You've had an incredibly prolific career in climbing…everything from promulgating clean climbing to helping design stoppers. What do you see as your biggest impact on the climbing world? Why?
I've been quite a lucky boy. Yosemite was 4 hours from where I grew up, on the edge of what hadn't quite yet become Silicon Valley. My parents took me camping in Tuolumne every summer, so it felt like home. Hiking led to scrambling led to peak bagging led to backpacking in the Boy Scouts led to being a camp counsellor teaching backpacking. And back to Yosemite Valley, where a Golden Age just happened to be in progress in the Sixties. I hiked into the Palisades and wound up climbing with Don Jensen, who offered me a guiding job. I ran into Yvon Chouinard and teamed up with him to promulgate a revolution in ice climbing. That led me to make the second ascent of Ama Dablam (22,495') with Jeff Lowe and David Brashears on an expedition led by Tom Frost. In the mid-60s Royal Robbins brought a handful of nuts back from England, and I got more fired-up than anyone by trying to protect trad climbing with them, which led to becoming "the father of clean climbing" and slam-dunking that revolution when Galen Rowell happened to land a National Geographic assignment to photograph a big wall climb.
The luck of being in the right place at the right time goes on and on. At a meeting of guides in 1980 I got up to go to the bathroom and came back to learn that I'd just been elected President of the brand-new AMGA. I ran into a fired-up climber fresh out of film school just in time to make the "best selling rock video of all time," Moving Over Stone. Dale Bard and Bobbi Bensman were living at my house near Bishop just then, and since video was a novel idea, it became easy to get rock stars like Lynn Hill and Peter Croft to climb for us. Anyway, that's a glimpse of where the luck has taken me.
You were called the Father of Clean Climbing by Climbing Magazine. We've heard a lot about clean climbing around here as John Stannard was an early supporter who, according to Rich Goldstone, "singlehandedly converted the east coast to clean climbing ethics". Can you give us glimpse back into this transformational time as you experienced it?
I was at the tin-shed shop of Chouinard Equipment, working with Tom Frost to design Stoppers (and I got to name them—there was a bit of a rivalry too, as Yvon was championing the Hexcentric shape. Friday nights we'd string a hammock up in the back of the company van and head up the Eastside to try out or latest prototypes in the Buttermilk.). One day Yvon mentioned John Stannard. I had already met a few Vulgarians in the Valley, but you have to understand the times. No mags, except Summit, which was mostly a wimpy backpacker rag with the occasional climbing article. Little communication clear across the continent. So to get copies of Stannard's The Eastern Trade was heady stuff for us. We were pretty much inventing clean climbing for ourselves because it was a fun challenge, and here was this guy from a place with very different rock structure doing exactly the same thing, and with a matching passion. It felt like we were coming upon a brother in arms, though we didn't actually meet for decades after that. It was clear that John too was driven by the same passion for using simpler and way less destructive tools to safeguard our lives and progress up the rocks. It was harder then, too, in the years before Jardine came up with Friends, to gang together very directional tools into an omnidirectional anchor. Which made it a good challenge. Thus engaging, and fun.
Can you tell us a little about your writing career? I know you got a BA in English, but when did you start writing professionally? What is your favorite piece of writing? And how has writing worked to act as a meditation on your climbing and its place in your life?
Ascent published my first piece, "Tuesday Morning on the Lyell Fork with Eliot's Shadow," when I was halfway through college, and I wrote my second one for them, "The Climber as Visionary"—which contains the seeds of the book I'm bringing to the East Coast, The Alchemy of Action—in a flat in the Haight Ashbury alongside five term papers  the month I graduated. I work slowly at writing, glad that I'm not depending on word-count for a living. I always carry a little notebook, and some of my most inspired passages come flowing out and make me stop on a ledge, sit down on a rock by the trail, or perch on my ski pack to take them down, white-hot, like dictation. So at best there's a pretty direct transmission from action to words. It also mirrors a dialog between the outer wilderness and the one within, which the wild outside works well to evoke, if I listen. The focus of action becomes meditative, which clears space to reveal what comes boiling up from the unconscious.
What's the single biggest element of adventure/climbing storytelling? Why?
Honesty, perhaps, whether you're afraid or triumphant or just tired. Then getting outside yourself to appreciate the setting. (I know, moving beyond the single element already. But as Mark Twain said, "If I'd had time, I would have written a shorter letter.") And I always like noticing the, perhaps hidden, deeper relations among things. Like how these, on the face of it pointless, things we do might fit into the larger scheme of evolution. A title I always liked jumps to mind: "Why the Reckless Survive." I mean this life we've got going here is pretty fascinating even in its whimsical dimensions, and the strong experiences we seek as climbers help us to appreciate what propels it, and us through it. 
You'll be presenting at Rock and Snow on your book, the Alchemy of Action. Without spoiling the slideshow content, can you tell us a little about the impetus to write this book? What was its impact on your life?
It's another of those lucky accidents that during the Sixties, parallel to my climbing life in the Valley, I was wintering in the Haight Ashbury, smoking marijuana and experimenting with psychedelic drugs. The parallel between those head-spaces and the ones that arose from climbing were striking to me. And while the high from climbing was considerably more subtle—no slow rolls through deep space while clinging to small holds on a great wall, thanks—it felt qualitatively the same. That set me on a lifelong quest to figure out the brain chemistry—and I had to learn brain chemistry first -- behind the natural high from challenging experience. I believe I've done it, that I have the answer to why people climb mountains—because it gets us high.