The Beta: Bouldering in Hueco Tanks
Earlier this month, two Rock and Snow employees and a few of their friends flew south for nearly two weeks of bouldering in the west Texas sun. Considered by many to be both the mecca and the birthplace of American bouldering, the North, West, and East mountains of Hueco Tanks boast thousands of problems spanning the grades from V0- to V14. Three- and four-star classics abound at just about every grade, and the sheer volume of climbs couples with the pleasant winter conditions to make Hueco a draw for climbers around the country and the world. Visiting Hueco requires a little more planning than your average climbing area, however, so read on to learn more about how to get the most out of your Hueco trip.
Traveling
Hueco Tanks State Park is 30 miles east of the airport in El Paso, TX. Most people fly in to El Paso and rent a car—rental car companies abound at the El Paso airport, the airport's compact, walkable size makes picking up and dropping off rentals seriously easy—though the 32 hour drive can be made from New Paltz with a little willpower and some coffee. Book an early enough flight and it is possible to catch a few hours of climbing the afternoon you fly in. We caught a 6:00 am flight out of Albany, met the rest of our party and grabbed breakfast during a quick layover in Atlanta, and were warming up on the classic V2 roof Nobody Here Gets Out Alive and sussing the moves on Baby Martini and Dirty Martini on the Rocks by the early afternoon.
Emma right off the plane and trying the juggy roof moves of Baby Martini (V6)
Climbing
Before our trip, a few friends of ours asked the common Hueco question: "don't you need like, guides to climb there?" The short answer is... sort of. Because Hueco Tanks State Park is a historic site protected by a Public Use Plan, some areas of the park are completely closed to the public, some are only open via guided tours, and some are self-guided. Use the handy chart below to see what kind of access each mountain has.
| | | | | |
| --- | --- | --- | --- | --- |
| Area | Access | Visitor Limit | Reservations Required? | Cost per person |
| North Mountain | Self-guided | 70 | No but reccommended | $7 |
| East Mountain | Guided | 160 combined | Yes | Starts at $7 + tip |
| West Mountain | Guided | 160 combined | Yes | Starts at $7 + tip |
One important thing to note is that visitors to self-guided areas (North Mountain) are required to watch an informative 20 minute orientation video. If more than a year lapses between visits, visitors need to watch the video again. Full of information about thousands of years of park history, the video is an easy watch and a good introduction to the park. For the guided areas, you'll need to book or join a tour. See the Resources list at the bottom of this post for links to guide options. Although it sounds complicated and even overwhelming, joining and booking tours was easier than picking which climbs we wanted to do. You can book North Mountain reservations up to three months in advance. We originally booked quite a few days, but ended up taking guided tours some of those days to work climbs about which we were more excited. Guided tours have some benefits over self-guiding: guides know their way around, they carry a pad and help spot (commercial guides only! Volunteer guides cannot spot or climb!), and they often have the best beta. It is appropriate and appreciated to tip your guide a few bucks at the end of the day!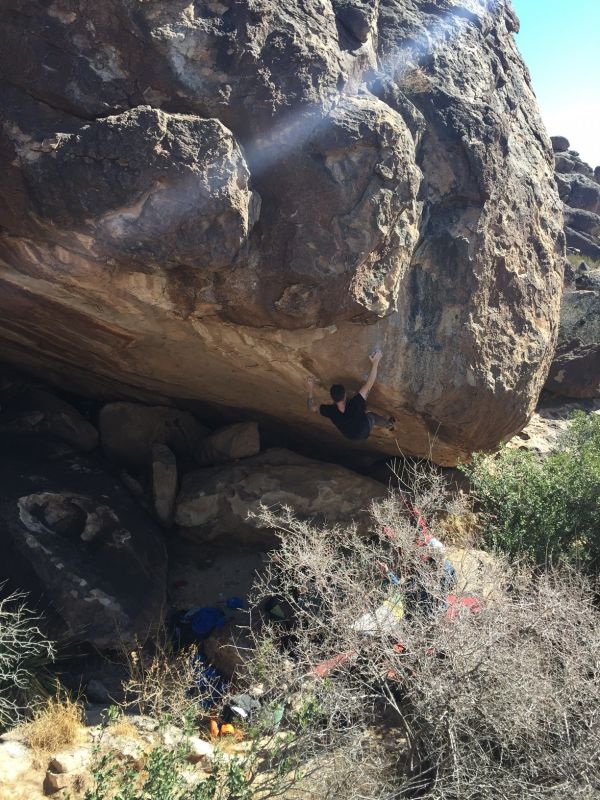 Pete working the pinch to sloper move on Focus (V10)
Money-saving tip: It costs $7 per person to access North Mountain, unless a member of your party has a Texas State Parks Pass. A Parks Pass has an upfront cost of $70 for one year, but it allows for free unlimited access to all Texas state parks for the card holder and members of the card holder's party. If you and your morning are planning on paying for North Mountain more than 10 times during your visit, you should consider buying a Parks Pass!
All rules and regulations aside, the climbing at Hueco is simply terrific. It is physical, full-body climbing that will leave your shoulders and lats sore and your finger tips throbbing. Full days of hiking and climbing demand a deep reservoir of power, which you can build before you go by climbing a high volume of moderate to difficult boulder problems over long gym sessions. Most of the boulders range from gently tipped forward to dead-horizontal, requiring a strong core and good footwork to keep your feet pasted. For the precision challenged, the best footwork is strong fingers, so effective trip prep might involve using a fingerboard after a good warm up at the climbing gym.
Matt Wilder's out-of-print Hueco Tanks Guide Book is still the best resource for finding stoke-inducing climbs, but these days you'll need a spare $150 and an eBay account to snag one. A free way to find good climbs is to hoof it over to YouTube and watch videos of random crushers, making note of interesting-looking climbs. Mountain Project is another excellent free resource. Lastly, you can always ask your tour guide for climb suggestions if you're having trouble coming up with a ticklist. You can't go wrong with spending some time with the multi-star classics at your flash level, or even grabbing a lap on one of Hueco's many stellar highball V0s or V1s.
Drew crimping through the send of Windy Ass (V9)
After a couple days of climbing, you'll inevitably need a rest day. In our mind, rest days are for charting the shortest possible distance from the couch to the fridge, but the ambitious can take a rock art tour through the park, drive a couple hours to Carlsbad Caverns, or go to the movies.
Lodging
With lodging options ranging in comfort from car camping to hotels, our party opted to stay at the Hueco Hacienda. Large and comfortable, if a bit cold—tile floors and adobe walls don't offer much warmth, bring slippers and a sweater—we had plenty of sprawl space in the great room and found we could all throw together our breakfasts and lunches for the day without overcrowding the kitchen. One member of our party stayed in the bunk room, a potentially shared space that he ended up having to himself. This is the least expensive option for staying at the Hacienda, but you could end up sharing the room with up to seven people. The rest of us shared private rooms, where we were able to store our things and bed down for our doctor-recommended eight hours. If the whole hostel scene isn't for you, look to El Paso for hotels and motels. Not only will you have a room to yourself, you'll definitely get plenty of private time driving the extra 30 miles to and from the park every day. The Resources list below has links to other lodging/camping available in and around the park. Just like the Samuel Pryor Campground here in the Gunks, the Hueco Rock Ranch offers a discount to American Alpine Club members.
Be prepared to eat a lot of burritos at El Durangito (formerly known as El Pasito), a mini-market just a few miles down the road from the park with a small kitchen and eating area in the back. Walk in, go left and back, grab a Tecate or a Mexican Coke from the fridge, and park yourself at a table. Someone will hustle out some chips and salsa and take your order. Leave when you're ready and pay at the front counter but remember to drop a few ones in the kitchen tip bucket on the way out! Groceries can be had at the Vista Market, especially good produce, fresh doughnuts and tortillas, and basic necessities like peanut butter, oatmeal, and beer. If you are particular about your coffee or your crag snacks, you might consider bringing or shipping those from home.
Packing
The mountainous terrain of the park means you'll need a good pair of approach shoes to comfortably and confidently get around. If you don't already have a pair of approach shoes, look for a pair with a sticky rubber sole, like the classic Five Ten Guide Tennie or the La Sportiva Boulder X. Regular sneakers won't cut it on some of the more slick slabby terrain. Clambering around the rock fall of a mountain means you'll also spend a lot of time moving in and out of the shade of boulders and corridors. We got a ton of use out of our Rab Strata Hoodies, because they are designed to breathe while you're on the move and keep you warm and insulated while you're standing still.
For climbing gear, some of us packed a couple pairs of climbing shoes (one for projecting, one for easier terrain), while others went with one faithful pair. A good rule to follow: if you don't use it at home, you won't use it on a trip. Those highly specialized shoes you never reach for? You probably won't reach for them here, either. Stick with what you like, pack what you use, and you'll be a happy climber. Aside from shoes, chalk, and brushes, you'll also need crash pads to protect the often uneven and sometimes dangerous landings in the park. Guests of the Hacienda can make use of one crash pad per room rented, and rent additional crash pads. Hueco Tanks Mountain Hut also rents crash pads at reasonable day rates. We shipped two pads with UPS to avoid the hassle of checking them at the airport. Another piece of gear you might consider using is the Send Knee Bar Pad.
Dave locked, loaded, and sending on Loaded with Power (V10)
A high-quality, Made-in-America pad of sticky rubber available in a few sizes, the cheekily-dubbed "Downgrader" lets climbers take full advantage of the myriad no-hands rests afforded by the unique Hueco rock. We can't say if climbs felt easier with it on, but it feels fantastically secure while you're hanging from one knee, head pointed straight down.
The rock, a soft type of granite called syenite porphyry, can be highly-textured and quite sharp. We kept our skin in good shape with end-of-day handwashing (you don't want chalk on your burrito, but you definitely don't want it drying out your fingertips), assiduous sanding, and nightly applications of climbing salve.
The Takeaway
We were in Hueco Tanks for almost two weeks, giving us enough time to get used to the climbing style and full experience the enchanting beauty of the area. With eight days of climbing and four days of rest, we were able to send projects, push the grades, cruise classics, play around (approach shoe double clutch dynos on the deceptively tricky V3 El Burro come to mind) and see fingerprints of the past through the rock art and pictographs. Climbing history truly intertwines with human history in Hueco Tanks, and we recommend you visit for at least a week to give yourself enough time to explore and experience.
One of the many pieces of rock art found throughout the park
Resources
Hueco Hacienda
Hueco Tanks Mountain Hut
Hueco Rock Ranch
Texas Park and Wildlife Department
Wagon Wheel Coopt
By Emma Blauer