The Beta: Gunks camping and climbing this season
Fritz Weissner was practicing modern climbing techniques in the Gunks before chocolate chip cookies were invented, and, like chocolate chip cookies, the Gunks engender a certain homey nostalgia in many climbers. Not many American climbing areas have such a rich and storied history, populated with an inspiring cast of ironclad men and women who pushed the sport forward year after year. Not many climbing areas offer as much uber-fun terrain for the absolute beginner, and our human-scaled ridge of quartzite conglomerate has inspired countless climbers to commit their free time to climbing. Climbers with a long-running attachment to the area have seen the numbers of climbers increase each year and, along with that, the advent of bolted anchors and rappels, the closing of road parking and Camp Slime, and more. Every change to climbing, camping, and access has sent ripples into the climbing community, both in person and online.
Rock and Snow employee Justin pulling through the roofs of Yellow Wall (5.11)

Probably the loudest conversation this year surrounds the closing of the New York State DEC Multi-Use Area on May 1. A primitive campground with no amenities or running water, the MUA provided out-of-towners with free, no-reservations camping. The opening of the Samuel F. Pryor III Shawangunk Gateway Campground last fall (aka the American Alpine Club campground, aka the AAC campground) gave the state justification to close the difficult-to-maintain MUA. At first consideration, this has the potential to greatly increase the price of a weekend of climbing for out-of-town climbers. Luckily, there are a couple of free options within 30 minutes of the Mohonk Preserve. The Shawangunk Ridge State Forest MUA and the Hemlock Ridge MUA both offer free primitive camping on a first come, first serve basis. Please review the area-specific rules and regulations on their websites before camping. There's also always the Walmart option: clear it with a manager and you can catch some shut-eye in your car in their parking lot. Because climbers are a resourceful and adaptive bunch, we have no doubt that people will find a way to enjoy their time here after the campground is closed.

With peregrine closures cordoning off a larger slice of cliff than ever, we've been looking elsewhere for start-of-the-season leads and potential projects. As we've started our season by knocking the cobwebs off on well-protected cruisers like Oscar and Charley (5.7, and you can link it to Shockley's Ceiling) and Middle Earth (5.6), we've turned to Gunks Apps' Trapps and Nears Apps to find newer and more obscure lines in less-traveled areas like Sleepy Hollow. The apps' crystal-clear photos of the cliff and thorough route descriptions have turned up some plum-looking projects, and the ticklist and sort-by grade and protection rating features make it easy to keep track of everything. The more analogue-minded will be happy to hear the the classic "grey Dick"--Dick Williams' unimpeachable guide to the Trapps—is back in print, now in a fetching blue, and will be available for purchase at the shop soon.
The new Trapps guide

Finally, not all of the big changes are centered around climbing and the preserve. Since the end of last climbing season, three new restaurants have opened in New Paltz: Huckleberry, Schatzi's, and the Parish. The first, a cozy bi-level bar with board games, cocktails, and a straightforwardly delicious order-at-the-bar menu opened in December. Owned by a couple from Brooklyn, Huckleberry has been a prime spot for post-climbing drinks for us here at the shop. Now that the weather is warming up nicely, we've also been enjoying their patio.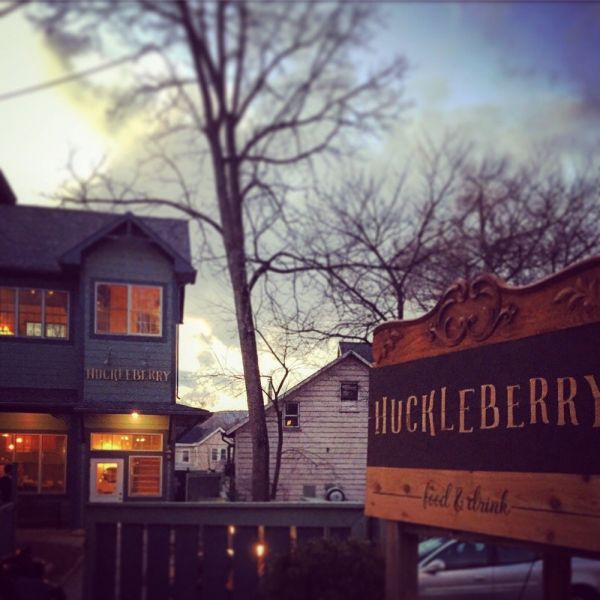 Schatzi's is the little sister of a Poughkeepsie-based German-American restaurant by the same name. They offer a huge tap selection and German-ish pub food. And, parked right between the main store and the new Annex, it is a prime spot for us to grab a mid-shift lunch or a quick beer after work. Finally, Water Street Market's Parish, a New Orleans-style spot with excellent cocktails and a deck with an unbeatable view of Skytop, rounds out the new selections.
Out-of-towner Melissa gets a sewing lesson on Ken's Crack (5.7)
As we reflect on how much has changed since Fritz Weissner first brought his hemp rope here, what strikes us is how much has stayed the same. Something—the quality of rock, Millbrook's proud face, the friendly posture of the ridge—compelled him to try to get the rope up there, and that same thing compels us. The rock still seems to invite climbers to balance on its quartzite crystals or pull fun moves between perfect roof jugs. Everything else attendant to climbing—camping, eating, parking, rappelling—might have to change to support the ever-growing numbers who come here. As other climbing areas across the country struggle to regulate crowds and access, we can be thankful that Gunks climbing has been carefully preserved and stewarded into the 21st century.