The Story Behind Brave New Wild
Originally from Ellensburg, Washington—now based in Flagstaff, Arizona— Oakley Anderson-Moore's dive into filmmaking was anything but conventional. She launched her work with a seven-years-in-the-making film that is part history, part existential wanderings. A project that took over her life, the making of Brave New Wild (which will be showing at Rock and Snow this Saturday) was one that had deeper roots than just a creative production—it explored questions of a lifestyle that pervaded her youth and helped to explain the passion of her father. It helped unlock the musings of a generation of vagabond climbers in the 50s, 60s and 70s, to ultimately take a look at herself.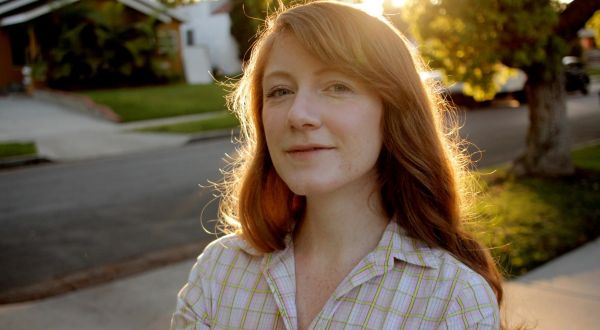 The filmmaker, Oakley Anderson-Moore.  
Anderson-Moore attended film school in San Diego. But her eye—her in-depth look into life—that comes across the camera started before that.  Anderson-Moore's itinerant climbing parents, always looking for the next climbing destination, brought her along as they traveled the world. From the Philippines to California, Brazil to Italy, Oakley was on the move.
"Being dragged across the planet by my parents completely shaped me as a person and informed me as an artist," says Anderson-Moore. "When you travel to different places and experience different cultures, you're exposed to a completely new world than the one you're from. And usually realize, quite astoundingly, that there is more than the one you're from." 
She grew up with climbers—listening to their stories and getting the way of life instilled into her. They had been a part of her father's life as long as she had known him. In fact, her father, Mark Moore, at about the same age when she started making the film, spent 13 years traveling, picking fruit and climbing—living in the true original dirtbag style. Part of the early "Golden Age" of climbing, he and the many influential climbers that he crossed paths with along the way were defining climbing and the times. They were outcasts and beatnik poets defining their passion, and the culture of climbing—a seemingly meaningless activity that each would weave into a personal way to view their lives. But while Anderson-Moore knew and could feel this lifestyle that her father had instilled in her and its hook in a subversive counter-culture, she wanted to take a deeper look into her father and his passion that many people didn't understand.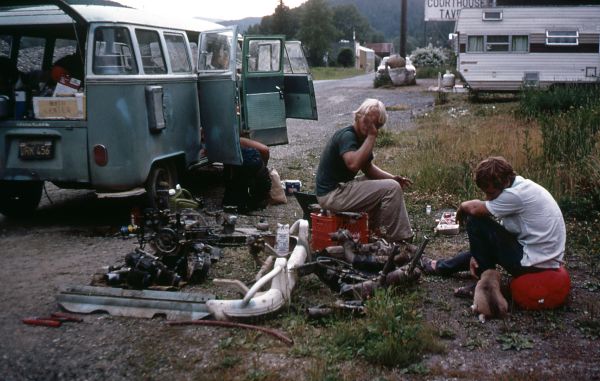 Broken down...again. Photo: Mark Moore. 
Growing organically from home videos, Anderson-Moore set out to tell his story, and her own story, through the stories of historical climbers. And there was no better way to do this than to pack up the van, along with her friend and film producer Alex Reinhard and two others to head east from the west coast. Tracking down over dozens of climbers to interview, they spent over a month of the road living like gypsies chasing stories of the past in the 1976 Volkswagen van.
"It was not so glamorous," says Anderson-Moore. "We just drove from California to New Hampshire going from one person's house to the other talking about things that happened so long ago."
Living in the van and sleeping in rest areas, they captured some incredible interviews and footage, talking by campfire with figures from Royal Robbins to Dick Williams. In fact, she and her gang attended the Gunks Climbers Reunion in 2008 to garner some of their interviews. Many of these interviews appear in the film.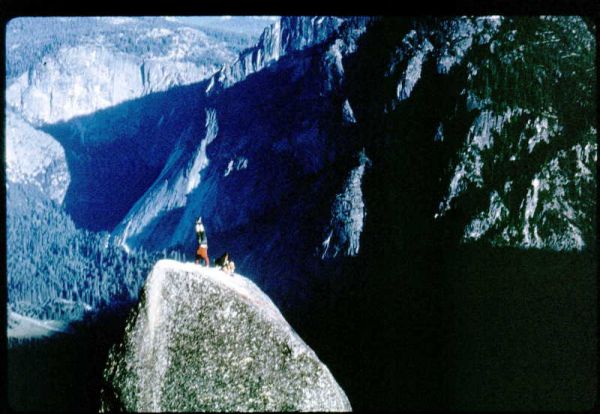 Lost Arrow handstand. Photo by Claude Suhl. 
The interviews were the easy part in some ways. During the project, she immersed herself in climbing—reading every book she could get her hands on—and then took her knowledge, research and the stories she'd collated and wove them together.
Seven years in the making and hundreds of hours of postproduction later—tracking the storylines of the interviewee's tales and digging up archival footage and photographs—finally, the full-length feature is done. Anderson-Moore and Reinhard took Brave New Wild to multiple film festivals; the film was an official selection for the 2015 Big Sky Documentary Film Festival and 2014 Tallgrass International Film Festival, and also a winner of the Woods Hole Film Festival Emerging Artist Award in 2014.  
Framed by the story of her youth and home footage of a young Anderson-Moore with a grip of red locks and her father always close to the mountains, the stories of Anderson-Moore's youth, her father's passion and the stories of those spearheading the generation weave into a tight film that also tracks her own history, her own passion and her own views.
"When you think about what art is and why people are compelled to create it, to me, it's really about communicating the incommunicable reality that exists in our heads," says Anderson-Moore. "You can't ever really know what the experience of living is for anyone other than oneself. Art can bridge that lonely, impenetrable existence. And filmmaking is as close to expressing human thought as any other art form I've come across."  
While some may have seen the short, award-winning documentary by Anderson-Moore, Wild New Brave, which screened at Rock and Snow earlier this year, check out the feature-length film Brave New Wild this Saturday (May 23rd) at 8pm.  Entrance is free.