The history of Rock and Snow—a cult classic
Rock and Snow celebrates 45 years of keeping it real
** 
If you build it, they will come.
That was the thought of the area legend and Gunks guidebook author, Dick Williams, and Dave Kraft, who in the mid-60s had a dream of opening a climbing store.
"Of course we were broke and couldn't do it then," says Williams. But the idea was planted and by 1969, Williams, along with then-local climbers Ray Schrag and Jim McCarthy scraped together enough money and investors, about $17,000 worth, to open the store. Originally there were five partners: these three main partners, plus Rich Goldstone and Hans Kraus.
 Photo and words courtesy of Rich Goldstone: A lot of us used an EB-like shoe called the RD (for Rene Desmaison). It has a leather upper and was very stiff. Here's a picture of Raymond Schrag (one of the major R&S partners) bouldering in RD's at the Hagemeiser boulders in Estes Park. John Gill looking amused below.
 "The reason why we started a shop was there was only one shop in New York City that handled climbing equipment," says Jim McCarthy, one of the most prolific first ascentionists in the Gunks in the 50s and 60s. "We climbed all the time and we realized that if we opened a climbing shop, climbers would come."
A snap shot of the original store before the fire in 1990. Photo via Eye on New Paltz newscast. 
The first iteration of Rock and Snow was converted from an old auto parts shop. They used the original shelving to display the gear. "It was more like a hardware store and less like a climbing boutique," says Goldstone.  It had a great location (the same Main Street location as today), had decent parking and was highly visible on the way to Gunks.
It was slow going at first—with a kind of blue-collar feel, according to Goldstone—but started to pick up business as it became more established. If anything, the store had one thing going for it:
"It was the only show around," says Goldstone. 
But its humble and mishmash beginnings were quaint, and gave the store its character. There wasn't anything flashy. It had everything a climber needed and nothing more.
"What made it unique at the time and unique in the east," says Goldstone, "was that it was a store run by climbers. None of the other stores were run by climbers."
A snap shot of the original store interior in the late 80s. Photo via Eye on New Paltz newscast. 
Basically, there was a lack of any kind of real expertise in terms of what other stores carried and how they sold it, or even how they talked to customers. They simply just weren't up to snuff.
Back then, there wasn't much variety of gear or clothing. It was a much simpler time… and cheaper.
"We used swami belts so we didn't have to buy a harness, used a hip belay so we didn't have to buy a belay device," says Goldstone.
What the shop did have was a small selection of all the key gear that might appear on any one of the employees' humble Gunks racks: pitons, some carabiners and webbing. Maybe some knickers, which Goldstone remembers selling because everyone wore them. There were a few down coats. A pack or two.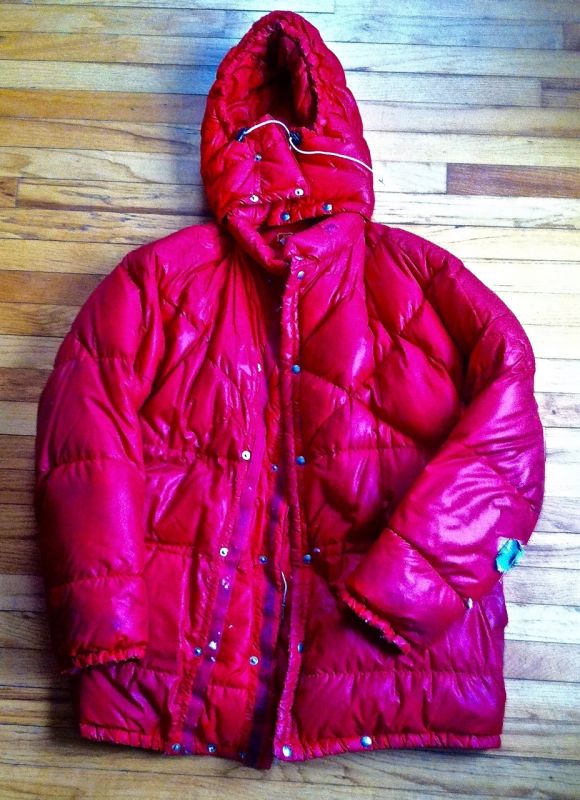 Words and photo about his Erve down jacket courtesy of Rich Goldstone: Probably from 1970, the first year of Rock and Snow. Note the velcro+snaps—no zippers. The cordlocks were added, in 1970 we actually tied our drawstrings with bows just like your shoes.
"It's not a very sexy subject," says Goldstone.
McCarthy, who was a partner for about 10 years, pretty much knew everybody in the manufacturing business. He helped with securing certain accounts, like Chouinard Equipment, back when Yvon Chouinard was hammering pitons before he started selling clothes.
"Chouinard basically created the idea of climbing clothing with the rugby shirts," says Goldstone, which the store later carried, along with an archive full of now pre-historic climbing gear like the stiff-soled climbing shoes EB's and sticky rubber Firés.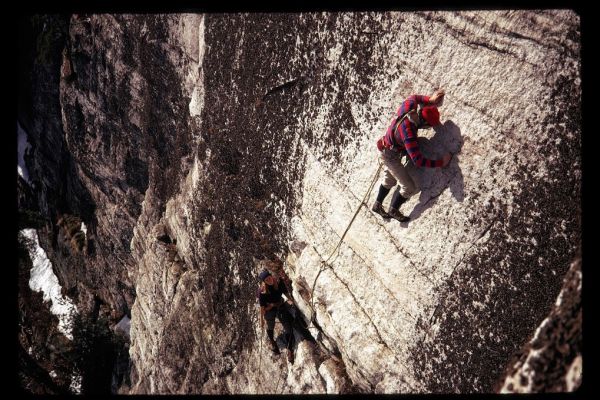 Photo and words courtesy of Rich Goldstone: A picture of me on Arrow in full 70s regalia: EB's, knickers, swami belt, Chouinard rugby shirt. My belayer Barbara Thatcher is wearing a Whillans harness.
It wasn't long before the store itself became a Gunks area institution. Jon Ross, area fixture and owner of a local guiding company for over 40 years, started renting skis out of the upstairs of the building, and people started meeting at the shop before going climbing, or to consult Williams and other employees at the store for stories, beta or new routes.
For example, it was here, that in 1972, John Stannard—a prolific Gunkie and, named by many, father of clean climbing on the east coast—started keeping an all-nut ascent log at the store.
"It was helpful, says Williams, "it got a lot of people acclaim."
From knowledge and expertise to a curated selection of prime, state-of-the-art gear—all the stuff you needed and wanted, and what the locals were using—were on the shelves. The culmination added up to a streamlined, highly specialized store. But what really made it was not what was in it or what you could buy, but the people, personalities and spirit behind it.
In 1982, Rich Gottlieb, a young, eager climber who had moved up north from his southern roots, started working at the store. He started on the floor covering a manager's lunch shifts while working his way through a graduate program at SUNY New Paltz.
"He was very energetic," says Williams.
As Gottlieb worked his way up to become a manager at the store and hammered through school, he continued to climb hard and often at the Gunks, becoming a fixture himself. His psyche for squeezing in soloing sessions on his lunch hour and then running past many friends on his way back to work earned him the nickname, "Gotta-leave" from Paul Curran.
**
In 1990, Williams took a trip out to Joshua Tree with his then-13-year-old son when a fire took place at the store. When he called home, no one would tell him what happened.
"We jumped on the red-eye flight back to New York," says Williams, "and I'll never forget, my son said to me, 'dad, you can have all my money.'"
The fire, due to an electrical malfunction, leveled the store. Williams, along with the help of Gottlieb, moved it to a temporary location across the street.
"We had to start all over," says Williams. Overwhelmed, it was about this time that Gottlieb stepped in and eventually became a partner in the business.
"I think one of the best aspects of Rock and Snow and why it remains relevant is the very smooth transition of ownership from Dick to Rich," says Russ Clune, a well-traveled climbing lifer and prolific 80s Gunks climber. "Rich is such a pillar in New Paltz, not only for the climbing community, but for the village as well. He has done a ton to make sure everyone feels welcome in the place and keeps the history alive."
Now, 45 years since the opening and still under the ownership of Gottlieb, the store is one of the oldest independent climbing retailers in the country, and expanding. The store started the Annex in February 2013 when Rock and Snow's manager, Andrew Zalewski, saw a small space available for rent on South Chestnut St, just around the corner from the shop and bordering Rock and Snow's parking lot. Zalewski, who himself has become an crutial part of the climbing community and the shop, convinced Gottlieb to let him pursue expanding into outdoor consignment. The Annex opened just over two months later and has become an integral part of Rock and Snow.
 Buy and sell used gear at the Annnex. Photo: via Rock and Snow Facebook page. 
"I always loved the swap meets we would run twice a year and The Annex allows that excitement year round," says Zalewski.
Beginning this week, Rock and Snow will be looking towards the soon-to-start building process for a secondary location that will increase space.
While times change, and climbing, like everything else, seems to get more complicated—more choices, more stuff, more expensive—Rock and Snow has stayed true to its original mission: to provide climbing gear to climbers.
"We've been pretty monogamous with climbing. It hasn't been a passing thing for us. It's been our focus forever."
But it goes beyond that. In times like today where homogenization is the standard and everyone is just trying to fit in and make themselves viable, Rock and Snow holds true to its quirky but very independent feel not only through its curated collection of gear, but through its continual, unfaltering support of climbing, climbers and the lifestyle.
"The spirit and intention of the people at Rock and Snow is to go well beyond the concerns of commerce to support the essential core of the climbing spirit," says internationally known climber Lynn Hill, who lived and climbed in the Gunks in the 80s.
Yvon Chouinard once said that the word adventure is overused. The same is true for the word authentic. However, it's the only one fitting enough for Rock and Snow.
It's this eclectic feel, original style and total support of everything 'climbing' that gains Rock and Snow it's cult following. Go to a crags all over the country, and sometimes internationally, and you'll likely see Rock and Snow sticker somewhere. And shirts—a story in their own right.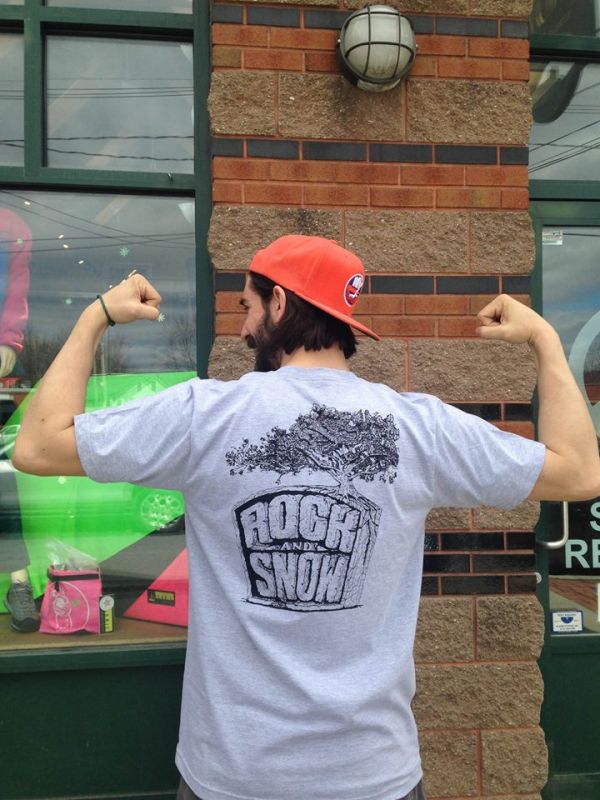 Climber and Rock and Snow employee Chris WIlliams shows off a new shirt design. Photo: via Rock and Snow Facebook page.
"Originality is part of what the shirts are about. Climbing is supposed to be fun and a lot of the shirts are funny. Shirts are weird. Climbing is weird. We're out there risking our lives, and for what?" says Gottlieb.
"We don't want to be the conventional," says Gottlieb. "Climbing is unique and not conventional, hence we try to gravitate to our own voice. We don't want to be ubiquitous. We'll always be Rock and Snow. And to me, that's good."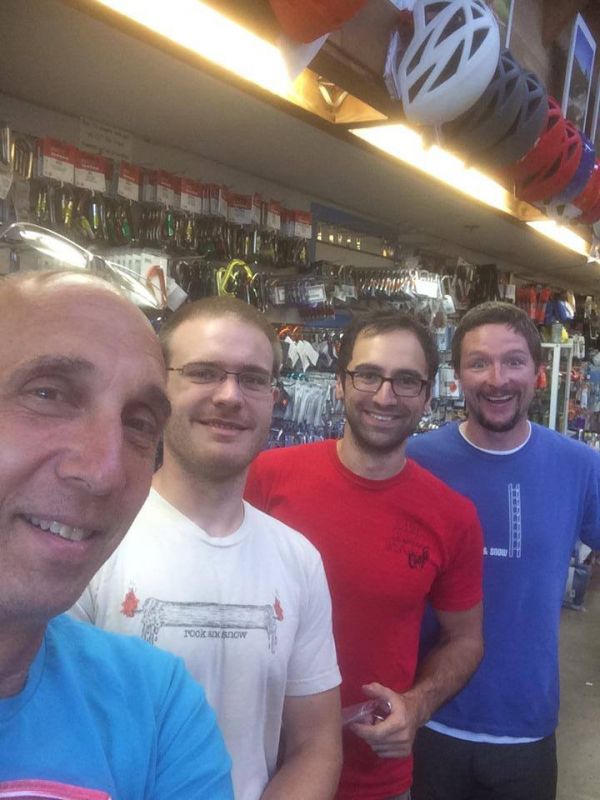 Four men and their gear. Photo: via Rock and Snow Facebook page.